Bridging the History
We would like to acknowledge and involve First Nations people in our project called Bridging The History. We aim to have a presence on our website that includes awareness rising from the pre-colonial human occupation of our region and the early contact period.
The main focus is to identify and collaborate with ongoing Aboriginal associations within our region and to embrace them in a way that creates respect and a documented history for future generations.
A BRIEF HISTORY of Aboriginal Settlement in the Adelaide Hills by Deanne HANCHANT-NICHOLS.
VOICE Facts Session: National Reconciliation Week 27th May to 3rd June 2023, with Courtney HUNTER-HEBBERMAN. See poster for details.
VOICE follow-up session with Parry Agius.
Early settlement image in Strathalbyn
Woven Together, connecting through story and song
Profile: Ted and Yvonne (nee Pearce) WILLIS
---

A BRIEF HISTORY of Aboriginal Settlement in the Adelaide Hills
History summarised by Deanne HANCHANT-NICHOLS
Tanganekald/Ramindjeri (Ngarrindjeri Nation); Barkindji Nation
Ass.Dip., BA, MA (Aboriginal Studies/Archaeology/SA History)
Adelaide Hills Reconciliation Working Group 2020–23
For millennia Aboriginal peoples have called the area which we now know as the Adelaide Hills home. Generations of people have lived in the area and made a life for themselves and their families. The hills provided shelter and sustenance to Aboriginal people and the land and the resources it provided people with were carefully managed to ensure that the area could provide a living for generations to come.
The Aboriginal peoples we now know as Peramangk, and Kaurna called the Hills their home and their stories that have survived tell of the creation of the Hills and some of the geological features we are familiar with. There are numerous campsites, ceremonial sites, and burial sites throughout the hills. The Yurebulla story has the Peramangk as Border Watchers and Peacekeepers although they were also known to be fierce warriors and possessed of strong magic.
The Aboriginal custodians welcomed people from other Aboriginal groups to ceremonies and afforded them safe passage through the area especially as people travelled from the lakes and river areas to the plains and the sea for purposes of trade or ceremony.
Warki, Portalaun and Jarildekalde people from the Lake Alexandrina area maintained contact with the Peramangk peoples and traded large redgum bark sheets for their canoes. As these were in short supply along the Lower Murray, these groups needed to get them from their neighbours. They would trade mallee spears for the bark.
The Peramangk people also traded fire making 'kits' with the Kaurna people as well as others as far away as Lake Victoria in New South Wales. Peramangk people have shared stories of their interactions with the Wiradjuri people of New South Wales and shared songlines and trading routes between country have been recorded.
In the hills there are Aboriginal place names which still survive including Brukunga, Uraidla, Gumeracha, Onkaparinga and Cudlee Creek although they are often different to the original names recorded by the early European settlers. With no written Aboriginal language, the names were recorded by Europeans who would have been writing them in a way that fitted with their own linguistic knowledge. The Peramangk and Kaurna languages are very similar however, there are some differences in pronunciation. Given the trade routes and interaction with other groups including those of the Ngarrindjeri Nation, it is clear that some of the people were bilingual allowing them safe passage to other country for ceremonial and trading purposes.
Peramangk children learnt to swim at Bokati-illa in the permanent waterhole on the Onkaparinga River near Hahndorf. Mount Barker Summit is important to both Peramangk and Ngarrindjeri people and features in stories and it is likely that both groups would have used the nearby semi-permanent campsite at Lartingga parri.
Early European settlers documented stories of large Aboriginal camps throughout the Ranges and it is thought that several thousand Aboriginal people were living in semi-permanent camps at European settlement. People were known to camp near where the RSL Hall at Aldgate is and in the evenings of the warmer months, would sometimes perform ceremonies which early white settlers documented. Other camps were located at Stanley Bridge on the Onkaparinga River, Mylor, the site of the Bridgewater Oval and Days Road at Uraidla. People still visited these areas on their way to Adelaide at times when the Europeans distributed rations.
Many of these people were displaced by the mid 1850's as agriculture started to expand in the district and there was competition for water as well as free passage across the hills as many areas were fenced for stock especially sheep. With the coming of Europeans, many of the trees were cut for building in Adelaide and other areas and land was settled with fences and stock displacing the original peoples.
Confrontations were recorded as Aboriginal people availed themselves of these new food sources, especially as the traditional routes of some of their usual foods had been disrupted by fences and the competition for food.
Aboriginal people did work for some of the early settlers including John Bull of Mt Barker who used Peramangk people as labourers and paid them in wheat and potatoes for their work. However, with access to water and food becoming more difficult by the late 19th Century, there were few of the original inhabitants still living on their traditional lands, although they would still visit at certain times of the year to fulfil traditional obligations. Some Peramangk peoples moved closer to the Murray River, others were taken to Mission stations including Raukkan, Swan Reach and Poonindie.
By the early 1900's it was erroneously believed that there were no Peramangk people still alive, however, this was not the case and a number of people now know that they have Peramangk ancestry as well as other Aboriginal ancestry and can identify as living descendants of the original hills people.
Many Kaurna people were also relocated to Mission stations including Raukkan, Point Pearce and Poonindie. As many people are now able to access Government records on their families they are discovering that their ancestors were Kaurna people who were displaced in the early days of European Settlement. Kaurna language is being revitalized with many people learning to speak the language and some areas have adopted either dual names for a place, a building or an area i.e. Kaurna/English and other places have reverted to their documented Kaurna names.
In 2018, after 18 years of legal proceedings, the Kaurna people were recognised as native title holders of the lands around Adelaide (including a large area of the Adelaide Hills). Hence, we now recognize both Peramangk and Kaurna ancestors in our Welcomes to, and Acknowledgment of Country.
The Adelaide Hills have inherited a rich legacy from the original inhabitants and we should be proud of that history and heritage and preserve it for generations to come. A Reconciliation Action* Plan is a first step in a shared journey to care for this special area that so many now call home.
Permission to publish this History Summary on the Macclesfield History Group's website, as a part of the "Bridging the History" project, has been given by the author Deanne Hanchant-Nichols, and the sponsors of the Summary, The Adelaide Hills Council and the Mt Barker District Council.
*Adelaide Hills and Mount Barker District Councils have partnered together to ensure that reconciliation is part of everything we do — to ensure that we build a future together for everyone and for equality.
Reconciliation is a nationally recognised approach to:
• Recognising and celebrating Aboriginal culture and contributions
• Building and strengthening our engagement with the Aboriginal community
• Acknowledging the impact of the past for Aboriginal people
• Building a future together.
More information is available on this website, the Adelaide Hills Council website, and the Mount Barker District Council website.

---
Early Strathalbyn (look about halfway up the tree)
From the above text is "Early European settlers documented stories of large Aboriginal camps throughout the Ranges and it is thought that several thousand Aboriginal people were living in semi-permanent camps at European settlement."
The image below shows an Aboriginal settlement in what is now the central park in Strathalbyn, easily identified by the building on the right that still looks the same in 2023.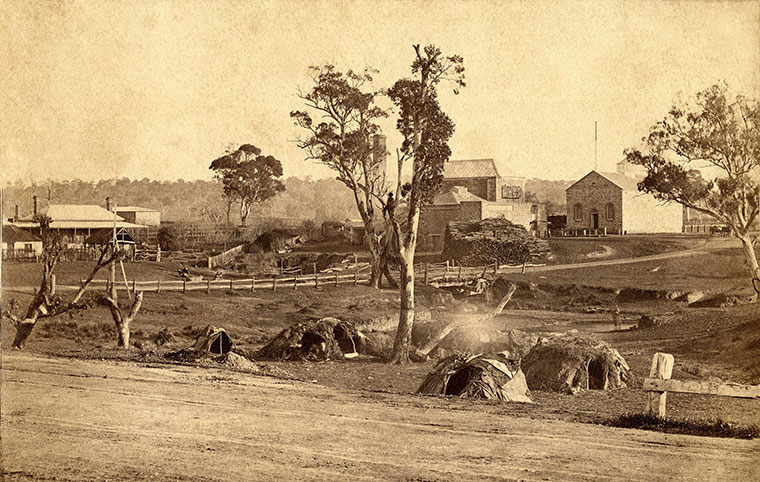 ---
The Voice follow-up session August 21 2023
The Proposed Voice to Parliament - the facts and reasons why we are going to the polls.
This 2nd session will move on from where we left off the first session, with a new presenter, Parry Agius. We expect to cover some new ground.
Following 13 Regional dialogues with Aboriginal and Torres Strait Islander communities, held in all States and Territories, a proposal came from the Uluru National Constitutional Convention in May 2017 to make changes to the Australian Constitution. The proposal has been taken up by the Australian Federal Government and consequently a referendum is being rolled out for later this year, 2023.
The Macclesfield History Group believe this is an historic moment, regardless of the outcome. We are encouraging everybody to actively inform themselves of the reasons for this referendum. To this end we are conducting a follow-up presentation on Monday 21st August, again at the RSL Hall in Macclesfield, at 7pm.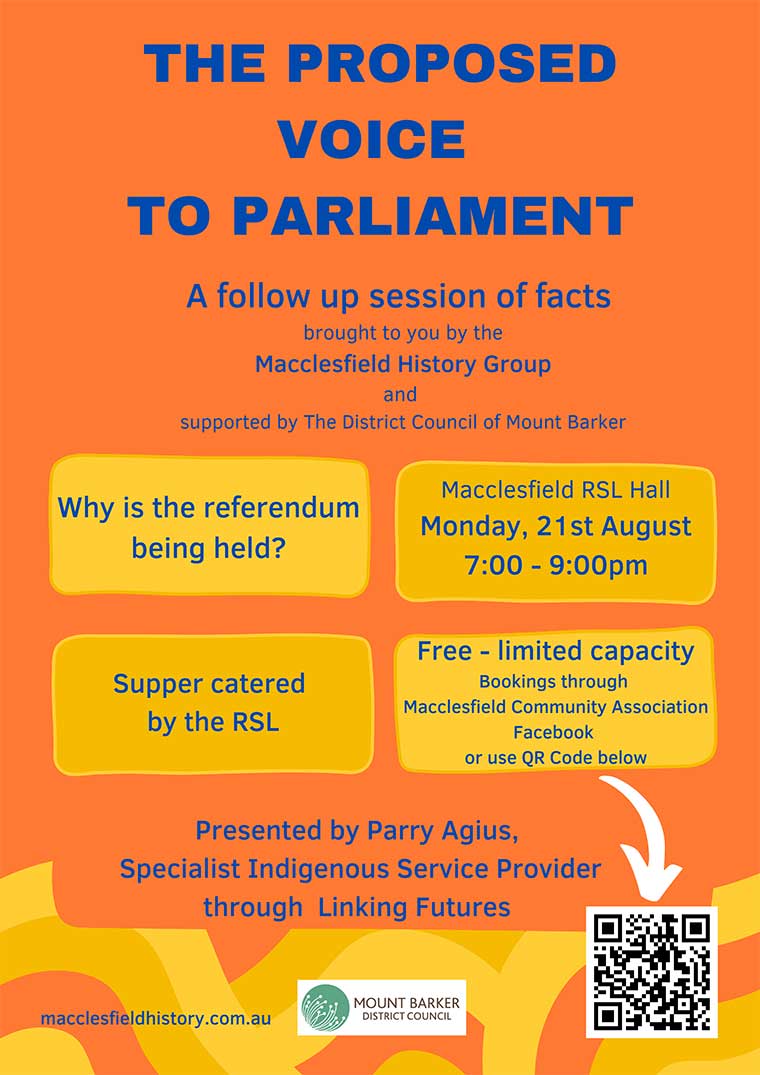 Text on the above poster is: -
The Proposed Voice to Parliament
A follow-up session of facts, brought to you by the Macclesfield History Group
and supported by The District Council of Mount Barker.
Why is the referendum being held.
Macclesfield RSL Hall, Monday 21st August, 7-9pm.
Supper catered by the RSL. Free - limited capacity.
Bookings through the Macclesfield Community Association Facebook page, or use the QR Code.
Or book with Eventbrite here.
Presented by Parry Agius, Specialist Indigenous Service Provider, through Linking Futures.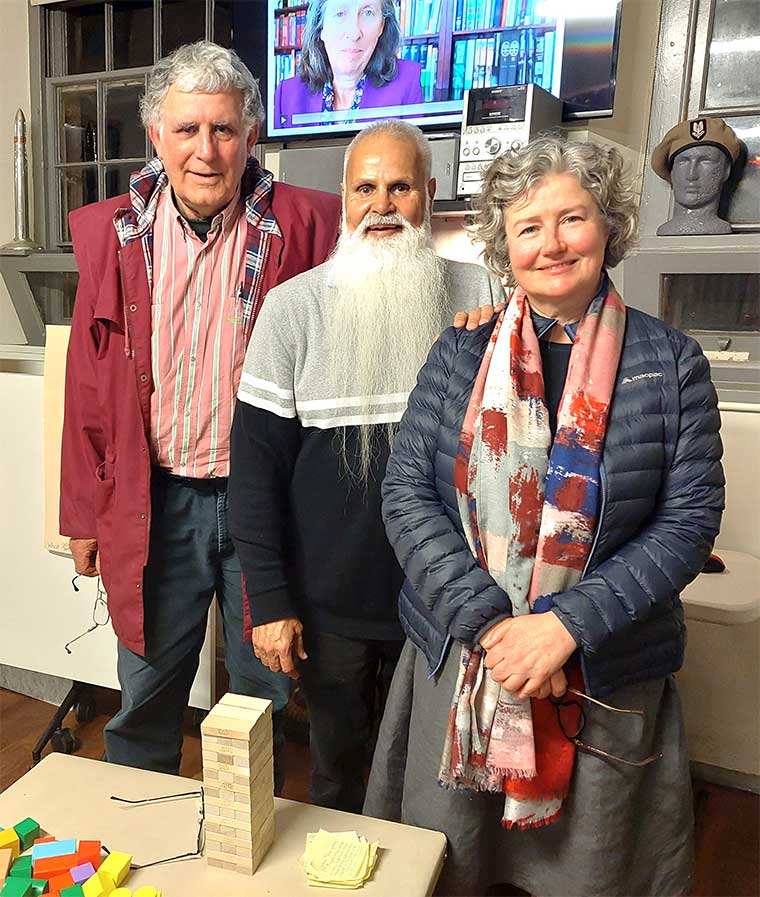 Rodney Foster, Parry Agius and Penny Warland after Parry's presentation.
---
Parry Agius Biography
Parry and Linking Futures are a great team, 6 years into their partnership. Between them, their history, and networks they reach far into different industry sectors and at times into unchartered waters. Together with the Linking Futures team we are making a difference for those who seek our genius thinking and ability to influence and offer enabling advice and tools.
Our experiences to understand the commercial mapping and adapt itself accordingly to our current position, a Specialist Indigenous Service Provider and our belief is "working in two worlds". My mother says I work in three worlds, the Aboriginal community, the general community, and the world of your family.
Parry has three decades of effective leadership and service delivery expertise, and in the last 10 years as a sole trader and majority shareholder in Linking Futures Pty. He currently is the Managing Director.
Parry is a Board member of the Aboriginal Biodiversity Conservation Foundation (DGR) in Western Australia and its Trust (ABCF), Chairperson of the Aboriginal Carbon Environmental Services (ACES), Director on the Forest Stewardship Council of the Australian and New Zealand and its Indigenous Working Group (IWG). Parry has a long history of boards, roundtables, and working groups at local and state and national levels.
As an inspiring and motivating leader, Parry encourages people to enjoy what they do in the workplace; be accountable for and take ownership of their work, become familiar with the environment they work in.
He is well known in the South Australian Aboriginal community and has a history across Australia and focus on the importance of stakeholder holders' relationships. This is the essence of what Parry brings to all projects he works on.
Parry has vast experience in cross cultural settings and across sectors, working for and with all tiers of government, small and medium business, larger corporations and not for profit Indigenous groups, Cooperative Research Centers, (CRC) and businesses in remote and regional communities throughout Australia.
Parry has a strong background in community engagement and development, human services, health, education, government sectors, native title, natural resource management, industry sectors and more recently infra-structure and building and construction.
Parry is extraordinarily successful in drawing together ordinary community people and experienced professionals to build futures through enabling conversations and collaborating, leading to creation of unique models of economic development and social engagement.
He has an Associate Diploma in Aboriginal Affairs, a Bachelor of Arts (Aboriginal Affairs Administration) and completed 2 subjects of his Adelaide University MBA and deferred studying to build Linking Futures Pty.
In 2000, Parry was awarded the first Prime Minister's Centenary Medal for his work with Aboriginal people, the Churchill Fellow 2004 and in 2013 was recognised by Macquarie University as an Honorary Associate. He is a strong advocate for socio-economic benefits for Aboriginal people and his career spans nearly 30 years cementing partnerships between Indigenous groups, government and industry and communities.
Parry was the Presiding Member of the SA Government Alinytjara Wilurara NRM Board to Landscape Board for 10 years, and 5 years board member a total of 15 years spanning from 2008-2023.
---
National Reconciliation Week 27th May to 3rd June 2023
These dates commemorate two significant milestones in the reconciliation journey — the successful 1967 Referendum and the High Court Mabo decision respectively.
The theme for National Reconciliation Week 2023, Be a Voice for Generations, encourages all Australians to be a voice for reconciliation in tangible ways. Visit here for more information.
With support from the District Council of Mt Barker, the Macclesfield History Group has engaged Courtney Hunter-Hebberman to present a facts session on the proposed Voice to Parliament, in Macclesfield, during National Reconciliation Week.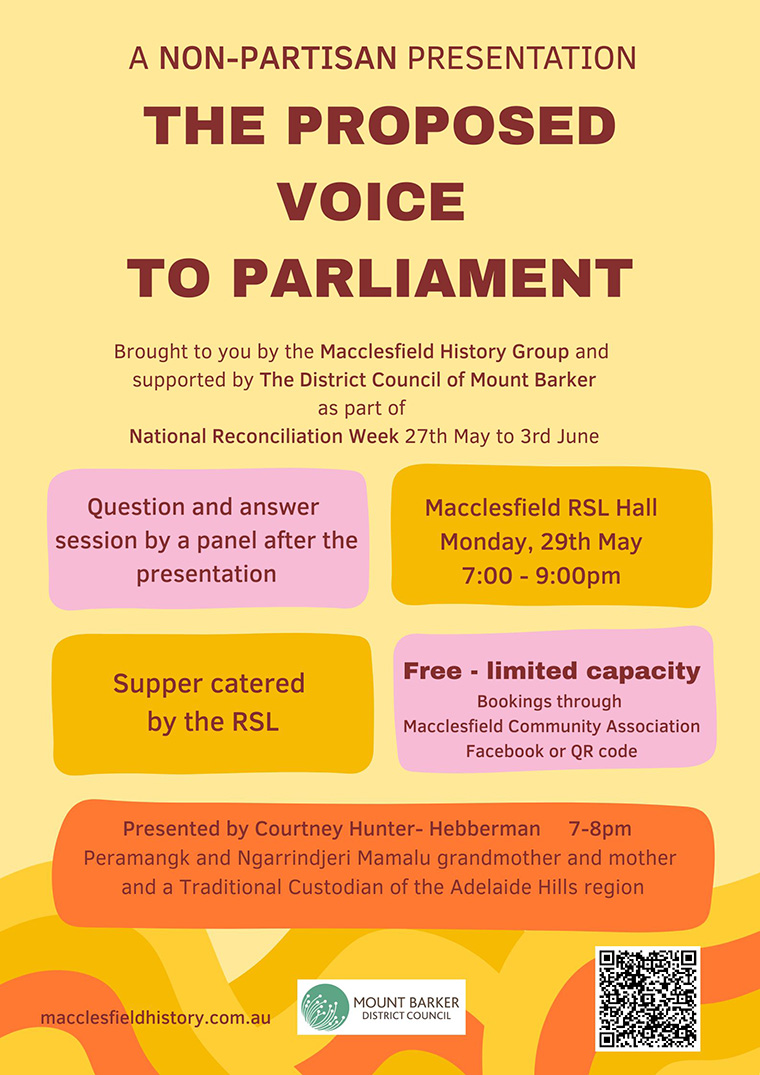 Text on the above poster is: -
A NON-PARTISAN PRESENTATION - THE PROPOSED VOICE TO PARLIAMENT
Macclesfield RSL Hall, Monday, 29th May, 7:00 - 9:00pm
Presented by Courtney Hunter- Hebberman, 7-8pm
Peramangk and Ngarrindjeri Mamalu grandmother and mother and a Traditional Custodian of the Adelaide Hills region.
Free - limited capacity. Supper catered by the RSL.
Bookings through Macclesfield Community Association Facebook page or QR-code on poster.
Brought to you by the Macclesfield History Group (macclesfieldhistory.com.au)
and supported by The District Council of Mount Barker,
as part of National Reconciliation Week 27th May to 3rd June.
A question and answer session after the presentation gave rise to the following ideas that could be considered when deciding how to vote in the coming Voice Referendum: -
1. What does "attachment to land" mean?
2. What is the "Doctrine of Discovery"? What are its origins? How has it been used? How has it been used in Australia? Is it still being used?
3. What does a 3rd Chamber of Parliament mean?
4. Has a "voice" been implemented in other countries?
5. What are the three previous "voices" to parliament in Australia since 1967? Is there one now, if not why not?
6. Why was there no Voice to Parliament before 1967?
7. Do Aboriginals elected to the Senate or House of Representatives represent Aboriginals?
8. Is the Voice to Parliament a compromise to the Australian democratic system?
9. How can the average Australian experience a relationship with Aboriginal Australia?
10. What does sovereignty mean to Australians?
11. What does sovereignty mean to Aboriginal Australians?
12. Do Aboriginals need a Voice to Parliament more than other ethnic groups living in Australia?
13. Whose idea is the Voice to Parliament? Is it just another Non Aboriginal concept requiring compromises by Aboriginal people?
14. Why are a treaty and a change to the constitution tied up with the "Voice".
15. Will the Voice have any benefit to closing the "gaps".
16 What is the point of having access to both Parliament and the Executive? What is the Executive anyway?
17. Will government processes be clogged by "pushing the envelope" of the advisory powers of the "Voice"? E.G. Appeals to the High Court of Australia.
18. Do we need/want a follow-up session in a few weeks' time?
19. What is the one most important thing I should go away and research in my own time?
---
Courtney HUNTER-HEBBERMAN
Hello, my name is Courtney Hunter - Hebberman. My traditional name is Karriatto Hunter and my Ngati (totem) is the Daldwi (raven).
I am a Peramangk and Ngarrindjeri Mamalu (Grandmother and mother of 6 and foster parent) and a Traditional Custodian of the Adelaide Hills region where my People have lived for thousands of years and generations pre and post Colonisation, caring for country and where I grew up on opposite Yaktunga, one of our most sacred sites (Mt Barker Summit).
I am a direct descendant of the Hunter family and descend from a very strong line of women who have gifted me my knowledge and wisdom.
As an active member of the communities I live in I have much responsibility and respect to teach future generations how to love, care and share our Ruwi (land).
Currently I work in the National Homelessness sector developing innovative First Nations solutions for youth emerging from youth justice and out of home care in South Australia, based predominantly on decolonisation principles in practice.
Currently I am working with Firestix to restore traditional land management practices to our native ecosystems using fire as a fundamental tool in accordance with our Principles as Peramangk being fire people. This involves ongoing rapport building across the public and private sectors and most importantly maintaining good relationships with our traditional neighbouring mobs.
I am currently in the process of working alongside Families of Missing and Murdered Black Women (see here and here) in South Australia as per the recent Federal Inquiry into the aforementioned name, and a team from The Advertiser to document and expose the systemic racial bias that exists within Colonial Policing systems that lead to biased investigative processes for families experiencing deaths outside the formal custody of the State.
Predominantly my forte is as a story teller and I incorporate this into all my daily activities, especially for children as they are our future.
I am an established spoken word performance artist and established First Nations writer and an active member of Writers SA and the SA First Nations Writers group.
I have Certificate 3 in an Endangered Language and can write, teach and speak my own Ngarrindjeri language.
My interests include: -
- Peramangk Traditional Custodian issues.
- The use of fire in traditional land management practices and ecosystem restoration and how this can benefit us all deep into the future.
- Firestix/Artistic Medicine: (Native smoking/smudge sticks).
- Native Plants, particularly biocultural knowledge as it relates to Peramangk cultural information inclusive of local plants knowledge and medicinal usage.
- The Ngarrindjeri Language.
- First Nations Storytelling and Poetry.
Follow-up
Courtney asked everyone at the meeting to learn about the Doctrine of Discovery.
This gave the right to explorers to expropriate countries, where the inhabitants were non-Christians, on behalf of their country, using force if necessary. The doctrine was introduced by the Pope in the late 1400's, and repudiated by the present Pope on March 30th, 2023.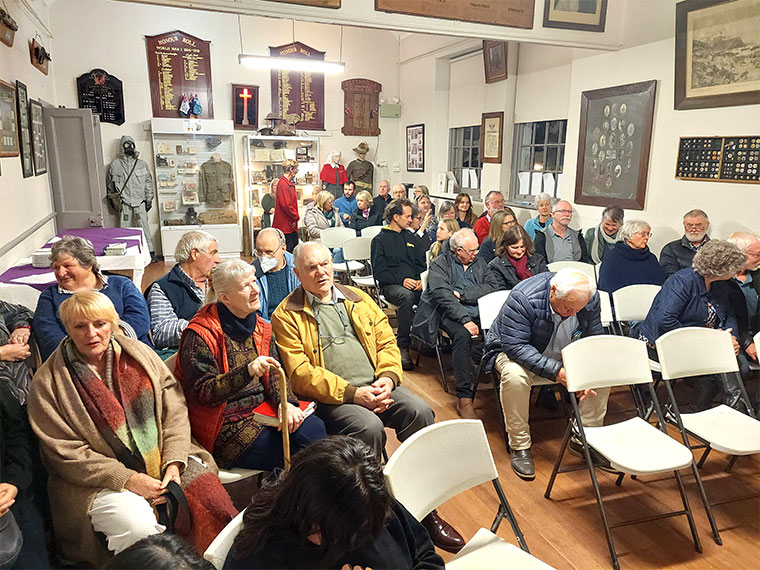 Some of the audience at the Voice meeting in the Macclesfield RSL hall.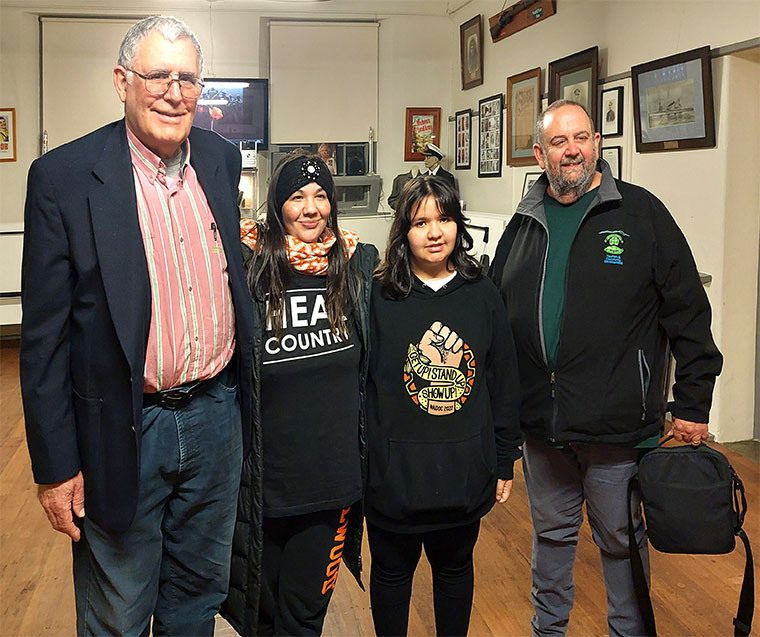 Rodney Foster of the Macclesfield History Group, Courtney Hunter-Hebberman, Courtney's daughter Ruby, and Peter McGinn of the Mt Barker Council.
---
Past Event: Woven Together, connecting through story and song
A Cultural History Talk and Music Performance, exhibiting art from the Erritja Aboriginal Art Gallery.
On Sunday May 22nd 2022 at the Flaxley Uniting Church, corner of Flaxley Road and Strathalbyn Road from 1:00pm till 4:00pm.
Together with the Mount Barker District Council and Community Centre, and the Macclesfield History Group's "Bridging The History" project.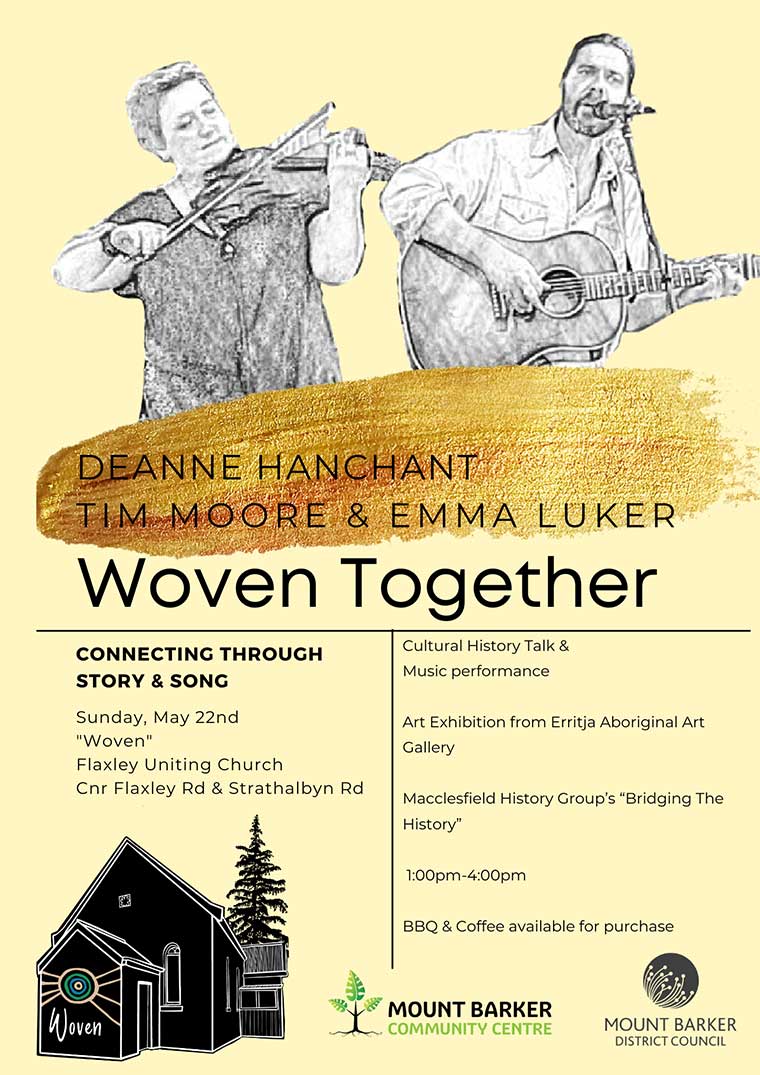 ---
Profile: Mandy BROWN
Mandy Brown is a former resident of Macclesfield, and elsewhere in the Adelaide Hills, living for a time on Todd Street. With permission from Mandy the following are extracts from publicly available web sites as listed below.
A former Reconciliation SA Board Member and Peramangk and Ngarrindjeri Elder, Mandy Brown has led a busy life. Always working, always creating, and always healing. Mandy is a survivor of the Stolen Generations like her grandmother, and her mother before her; and she now has three adult children of her own, [and] ten grandchildren…
While being a part of the Stolen Generations, and not knowing she was a Peramangk woman, Mandy has been able to live on Peramangk country most of her life. "I grew up on Peramangk country most of my life and always loved the Adelaide hills, and had a real sense of connection with Mount Barker, long before I knew I was Peramangk.
But it's sad," Mandy recalls, "finding all the information has been interesting; but so much language has been lost."
Both her mother and grandmother had been removed from their families as children, and Mandy herself was placed with a British immigrant family: the separation from family, language and culture had happened thrice over.
After the government's Bringing Them Home report came out, [Mandy] was able to get access to her adoption record — but whole sections had been blacked out. When asked why, the government officer told her it was 'too sensitive.' She recalled other Aboriginal children she knew, who had been told they were Greek.
Mandy, [is] an Elder of the Peramangk and Ngarrindjeri nations with connections to the Kokatha and Pitjantjatjara peoples. Mandy, whose grandfather is the famous tracker Jimmy James, says it is important to remember why Reconciliation Week exists.
"We still have some way to go before we have reconciliation in Australia," Mandy said. "Non-Indigenous people must take the lead in reconciling with us over the past and for the future. Aboriginal and Torres Strait Islander people are still reconciling with each other and the land and the sea, so while reconciliation can occur, there is still much work to be done."
References: -
https://au.iofc.org/sharing-stories-australia%E2%80%99s-first-nations
https://au.iofc.org/sharing-stories-australia%E2%80%99s-first-nations
https://www.indigenous.gov.au/news-and-media/stories/reconciliation-week-our-history-our-story-our-future

---
Story: Ted and Yvonne (nee Pearce) WILLIS
Ted Willis worked on his parent's (Dudley and Edith) farm until he was seventeen and then left to work for Kuchel on White's Road.
Nearby, Ted purchase his own 103 acres of scrub land (i.e. native vegetation) and began to clear it.
He supplied the Little Hampton Brick Kiln with firewood, taking the value in bricks that he used to build his home. He also sold wattle bark and telephone poles, anything to earn money, whilst he was establishing his dairy farm.
In 1951 Ted married another local, Yvonne Pearce, and they moved into their new unfinished home. Along the way they managed to successfully raise three children, Kim, Cheryl and Rosslyn, establish the dairy farm, and finish the home building. Ted and Yvonne's children were adopted. Uncomfortably, both were adopted during the "stolen generation" phase of Australian history.
Today, Kym identifies as an Aboriginal man of Ngarrindjeri descent.
Rosslyn identifies as an Aboriginal woman of Arrernte descent. Rosslyn is currently a member of the Adelaide Hills Reconciliation Working Group.
---