Tennis

The club logo in 2015
1. Macclesfield Tennis Club - condensed version
2. Macclesfield Tennis Club - 100 years of tennis - speakers' notes
3. Copy of the invitation sent to past members of the Macclesfield Tennis Club
---
First, a condensed history
The club held a dance and card night on 28th March 1912. More functions were held throughout the year to raise funds for a new court. On the 17th November the Bugle Ranges tennis team came to Macclesfield to help celebrate the opening of the new court. This court was located on the corner of Strathalbyn Road and Todd Street behind the Church of England church.
During the following years many social functions were held such as concerts, dances and card nights with proceeds going towards the courts. The first minutes located were the Annual Minutes of 1923, showing a balance sheet of 3 pounds. This was after a new court was constructed. In 1930-31 the club joined the Onkaparinga Tennis Association. In 1935 the club won both A and B grade Premierships, going through the season undefeated.
In the 1937-38 season it was proposed to build two new courts at the new recreation grounds north of the town, below where the courts are now. These courts were opened in 1939. During the next 10 years the club had many problems with these courts, and in 1950 new courts were built in the spot where they are today.
In 1959-60 a Junior competition was formed in the Association and Macclesfield had great success in the early years winning many Premierships.

Mrs Dora Gallasch (nee Handke),
who played tennis in 1939, cutting
the 100 year birthday cake
The Netball Club was also playing on these courts so the two clubs combined their resources to build a new clubhouse, which was completed in 1972 and opened by Mrs Edmonds, wife of the local councillor. In March 1978 lights were installed on three courts.
During the 1980s the club had great success, winning premierships in Seniors and Juniors. Lights were upgraded in 1985. A night competition was up and running and the club had entered teams in it.
In the 1990s the club continued fundraising, and courts 4 and 5 were upgraded. New football change rooms were built on the eastern side of the oval, and showers and toilets for the Tennis and Netball Clubs were included. In 1998 the club welcomed its new Major Sponsor, B.-d. Farm Paris Creek Pty Ltd, who still support the club.
Between 2002 and 2008 courts 1,2,3 were upgraded and all five courts painted green, lights installed on courts 4 and 5, and new backstops erected, thanks to the Council. The club is currently working towards a new Clubhouse with the Netball club.

---
Macclesfield's first junior tennis team 1959-1960
The 1959-60 Junior Premiers A Junior Association competition was formed in the 1959-60 season with much involvement by the late Mrs Monica Huppatz (Life Member of the Club). Macclesfield Juniors gained the Premiership Cup in that first competition and retained it for the following four seasons.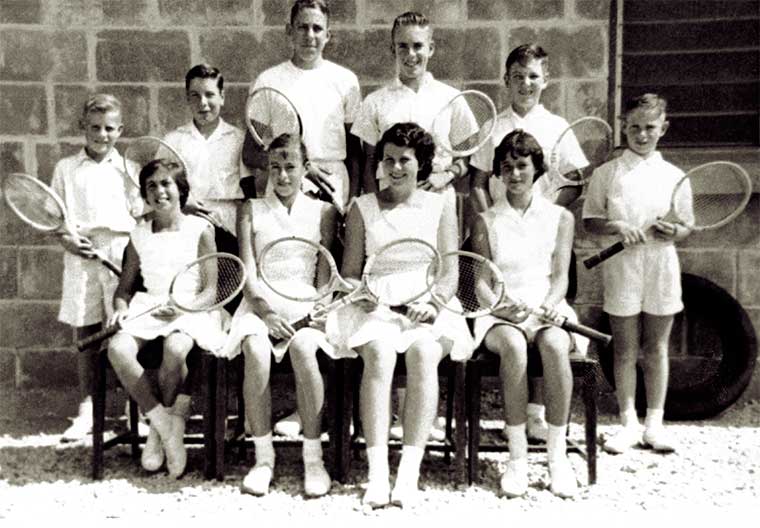 Boys: Brenton Smith, Robert McNamara, Peter Gilbert, Lindsay Davis, Reg Handke, Wayne Murphy
Girls: Judy Plaisted, Sue Huppatz, Daphne Simmons, Jenny Shobbrook
Macclesfield Junior Team c1960s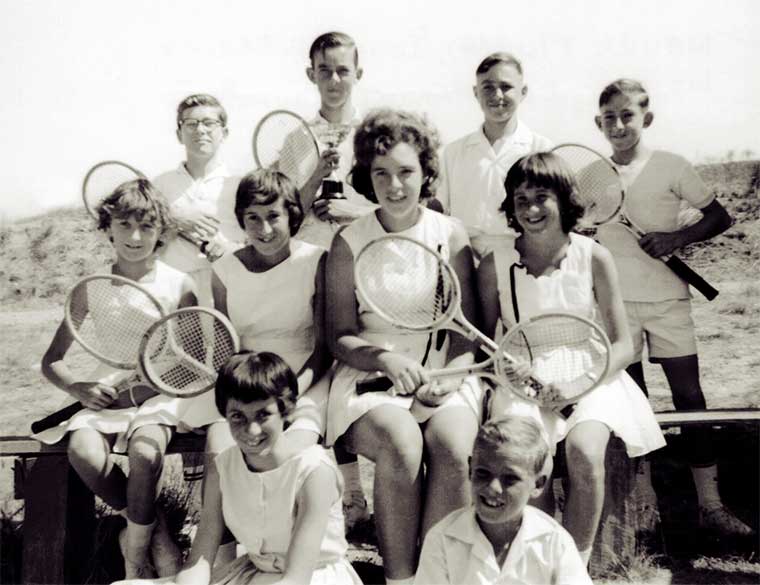 Back Row: Neville Murphy, John Shobbrook, Kingsley Handke, Rodney Putland
Middle: Sandra Putland, Jenny Putland, Anthonette Anderson, Helen Stubbs
Front: Jenny White, Andrew Scott
MACCLESFIELD TENNIS CLUB - 100 Years of Tennis, 2013
The Macclesfield Tennis Club celebrated 100 years of tennis on February 17th 2013 at the Sporting Complex. The weather was hot but it did not stop 160 people coming from Kingston, Bordertown, Edithburgh, Port Pirie, Adelaide, Barossa Valley and surrounding Hills towns to help celebrate the occasion. The complex was decorated in red and black with a court made up on the ceiling with a net in the middle. Pictures, trophies and memorabilia were attached to nets, pin boards and tables around the room.
The President, Jeff Howarth, welcomed everyone. He then spoke about how this was made possible, and the work and time put in by Karen Baraglia, who researched all papers and web sites to find any information about the club as minutes had been lost for the first 20 years.
Brenton Handke spoke first about the period 1912 to 1939 on how the club was formed, followed by Bruce Bowey for the period 1940 to 1980, followed by Peter Baraglia 1980 to 2013 (the present time).
Mr Jack Williams, who played in the late 1940's, told some stories about how the team would go to tennis in one vehicle and what some of the courts were like.
Afternoon tea was organised by Kay Stubbs and Robin Jones, cheese platters were donated by B.-d. Farm Paris Creek, the Sponsors of the Club.
Mrs Dora Gallasch (nee Handke), who started playing in 1939, cut the cake and a toast was made to the club for the 100 Years Anniversary. The wine was donated by Longview Winery.
There was a lot of 'HAVEN'T SEEN YOU FOR 30 YEARS' or 'YOU HAVEN'T CHANGED A BIT' or 'GEE YOU LOOK GREAT', and a lot of matches that were lost years ago were won today.
The Organising Committee and Management Committee thank everyone who attended and made it such a wonderful day for the Macclesfield Tennis Club.
Following is a copy of the presentations made on the day by Brenton Handke, Bruce Bowey and Peter Baraglia.
Macclesfield Tennis Club 1912-1913 to 1939-1940, presented by Brenton Handke
The Macclesfield Tennis Club has been part of the Macclesfield Community since the early 1900s. The exact date of the formation of the Club is not known, due to records being lost between 1912-1936.
Researching the local papers, Courier and Argus, the club held a dance and card night on 28th May 1912. Songs were sung by Miss E. O'Malley and Mrs. Chick, with music supplied by Mr. A. Gooch, and Mr. S. H. Ross was emcee. Also in the same article, a bad case of influenza had struck nearly every home in the town. On the weather side, rain is badly needed, cattle are suffering shortage of feed and dairy butter is scarce. Empire Day was celebrated at the school, and the Union Jack was hoisted and saluted. More social functions were held through the year to raise funds for a court.
On the 17th November, a Bugle Ranges tennis team came to Macclesfield to help celebrate the opening of the new court and have a game of tennis. Mr. Chick, who apologised for the absence of the President, Rev. Father Gurry, then declared the court open. The court was located on the corner of Strathalbyn Road and Todd Street behind the Church of England church. With this information the committee is sure the club was formed in early 1912.
During the following years the club held many social functions, concerts, dances and card nights with proceeds going towards the courts. At one function the tables were decorated in the club colours of heliotrope (edit: a light purple) and white. Decorations were done by Miss O'Malley. Echunga and Mt. Barker Methodist were two other clubs that played against us.
Some of the people who played tennis in the early years from 1912-1915 were:
Mr. & Mrs. Chick
Miss's Calaby, Waters, Edmonds, O'Malley, Payne and Bentell
Mrs. Kinnane, Mr. Raggatt, G. McNamara, C. Yates, Blundell, F. Lowe, McMahon, J. McNamara, Brennan.
We have no information during 1915-1920 when World War I broke out.
In 1921 Secretary Miss Nettle had many willing workers to help organise a dance and concert, which raised the splendid amount of 14 pounds towards a new court.
The first minutes of the club that were located were for the Annual Meeting in 1923, held in the lodgeroom. Mr. H. Ross was chairman, the treasurer was Mrs. T. Vaughey. A balance sheet of 3 pounds was submitted. This was after a new court was constructed. Officers elected were:
Patron - Mr. E. Peterson
President - Mr. J. J. O'Malley
Secretary/Treasurer - Mrs. T. Vaughey
Captain - Mr. H. Ross
Vice-Captain - Mr. K. Bowen
Vice-Presidents: Dr. Wunderly, Mr. H. Yates, W. Barrett, G. Pfeiffer, W. Shoebridge, F. Virgoe, J.
Kerslake, S. Ross.
Committee - Mr. H. Ross, C. Yates and T. Vaughey, Misses V. Yates and D. Davis, Mrs. V. L. and C. Yates, Captain, Vice-Captain and President.
A leap year ball was held in March 1924 and attracted a large crowd, people coming from Adelaide, Kangarilla, Ambleside, Echunga, Strathalbyn and Mt. Barker. Door takings amounted to 28 pounds. Musicians were Mrs. Walkom and Mr. Elliott from Mt. Barker.
Macclesfield and Echunga played a game in 1925: Echunga 10 sets 70 games, Maccy 3 sets 40 games. Over the next few years not a lot of information is available, but social functions were still being held.
The Annual Meeting held in October 1929-1930 showed Mr. C. Yates was elected president and Mr. R. Anderson secretary. It was decided to repair the courts which were now dilapidated. (Also in the same year Master Bernard Murphy cut his leg with an axe which needed several stitches).
At the Annual General Meeting in August 1930-31, Mr. Marshall replaced Mr. O'Malley as secretary. Mr. O'Malley had disposed of his business and left for Adelaide. It was also agreed to join The Onkaparinga Tennis Association. Macclesfield defeated Flaxley 12 sets 88 games to 4 sets 69 games.
At the AGM in 1931-1932, Mr. F. Barnett and Mr. K. Deegan were elected President and Secretary.
The balance sheet recorded a balance of 2 pounds. Other committee members were Miss P. Davis, Mesdames Ross and Le Poidevin. The courts were given a top dressing of colas, the ends graded and rubbled, the sides planted with couch grass and 4 rustic seats erected. The chairman of the District Council, Mr. O. Penna, declared the courts open. The teams in the association were Bull Creek, Echunga, Mylor, Meadows, Longwood, Mt. Barker and Macclesfield.
In January 1932 Mr. J. J. Daly was fatally injured when the truck he was driving crashed over an embankment into the River Angas while carrying timber to the Crystal Lake Swimming Pool. He was chairman of the Macclesfield District Council, Captain of the tennis club and assistant secretary of the New Year's Day sports committee.
Some Saturday results for the local tennis team were:
They defeated Bulls Creek 12 sets to 6 sets.
Another time they defeated Mt. Barker Baptist 11 sets to 7 sets.
Echunga defeated Maccy 15 sets to 3 sets.
In 1933-1934 and 1934-1935 Mr. C. Yates and Mr. Ken Read were President and Secretary- Treasurer.

Kay Stubbs in a 1940's tennis dress
In March 1935 the tennis and cricket clubs had to postpone their semi-final matches due to a fire which started north-west of the town. Also in the same month the club played Echunga in the grand final and won. It was then discovered that the match should have been played against Bulls Creek. A second final was played. Macclesfield won 12 sets to 6 sets despite the fact that Miss Davis was on holidays and Miss Flora Ross had a sprained wrist and did not play. The Club won both A & B grade finals.
From 1935 to 1937 the club continued to hold social functions, proceeds towards courts, shelter shed and general running of the club. Macclesfield fast became known as a dancing hub in the hills, sometimes holding them twice a month.
Annual Meeting 1937-1938 showed the President was Mr. C. Yates and Secretary Miss G. Bowey. Bank balance was 12 pounds 17 shillings 3 1/2 pence. It was proposed to build two new courts at the new recreation grounds north of the town, the committee to find level grounds. The spot chosen was below the existing courts we play on now. Council to be contacted and asked for assistance.
At the 1938-1939 annual meeting it was moved that Council be asked to finish grading of courts, with the prices for erection of a shed and purchase of a 200 gallon tank to be required. Working bees were arranged, net posts and netting moved to new courts from old ones. The courts to be sprayed with sodium chlorate (salt) to get rid of weeds. Mr. Tom Sim company be asked to lay the courts and have them ready for the start of next season 1939-1940.

Macclesfield Ladies Tennis - about 1950s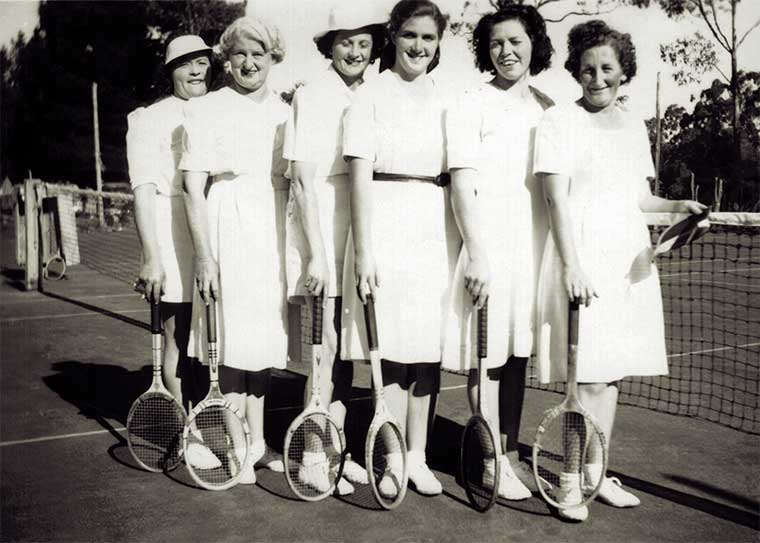 From left: Joyce Yates (nee Barnett), Mrs Le Poidevin (nee Dubers ( Dolly's mother), Lorna Ingerson, Brenda Bartrum (later a Clegget), Nell Murphy (nee Barnett), Ngari Bartrum (nee Turner) c 1950's
Macclesfield Tennis Club 1940 - 1980, presented by Bruce Bowey
Good afternoon to all, it's time to play the second set and take the club further along its journey.
As Brenton has reported, we are now established with new courts on the Maccy Recreation Grounds. These courts were just east of the now existing three and you can still see the levelled areas, but nothing remains. No evidence of asphalt, or backstops, as they only lasted 10-11 years.
We have some people present today that played on these courts, namely:
Dora Gallasch (nee Handke) 1938- 1948
Myrtle McCallum (nee Handke) 1939
Jack Williams 1946-1950
Louie Williams (nee Hunt) 1946
Nell Murphy (nee Barnett) 1945-1968
Bill Vaninette 1945-1956
These courts had a chequered career. Although opened in October 1939, in November 1939 a letter was sent to Mr. Sims (builder) asking him to come and inspect the courts. He reported back a cost of 60 pounds to top dress them.
In September 1940 it was resolved that the President, Mr. Bowen, call at Shell House and get expert advice on the state of the courts. The outcome was (quote) "That considerable expense would be entailed to provide a good surface". No wonder the club was always fundraising!
Between Christmas 1939 and the New Year a tennis tournament was conducted with all entry fees set at 1/-. A dance was held on the last night of play. The following people were approached for donations: H. Yates, G. Jacobs, R. Gilbert, H. Turner, Miss Jensen and H. Haines - some names that even I can recall. I believe we have a trophy here today from that tournament which was won by W. Calaby and K. Barnett who defeated J .A. & L.A. Bowey.
A quote from the minutes of the meeting held on Wednesday September 30th, 1940 read: "Discussion on way and means of raising money to meet the cost of courts. It was decided to try and arrange for a loan of 5 pounds each on a 3 year term of interest."
We are now approaching the war years and I quote the minutes of Wednesday May 22nd 1940: "Owing to the Secretary Mr. Rankine having enlisted, it was necessary to elect another to fill the vacancy. Mrs. E. Le Poidevin was appointed acting Secretary until the AGM".
The Club went into recess between 1941-1945 due to World War II, and several young men from the district lost their lives. One of these was Private Thomas Bernard Cosgrave, aged 24. He had been a captain of the B Grade tennis team.
Back to tennis and the AGM held October 4th 1945. Those present at that meeting were: Mesdames Carter, Le Poidevin, Yates, Westley, Pullen, Bowey, Vendrimin, Kowald and Passfield
Miss's D & M Handke, N. Barnett, B. Bartlett and D. Wyatt
Mr. K. Bowen, T. Vendrimin, T. Burns, D. Cooper, L. Collins, L. Bowey, H. Passfield, C. Westley, P. Cosgrove, M. Yates and B.Murphy.
Subs are now 10 shillings men, ladies 7 shillings 6 pence and teams are 6 gents and 6 ladies.
Mrs. Le Poidevin proposed, A. Vendrimin seconded, that courts be played on in present condition, with cement courts in view at end of season. This was carried. Courts were top-dressed at a working bee with colas and sawdust.
(Call on Jack to talk on courts and his experiences. 1/- for transport.)
In November 1946 the Club approached Council re grading and rental of two courts. In April 1947 Mr. Bowen stated that the Meadows Council had agreed to let the Club have use of the ground for 21 years at a nominal rental of 5 shillings per year with the right to renew.
At the AGM in 1947 the Club had a balance sheet of 106 pounds 1 shilling and in 1948 the club sought quotes for the new courts and wrote to Cyclone for prices regarding backstops. The start of where we are today.
August 1950 AGM. New courts must be close as there is talk of wire-netting (backstops), donation of timber for erection of shed, courts to be lined and seats erected "some on net post for umpires", and these courts were opened on 2nd October 1950 by the President of the Community Association Mr. Tom Boothby. We are now up and running with two new courts and still operating at that location today.
(Nell re shed etc.)
By 1958 the Club looked at putting electricity to the shed and cementing the floor. Quote from minutes of April 1958 - "Basketball players given permission to use bottom court on condition that they used whitewash to line the court and remove same at the end of the season".
During the season of 1959-1960 a junior competition was formed and Maccy had great success in the early years of the competition.
The Club is expanding and in 1962 the building of a new court was discussed with a representative from the Maccy Basketball Club, and Mrs. P. Redway proposed that the tennis and basketball Clubs combine to build another court, seconded by N. Murphy. We are now 3 courts with tennis and basketball being played on all three.
Club is still fundraising with BBQ's, car trials and dances being discussed. In 1963 the basketball Club suggested running a basketball carnival with the late Mrs. Iris Golder and the late Mrs. Voila Lowe running the competition and the tennis club running the BBQ, drinks and afternoon teas. What great days these were and they ran for many years raising money to build two new combined basketball and tennis courts on the northern side of the existing three.
I think Brenton and myself poured more red wine (claret) over the BBQ lamb chops for flavour than tomato sauce used on the snags. By now the word "cabaret" is mentioned and many people here today will know what great fun they were. These ran for many years and all sporting clubs took turns to run a cabaret per month.
1970 Tender for reconstruction of Tennis Courts at Macclesfield Oval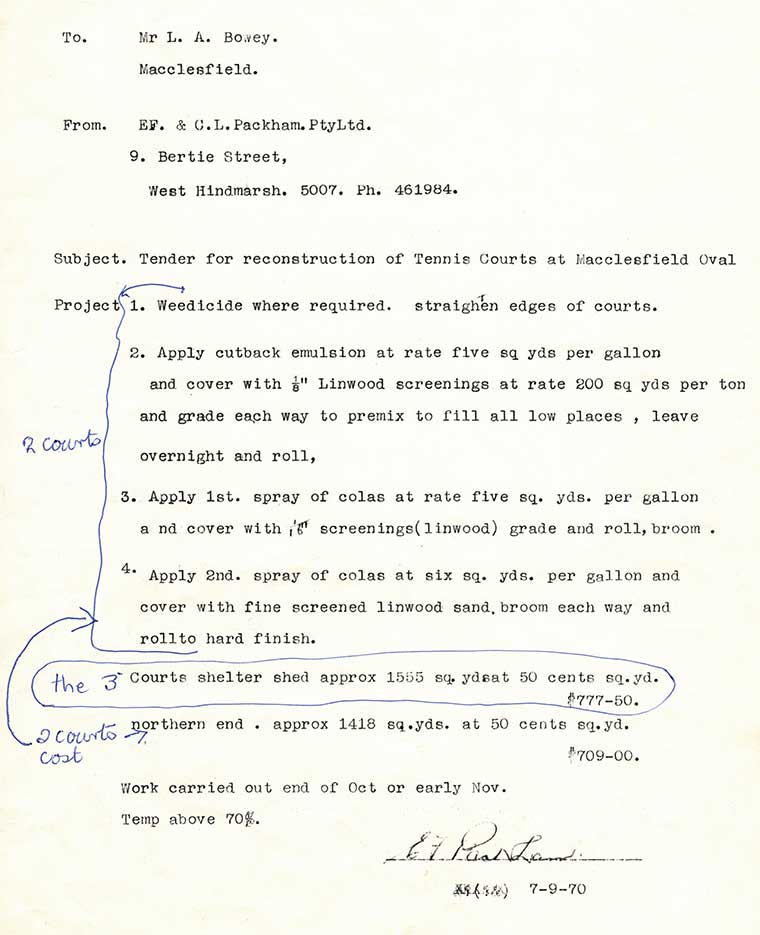 1971 - we are now looking at a new clubhouse and light on courts (both in conjunction with the basketball club), with construction of the clubhouse to be besser-block brick and a flat roof. This clubhouse was built by the late Laurie Broadbent, along with many hours of volunteer labour.
It was completed in July 1972 and opened in November 1972 by Mrs. Edmonds (nee Bowey) a past player and wife of the local councillor. Club is going along smoothly and still fund raising eg BBQs, cabarets, car trials, tennis tournaments, beer tickets, film nights, table tennis tournaments, raffles, street stalls, lotto wheel and bingo tickets. These fundraisers were needed as the top dressing of the courts in 1976 cost $2,450.00.
In March 1978 we asked the Maccy Recreation Ground committee if they could help with lights for three courts. These lights were installed and turned on in 1978.
Thank you.

---
BOWEY Family - 5 generations
Mr John Bowey and family moved to Macclesfield in 1931.
John played and was Vice President from 1937 to 1941.
John's son Lance played from 1932 to 1956, he was Captain for many years and President from 1956 to 1973 and awarded Life Membership in 1974.
Lance's son Bruce played from 1956 to 1988, he was Club Captain and also held the position of Vice President and Secretary Treasurer and awarde Life Membership in 1990.
Bruce's daughter, Sharon Holdsworth started in Juniors in 1981 and is still playing for the Club.
Sharon's son, Travis started playing in Juniors in 2008 and her daughter Breeanna started in Juniors in 2010.
What a great piece of history for the club, 80 years plus and still counting.
"Recent" Life Members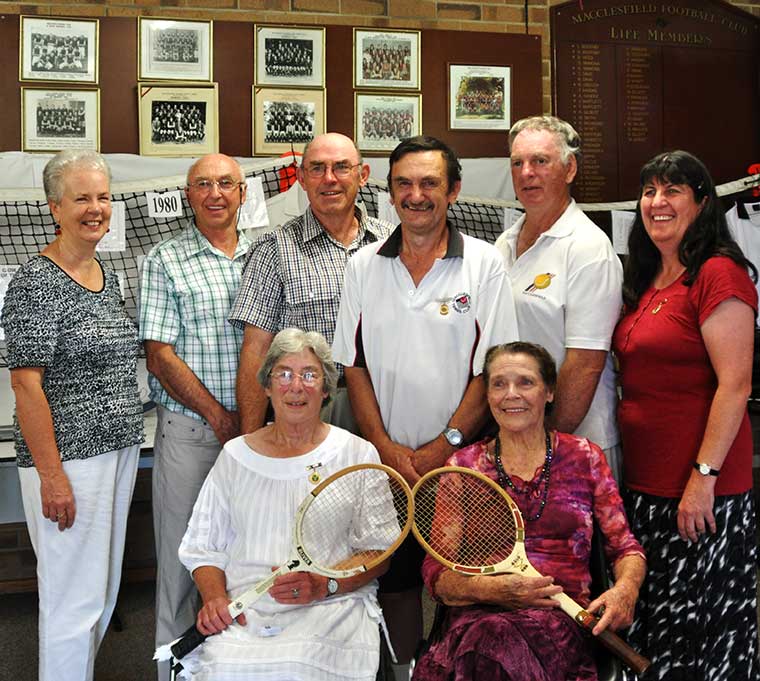 Back: Kay Bowey, Brenton Handke, Bruce Bowey, Peter Baraglia, Graham Broadbent, Karen Baraglia
Sitting: Kay Stubbs, Nell Murphy
---
Macclesfield Tennis Club 1961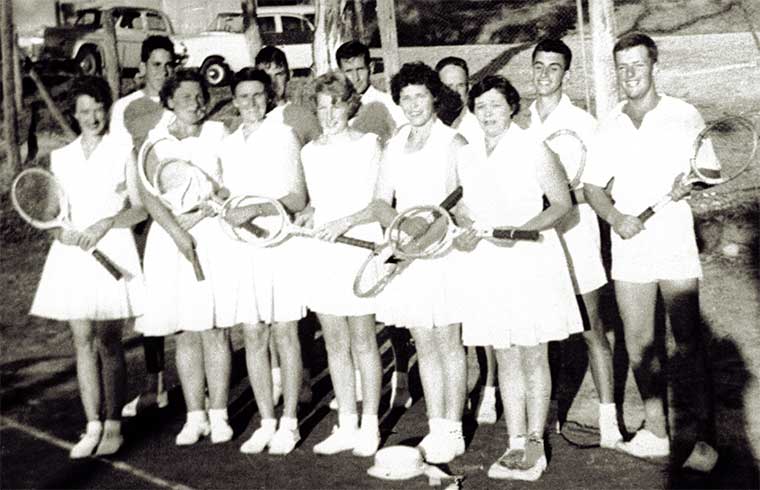 Men at Back: P Gilbert, B Bowey, Les Humphrey, Frank McCue, Doug Plaisted, Geoff Peterson
Women in Front: Jean Redway, Audrey Handke, Monica Huppatz, Enid Boothby, Nell Murphy, Joyce Yates (sisters)
Macclesfield Tennis Club Inc. 1980-2012, presented by Peter Baraglia at the 100 years of Tennis in Macclesfield Celebrations
Hi, I'm Peter Baraglia and I have been asked to speak on the last 30 years of the Club. I'd like to thank everyone for coming today to help celebrate 100 years of tennis in Macclesfield. For those who don't know me, I have been a member of the Club for 50 years and in my time I was President from 1995 to 2012, also in 1981/82, plus Secretary for seasons 1973/74 and 1980/81. I am currently Vice President and was given Life Membership in 1981.
On the 21st Jan 1980 the Club Constitution was finalised and approved and The Club became Incorporated in June 1980. The subscriptions at the time were Adults $20, Juniors $7.50, and the Club had 18 senior and 22 junior members.
In the 1980/81 season the Club won its first A Grade premiership in 19 years when Macclesfield defeated Clarendon 8-71 to 8-70. In the same season, the Senior B, C & D Grades all made the finals. Junior B Grade defeated Meadows 7-52 to 5-52 to also win the premiership. The Club had more success winning premierships in 81/82 with the A Red and B grades, 84/85 B2 Grade, 85/86 C Grade and 87/88 the Junior B Grade.
In 1981 the northern court was resurfaced at a cost of $1000. One of the ways this money was raised was by holding progressive dinners which were organised at the beginning of each season from 1981 to 1987. The first one was soups at Sandra Pullen's, main course at C Cheek's and desserts at M & K Wilson's home.
Junior Development has always been a high priority of the Club, with the organisation of Coaches for junior practice sessions. The Junior Coach in the early 80's was Rob Smith, followed by Mike Newbound from 1982-89.
A Combined Summer Sports Club was formed between the tennis, cricket and softball clubs from 1982 to 1988 to pool fundraising efforts.
Brenton Handke was made Life Member in 1984 and in 1986 he was the inaugural winner of the Lance Bowey Memorial Trophy, donated to the Club by the Bowey Family, to be presented to the Club Person of the Year.
The lights were upgraded in 1985 and in 1987 plans to resurface the Southern three courts were started. After negotiating with Council and Government for grants and the State Bank for a loan of $10000, they were completed in early 1988.
From Minutes of meeting held 8th Feb 1988: "Courts: Contacted Pollard, through B Handke and B Bowey. Ag drain had to be put behind clubrooms to drain water away - G Gilles did, cost about $2400 - Rec Committee to pay. Crushing metal at Maccy quarry again - OK quality for us to use - save about $1400. Pollard suggested silty soil on courts should be ploughed with a disc plough to mix everything up to about one foot deep, at least twice North/South & East/West, so soil can dry out - not worrying about front of clubrooms. Bruce and Brenton have talked with our councilor (Patrick Secker) and are able to get a council truck free of charge - also have asked a council worker who is willing to drive the truck on a week-end free of charge. This needs to be done this week (ploughing). Pollard will then check and if OK compact it - he's 80% sure it will be OK. Bruce to get his plough and tractor and then he, Brenton and others will take turns to plough courts. Ask permission from Rec Committee to cut down trees at back - use wood for fundraiser. Roger thanked people who have helped organize courts and thanked B Bowey for donating pipe for sleeves."
The club organised teams of wood choppers to remove fallen trees from local properties, with the wood being sold by the tonne as firewood. Many long and hard hours were put in but this was a great fundraiser and saw the loan being repaid in two years.
1989/90 saw Life Memberships being presented to Nell Murphy, Kay Stubbs and Bruce Bowey.
In the late 80's night tennis was becoming popular. The Club decided to organise an Autumn Carnival (at the completion of the Summer season). This involved teams from Littlehampton, Mt Torrens, McLaren Flat, Langhorne Ck, other Clubs in the Onkaparinga Association and local players. The competition was divided into three grades of six teams, playing on Monday, Wednesday or Friday.
The Club has entered teams in the Bulls Creek Night Competition since its inception in 1988/89 and has been organising it for the last three years. The number of teams entering has decreased as larger clubs get their own lights and have started their own internal competitions, but the Maccy Club has decided to try and continue the competition for the benefit of smaller towns that do not have the players to hold their own competition.
In 1990, subscriptions were Adults $40, Juniors $15, and the club had 21 senior and 28 junior players.
In 1993 Life Membership was awarded to Kay Bowey, Jane Green and Graham Broadbent.
Fundraising, as always, was still high on the agenda of the Club. This included Chocolate and Pie Drives, raffles, catering at Recreation Grounds Auctions, and manning the gates at the New Years Day Horse Show. The Club started helping at the Horse Show back in 1987 and it is now the major fundraiser.
In 1993 the Club produced its first Club polo shirt and used a logo designed by Ron Francis.
Courts 4 & 5 were upgraded to green in 1994, with the Club borrowing $2600 from the Rec Grounds and $1250 from the Mt Barker Council. Both loans were paid off by 25th November 1996.
By now the small trophy cabinet was bursting at its seams and one twice the size was needed. Randall Crouch and his father built the new one, meeting the Clubs requirements. However, in 2013 this cabinet is full.
1996 saw the construction, by volunteers, of a Pergola near the northern courts, lattice being donated by Randall and Julie Crouch. A new rainwater tank was installed.
Rec Grounds started new footy change rooms, with toilets and showers for the use of the tennis and netball clubs in Dec 1997. This was completed in June 1998. The club had to pay $825 per year for the loan repayment; the final payment was in the 2002/03 season.
June 1997 saw the start of talks to establish an Honour Board for the Club. After researchng through the old minute books to get the records accurate it was officially unveiled in 2004/05. Thanks to Bruce & Kay Bowey who donated the board and Graham & Sharon Broadbent who added all the information.
May 1998 and the northern courts were repainted with two coats of green at a cost of $4168, $2000 of this coming from a Department of Recreation and Sport Active Club Grant.
In 1998 the Club welcomed its new major sponsor, B-d Farm Paris Creek, who still continue to support the Club. I would specially like to thank them today, for their donation of all the cheese platters which were donated for this event.
Another fundraising idea was put forward to the committee in 1998 and that was to deliver phone books. The club delivered White Pages in August 98 and Yellow Pages in September 98. Many cars and trailers were used and many helpers. The club raised $1334.
The following year we delivered Big Colour Pages which was much easier and only one smaller book to deliver. It was more profitable and the club made $2181 in 2000 and $2215 in 2001.
At the end of 1999 unwelcomed mushrooms made an appearance on court three, pushing through the bitumen. In April 2000 they were treated with copper sulphate which controlled their growth for a few years. It was now time to look at upgrading the courts once again.
Year 2000 subs were Seniors $55, Students $35, Juniors $25, $20 and $10.
Once again fundraising was a priority for the club. Catering became high on the club's agenda, doing the Maccy Horse Show, Adelaide Classic Car Rally, Rec Grounds Auction and helping the community association at the Meadows Country Fair over Easter. Quiz Nights and the Central Credit Union raffle were just some of the ways the Club raised funds.
The Club won the 2000 and 2001 Tennis SA Small Country Club of the Year award and recognised several members of the Club with nominations for individual awards.
In June 2002, Ron Francis designed the logo that is currently being used.
2004 saw the release of the new club shirt with this logo.
Throughout 2002 to 2007 the major concern of the tennis and netball clubs, was the deterioration of the courts. Many meetings were held between tennis, netball, Rec Grounds, Mt Barker Council and Tennis SA during this period. Grants were applied for repeatedly.
It was reported at the tennis club meeting held on 22nd Jan 2007 that the Rec Grounds had received a grant from the Office of Recreation and Sport for $45000. This money, along with a Tennis Australia $17,000 rebate, was put to good use, resurfacing and painting courts 1, 2 & 3, also repainting and installing lights on courts 4 & 5. The total cost around $110,000 and was completed in 2008.
In the last five years, thanks to Paul Lemar's success in applying for grant money, the Club has been able to purchase a Lobster Ball machine, a Gurney for cleaning courts, and a ride-on mower, and the committee is still trying to work out what to spent the most recent volunteers grant on.
The juniors have been very successful in the last twelve years winning twelve premierships, and the Senior Div 1 team has lost count of how many times they have been runner-up. Since 2008 we have only had one traditional team, however, due to the large number of Men missing out on playing in a competition, Macclesfield instigated a 3 man team competition, with Macclesfield fielding 3 or 4 teams each season.
Please ladies come back and play.

---
Copy of the invitation sent to past members of the Macclesfield Tennis Club
Celebrating 100 years of tennis in
Macclesfield
At the Macclesfield Recreation Grounds Sporting Complex
Sunday 17th February 2013, 1pm til 4.30pm.
RSVP by 1/2/13 to above address.
If you have contact with any past players
please pass on this information.
If you have any old photos of the club that we can copy,
please  contact the club, we will return them.

---
Ladies Tennis Club C c1950s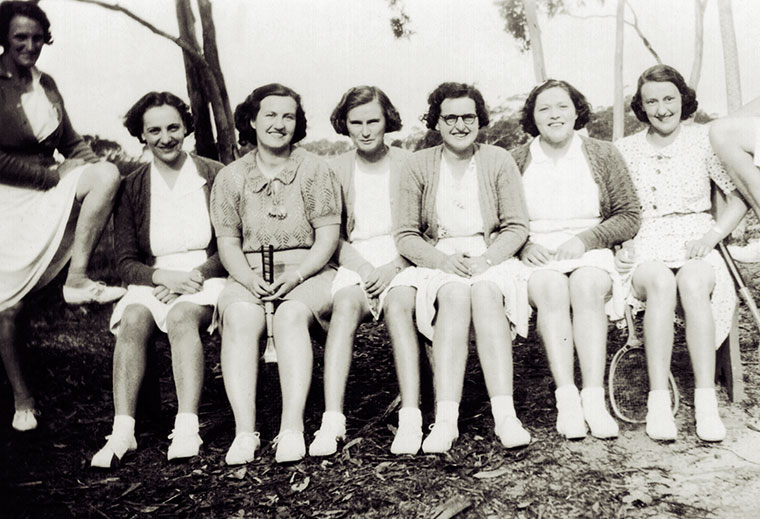 L to R: ?who is this, ?who is this, Glad Bowey, Dolly Le Poidevin, Marje Fry (nee Bartlett), Joyce Yates (nee Barnett), Grace Pullen (nee Bartlett), c. 1950's.
Can you help us with the missing names?
Macclesfield Junior Tennis team date unknown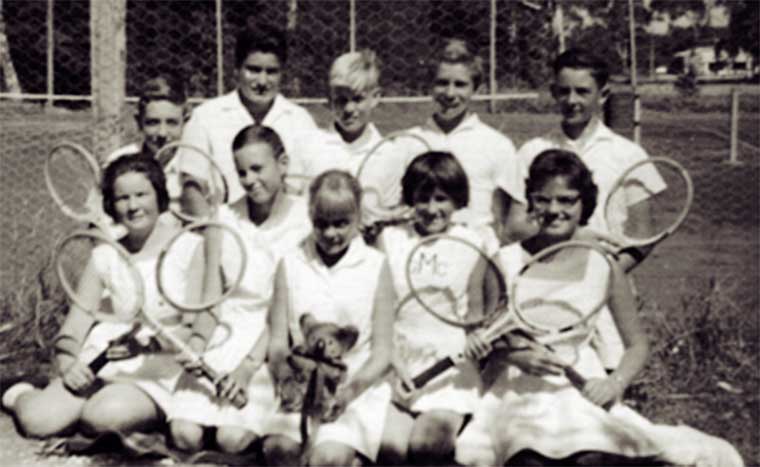 Back: Barry Handke, Michael McNamara, Brenton Smith, Wayne Murphy, John Shobbrook
Front: Joy Davis, Therese Huppatz, Lynn Smith, Helen Stubbs, Rosemary Scott
Premiers Macclesfield Junior Tennis Team 1960-1961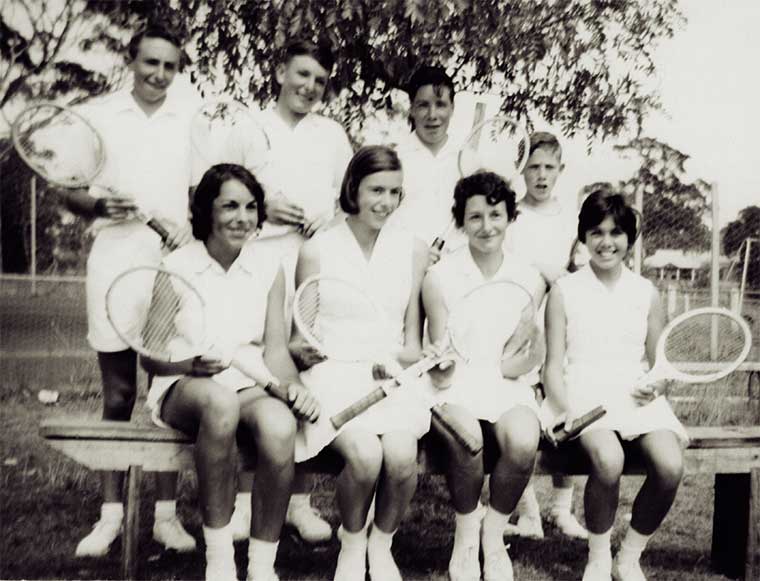 Back: Brenton Handke, Reg Handke, Rob McNamara, Wayne Murphy
Front Christine Smith, Sue Huppatz, Jenny Shobbrook, Judith Plaisted
Premiers Macclesfield Junior Tennis Team 1961-1962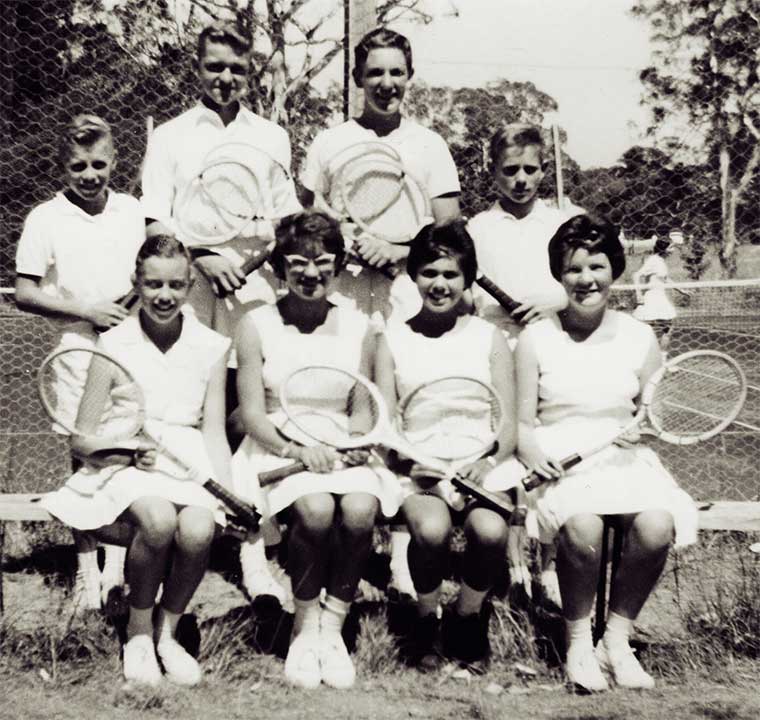 Back: Brenton Smith, Michael Heading, Reg Handke, Wayne Murphy
Front: Therese Huppatz, Rosemary Scott, Judith Plaisted, Joy Davis
A Grade Senior Premiership team in 1962-63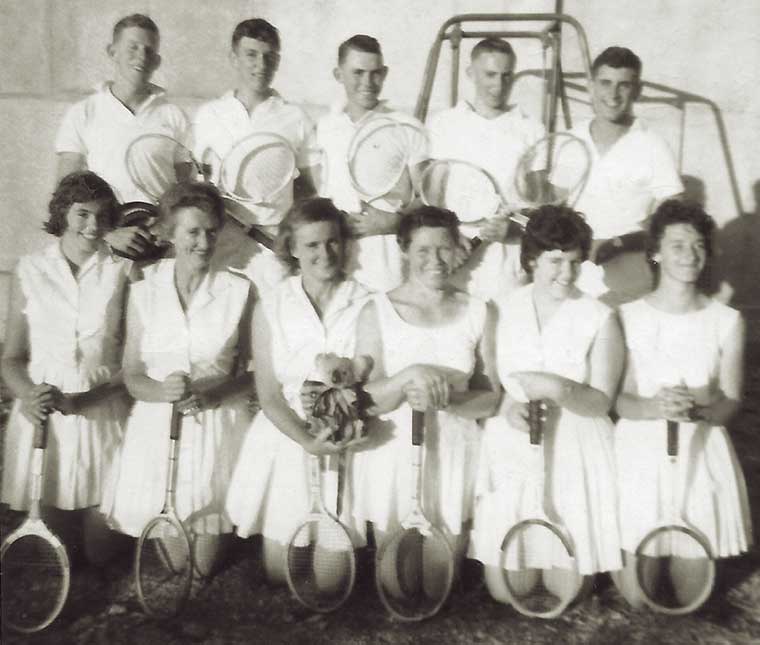 Back: Bradley Williams, Reg Handke, Bruce Bowey, Brenton Handke, Doug Plaisted, ( Absent: Peter Gilbert)
Front: Sue Huppatz, Jean Redway, Monica Huppatz, Nell Murphy, Christine Peterson, Jenny Shobbrook
A Grade Senior Premiership team in 1962-63: in 2013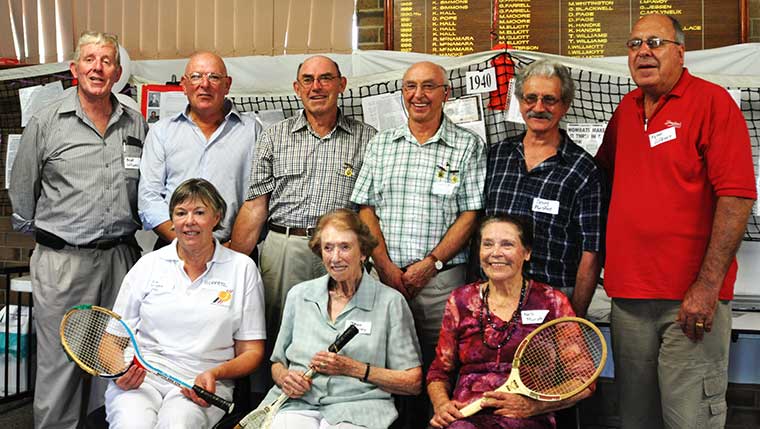 Back: Bradley Williams, Reg Handke, Bruce Bowey, Brenton Handke, Doug Plaisted, Peter Gilbert
Front: Sue Wright (nee Huppatz), Jean Redway, Nell Murphy
Absent: Jenny Shobbrook, Christine Peterson, Monica Huppatz