History Mysteries - can you help?
Here at the Macclesfield History Group we often come to a "brick wall", when not even Betty WHITE, our resident local historian, can attach a name to a face, or explain why it is so!
Perhaps you can solve a History Mystery involving our Macclesfield past?
Spurious hysterical (sic) reasons are accepted as well as the serious, but make sure we know which is which :) All submissions win a free thank you. If you can help then contact us by email at macclesfieldhistory@gmail.com, or our online form.
Occasionally we will add a mystery to this page, particularly if it is inherently interesting or someone has contacted us with a question.
• The Macclesfield Hotel in Venables Street once had TWO chimneys, but now only has one!
• Mystic Order of the Itching Stitch - Post Operative Award
• Why Lutterworth Street??
---
Mystic Order of the Itching Stitch - Post Operative Award
From 1960, a card presented to Joyce Davis on being released after an operation.
Inside the card:
Post-Operative Award
This is to Certify that you: Joyce Davis have been Legally Separated from a portion of your Anatomy by a Duly Qualified Surgeon, and having Successfully Survived said Pruning, are hereby awarded this Passport to Future Health and Happiness. Be it also known that there is hereby conferred upon you the Honorary Degree of M.O.I.S. which makes you a Lifetime Member of the
Mystic Order of the Itching Stitch
said Membership investing you with the Right, on all Occasions, to Talk about your Operation to the Exclusion of Aimless Chatter by Others on Subjects which are not Pertinent thereto, and furthermore, you are Privileged discreetly to Display to Confidants the Physical Evidence of your Surgeon's Handiwork, provided only that your Incision lies North of the Epiglottis or South of the Patella, all other areas being Privy to the Practitioner to whom you accorded the High Honor of Performing your Operation.
Presented on this 14th Day of January 1960 with the Heartiest Congratulations.
Then signed by V.E. Penna. The V is probably Voila.
Click on the image below to load a larger version to see the signatures more clearly, or here, on the outside flap.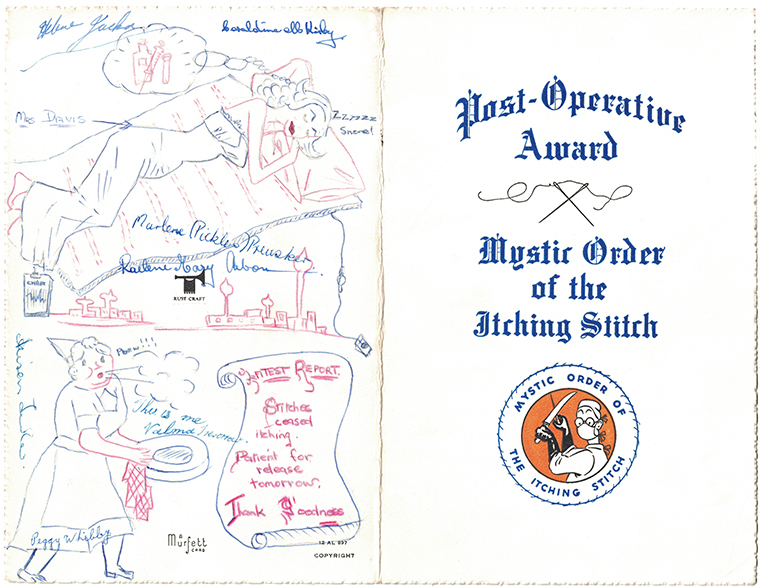 Inside the card.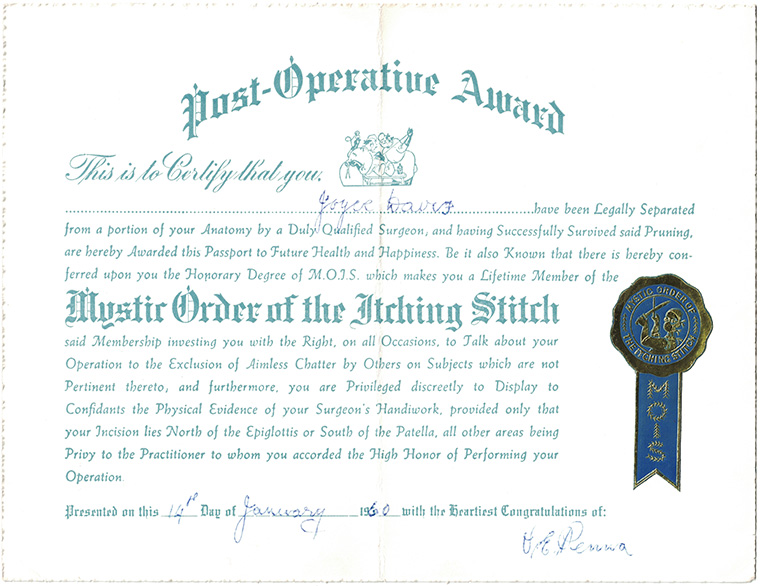 Mysteries:
• V.E. Penna - we are fairly confident of the V=Voila, but not the "E", nor do we know anything about her nor why she signed the card at the base of the text. There is a Penna Road in Macclesfield. Any association?
• The signatories on the flap - any information on any?
• Assuming the operation was at a hospital, was it local e.g. Mt Barker or Strathalbyn?
• Why the sketches of Turkish? buildings.
If you can help, contact us by email at macclesfieldhistory@gmail.com, or our online form.
---
The Macclesfield Hotel in Venables Street once had TWO chimneys, but now only has one! Why, when and how?
If you can help, contact us by email at macclesfieldhistory@gmail.com, or our online form.
Thank you to Sheila Jones, Mt Barker librarian, who did some searching on the Mount Barker Local History Database and found a reference to an old Courier article that may explain the chimney loss. Click HERE to read the article via Trove.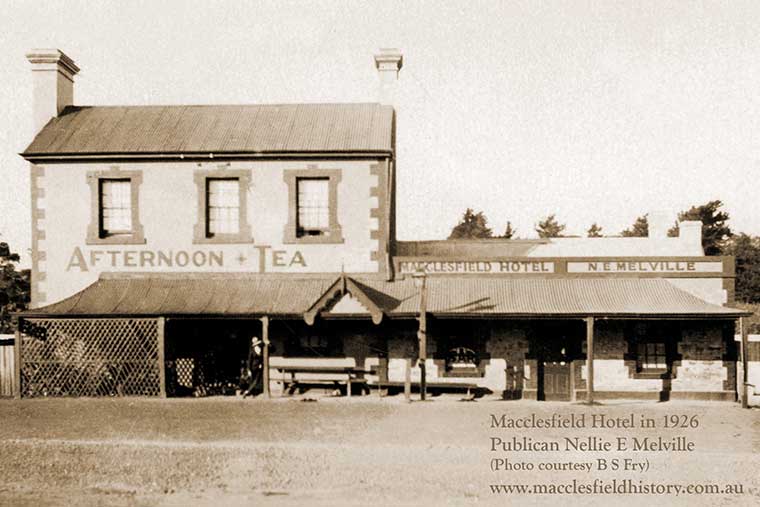 Macclesfield Hotel loses a Chimney
Thank you to Sheila Jones for sending us the link to the Trove article shown below. This earthquake seems a viable reason why the Macclesfield Hotel lost it's northern chimney.
Note: We don't normally use Trove articles, preferring to make our own resources available to the world, but it seems useful here. Almost the entire article has been reproduced since it covers a major earth disturbance, rare in these parts.
From: The Mount Barker Courier, Onkaparinga and Gumeracha Advertiser (SA:1880-1954),
Wed 3 Mar 1954, Page 1, continued Page 10.

QUAKE SHOOK EVERY HILLS TOWN: Damage totals many Thousands.
The terrifying and devastating earthquake which struck South Australia on Monday morning affected every town and village through the Hills districts. Summing up of widespread reports from the district indicates that most powerful "shake" was experienced in a line which travelled through Nairne, Littlehampton, Mount Barker, Macclesfield and on to Strathalbyn.
It is doubtful if more than a handful of buildings in the more closely settled area of Mt. Barker escaped damage. The earthquake wreaked havoc among homes on the southern side of Gawler Street. Remarkable feature of the disturbance is that in collating information it was found that most seriously damaged buildings were quite modern where as many old homes, already extensively cracked, threw heaps of plaster into almost every room but remained solid.
VIOLENT SHAKING
At almost 3.40 am many residents were awakened by a sinister rumbling which grew in intensity until it seemed to smack each building. Invisible giant hands gripped the houses and shook them violently like a dog would shake a bone. It was the longest twenty seconds most people have spent in their lives, young and old, and when the main quake rumbled away into the distance leaving a trembling sensation in everything the population sighed with relief. Strangely enough, many children slept through the ordeal, but those who did wake were terrified.
It was particularly noticeable that from the time the earthquake struck until shortly after daylight an orange light filled the southern skies. As the earth regained its normal balance a peculiar smell filled the air possibly caused by an unusually large amount of dust floating upwards as a result of the disturbance.
FAULT LINE ORIGIN
Old residents of Mount Barker and District have claimed that the quake was much more severe than that experienced in 1904. Well known South Australian geologist, Sir Douglas Mawson, said it was caused by the shifting of a large rock formation in the "fault line" which extends from the Flinders Ranges to Kangaroo Island. Sir Douglas said he did not think it likely that there would be a recurrence for another fifty years. Thousands of pounds will be spent in reinstating dwellings and business premises through the Hills.
Next morning, when residents had an opportunity to survey damage it was realised what could have happened if the earthquake had lasted but a few seconds longer. Many buildings would have collapsed under the strain. So many reports have been received from Mount Barker that it would be impossible to list the individual damage.
The rental group of Trust Homes at Weld Park suffered severely. Walls and verandahs cracked, plaster showered down in every room, fancy tiles above kitchen sinks were shaken from the walls, built in cupboards moved out from the walls. One man said his refrigerator shifted six inches. Another said his rainwater tank was still doing a jig long after the last tremor passed. Lights flashed on and people rushed into their yards. Many said afterwards they expected a second quake and could not go to sleep for the remainder of the night.
HOSPITAL O.K.
Buckets and even wheelbarrows were used in many instances to carry out fallen plaster. Large pieces of plaster, including a heavy beading, crashed to the floors showering convalescent patients with debris at the Mt. Barker Rest Home. Several ceilings were damaged at the Convent. Fortunately little damage was done at the district Hospital. Matron Barratt said one small crack appeared in the new maternity wing and a good deal of plaster fell in the old wing but none of the patients were unduly upset by the disturbance. A 1,500 gallon rainwater tank is leaking in a number of places as a result of the shaking. One tank completely burst.
Mr. Jack Howard said sweets tins littered the shop when he opened for business on Monday and yet his stocks of fine glassware, displayed on shelves, had not shifted. The same gentleman had a different tale to tell about his damage at home. He had just completed plastering and the earthquake shook it all off the walls. He estimated it would cost £70 to replace it.
Bruce Newman required medical assistance to remove a piece of plaster from his eye. The High School tuck shop conducted by Mr. I. C. Ellis required a lot of cleaning up on Monday. Many bottles toppled over and were broken. Mr. Jack Hillier reported one ceiling down whilst Mr. Keith Stephenson said one wall at his father's home had visibly moved out. It is believed damage was considerable at the "Laurels" - lovely old home of Mr. and Mrs. Jack Walsh. The stories are similar in every corner of the town and it may be safely said that the return of the earthquake in the next fifty years will be all too quickly for Hills residents.
The following are reports received from other centres:
REPORTS OF DAMAGE FROM DISTRICT TOWNS.
MACCLESFIELD HOTEL DAMAGED
Macclesfield residents were all considerably startled by the earthquake which disturbed everyone's sleep at approximately 20 minutes to four on Monday morning. The quake was accompanied by loud rumbling and this was added to by the rattling of windows and other fittings.
The Macclesfield Hotel was badly cracked in almost every ceiling and inside wall, and one outside wall has a wide crack from top to bottom. Both chimneys were badly cracked and look as though a strong gale could topple them. The proprietor, Mr. Reg Halkett, was awaiting an estimation of the damage which it is thought will amount to several hundred pounds.
Bottles and other goods were thrown to the floor from one block of shelves in the store owned by Mr. W. A. Ingerson and a mixture of hair oil, cordial and broken glass greeted the assistants. After the first tremor two other loud rumblings were heard in the distance, but were not accompanied by the severe vibrations of the first.
AT LOBETHAL When the quake struck Lobethal houses were cracked and plaster showered down. Bottles and crockery danced on shelves and in cupboards before crashing to the floor. Shopkeepers generally, seemed to fare reasonably well and not a great deal of damage was reported.
Doors flew open and chimneys were cracked and otherwise damaged at Woodside. Through Woodside, Oakbank and Balhannah a large number of houses suffered damage. At Woodside several people reported that they could not open their front doors which indicated that there was a movement in the walls. One house at Oakbank was cracked in every room
AT ALDGATE Some Aldgate residents reported a slight tremor about 11 o'clock on Sunday evening. The main quake hit some homes and left a trail of plaster and mortar as it rumbled off toward the south.
AT STIRLING Our Stirling correspondent generalised. FOR SALE, heaps of broken plaster, unlimited quantities, exchange for any good crack filling. Apply "Any stone or brick house in Stirling West." The result of one earth tremor.
AT GUMERACHA A slight tremor was felt and heard at 3.45 a.m. on Monday. It seemed to be more severe on the ranges, several folk reported plaster having been shaken from the walls. The tremor terrified children whom it awakened.
AT NAIRNE During the earthquake in the early hours of Monday morning some houses in Nairne had plaster fall from the walls and ceilings. Mrs. Frank Gilbert's tank suffered a rent in the side and helpers tried to patch this in order to save the water. Many tanks built on ground level suffered and water therein was unfit for use for some
time until sediment had settled.
People awoke in fear as the quake, with a roar, rumbled on its way through the town leaving behind a distinct humming noise. Some houses shook but, beyond windows rattling, there was little damage reported. Dishes in sideboards and cabinets rattled and dressing table equipment was shaken. Packers at Chapman's factory loading goods on to a truck felt no vibration of the earth. Truck tyres may have absorbed the shock. A packer said the roof shook violently and something he could not trace crashed somewhere inside the factory. It was indeed a frightening experience.
AT LITTLEHAMPTON Mr. Miels and Mr. Cleggett's homes at Littlehampton were damaged. The ceilings and walls of some rooms in Mr. Miels' home parted, whilst over one door the crack is big enough to put an arm through. Other damage was done. Mr. Stevens' tanks next door have water pouring from them near the base of each one. In Mr. Harry Cleggett's home ornaments on the mantel piece fell to the floor as the chimney cracked. Sauces and jams crashed from some pantry shelves while others hung precariously on the edge.
SECOND TREMOR, TODAY
This morning at 5.45 another tremor was felt at several Hills centres but was not more than a slight shaking. Littlehampton and Echunga residents reported feeling the new tremor but apparently it was not sufficient to be noticeable in Mount Barker. A Wistow resident said there was a slight movement about 10 o'clock last night. Further reports from Mount Barker indicate that the earthquake played havoc with under ground tanks, a number of which lost the whole of their storage through cracked walls and caving in.
Some wells suffered likewise. However, many bore owners are quite pleased with the boosted output of their bores. One at Hahndorf began to overflow immediately after the quake and had to be directed into a nearby dam. Another at Mount Barker increased its output by several hundreds of gallons per hour.
---
Lutterworth Street
Fred KEAL, a prime mover of the annual Gravity Festival, website here, Facebook here, our page here, was bemused when arriving at his new Macclesfield residence, in Lutterworth Street. Nothing to see here? But Fred was born in Lutterworth in rural England!
In his own words: I have high hopes of discovering why a small town, in England where I was born, ended up giving its name to a street in South Australia. If you look up Lutterworth you will find it proudly boasts the translation of the bible from Latin into English and the invention of the jet engine as its most notable achievements, but I fear they are both as a result of geography.
John Wycliffe was the vicar of St Mary's Church, Lutterworth, in 1382 when he translated the bible, but he wasn't just a minor cleric in a small town doing a good job. He was a very clever man with a Cambridge education and a taste for progress. So the church put him in the most obscure place they could find in the hope he would lose interest. The rest is history.
Frank Whittle went to the air ministry in the 1930s with his idea for the jet engine and, when an obvious pressing need to win a war was identified, he was installed as far from German bombers as possible in a small town right in the middle of England!
So he wants to know, and so do we, why is it called Lutterworth Street? Was it derived from Lutterworth in England? or an early settler?
Many street names are those of the first arrivals, particularly those associated with Davenport, such as Luck and Cunliffe. But apparently there is no Lutterworth person to be found.
If you can help, contact us by email macclesfieldhistory@gmail.com, or our online form.
And by the way, the next Gravity Festival, or Gravfest for short, will be held on April 8/9, 2017. Visit the Gravfest website here for more information. And we will be there. (The Gravfest has since been mothballed.)
---