About the Macclesfield History Group
The following forms part of the foreward to a local historian's book in Channelkirk, Scotland, "Channelkirk Talks, a social history of the Oxton area", by Henry Borthwick, June 2010, printed by Kelso Graphics LLP. Foreward by Walter Elliott. ISBN: 978-0-9565899-0-3
Every Border village has one or more local historians who collect the tools and tales of bygone times from their own area. Some write these down in notebooks which often get thrown away; some take their collected knowledge to the grave and only fragments are remembered for a short time. A few take the time to write them down and get them published in book form so that their knowledge and experiences can be passed on to future generations.
Our members are categorising and preserving, both physically and digitally, our many collected items relating to our district. We display much of this historical collection via exhibitions and displays at local events, and on this website, but perhaps in the future we can branch out into a museum. We provide some genealogy research resources here.
The aims of the Macclesfield History Group are:
1. To focus on the local area's history, and to encourage an appreciation of that history.
2. To develop research, writing and history-related skills.
3. To maintain and catalogue a collection of historical information, and as far as practicable make that information available both to the local community and generally via the Internet.
Read our Reports to the Macclesfield Community Association AGM.

---
Membership
Convenor: Lesley SCHACK
Present Members: Betty WHITE, Rodney FOSTER, Brenton HANDKE, Sue WRIGHT, Daryl STEVENSON (web guy).
Recent past members:
Ray and Shirley RISELY, Geraldine JONES, Margaret JACKSON, Susan WOENNE-GREEN, Phil DAVIS.
Meetings are in the History Group Room at the back of the Institute Hall in the main street of Macclesfield, Venables Street. Time: 1-5pm Wednesday afternoon.
There are occasions when some help would be appreciated, particularly technical expertise, for such tasks as:
• researching then preparing photos and associated text for presentation on this website,
• adding data to our new database, some computer skills needed,
• scanning photos,
• preparing materials for secure storage,
• categorising them so that they can be easily found in the future
• organising and preparing exhibitions
---
Contact
Email: macclesfieldhistory@gmail.com or admin@macclesfieldhistory.com.au
Online feedback form: see Feedback / Information / Suggestions / Questions below.
Post: Macclesfield History Group, c/o PO Box 549, Macclesfield 5153
---
Macclesfield Institute OPEN on the 2nd Wednesday of each month
Do you want to know more about our town and the people who lived here?
Come in and browse our amazing collection of historical photos, artifacts and documents.
The Institute will be OPEN on the 2nd Wednesday of each month from Wed 10th February, 2021 from 2 – 4 pm. Everyone Welcome!
For further informaton contact: Lesley 0434 645 878 or Betty 8388 9203,
or visit the history website: http://www.macclesfieldhistory.com.au
---
Business Card
Late November 2017 I finally managed to create a business card that looked OK. The background photo of Venables Street in Macclesfield was taken about 1940.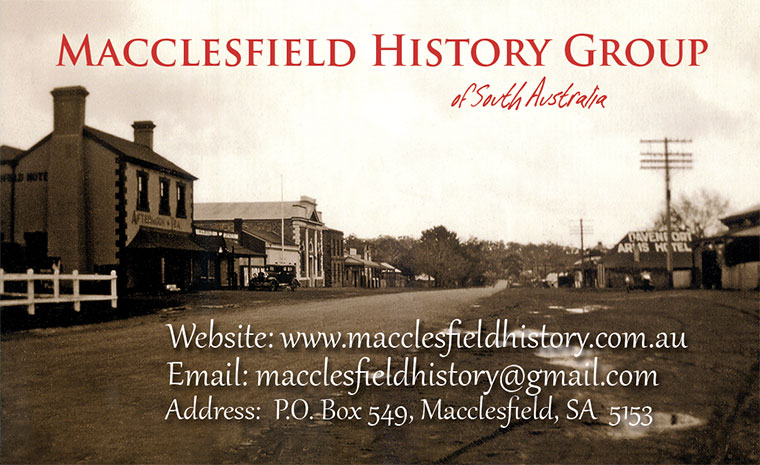 ---
Photos, Materials, Texts
We welcome the donation or loan of photos, artefacts and texts that add to the body of local historical knowledge. Copyright is an issue, and sometimes there are Privacy concerns. Consequently we:
• cannot accept for publication material that is simply copied from other texts,
• would very much appreciate a clearly written provenance for each item,
• do not have the physical resources to store any large or heavy item,
• do not have the resources to answer too many questions, though we will try.
This website is best suited to computer screens and iPads/tablets.
---
Feedback / Information / Suggestions / Questions
We welcome feedback, good or helpfully critical. We have made every attempt to present accurate information, and accept no responsibility for the results of any errors. If you notice any errors, or have any queries regarding the information contained at this site, please contact us by email at macclesfieldhistory@gmail.com.
Or fill out the online form.