Education in Macclesfield
Early education in the region was provided privately, until the Education Act of 1875 that enforced certain standards of grammar, mathematics and astronomy.
Private Schools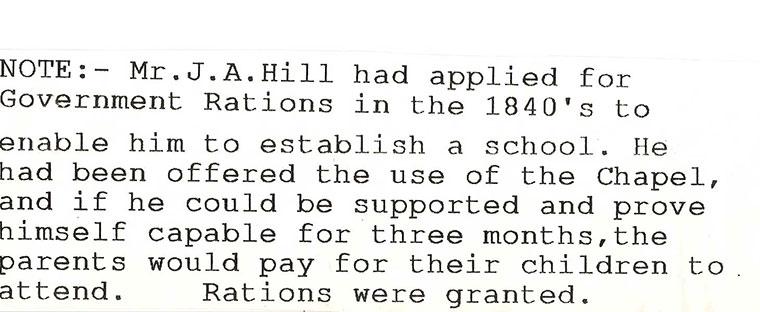 The church referred to is the Congregational Church, but it may not have been used as a school.
Public Schools
From our records: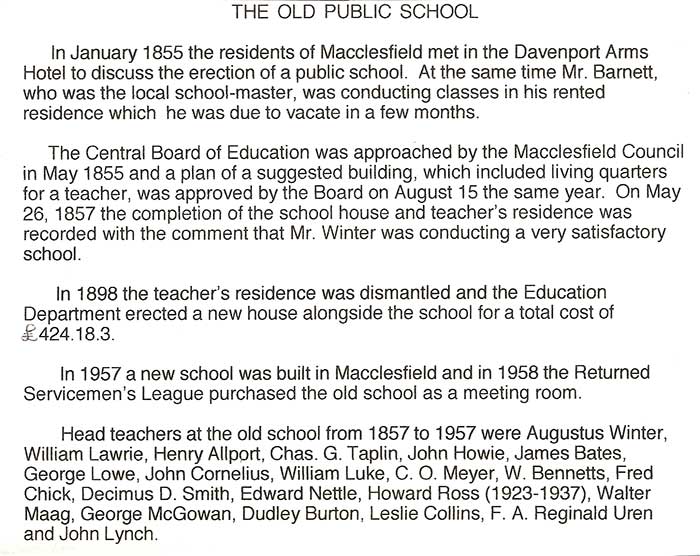 Early founders of the Macclesfield public school in 1855 were: Henry DANKER, Stephen ROBINSON, Henry MARKER, Matthew LINN and Henry LEWIS.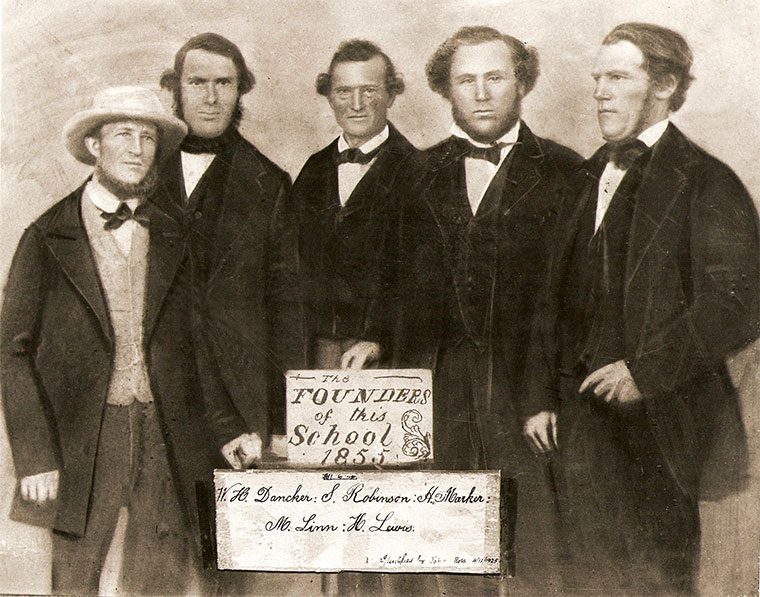 Some old school images, with names attached. Please contact us if you have any such pictures to add to our records. The names have been researched by a number of people, and any further information would be appreciated.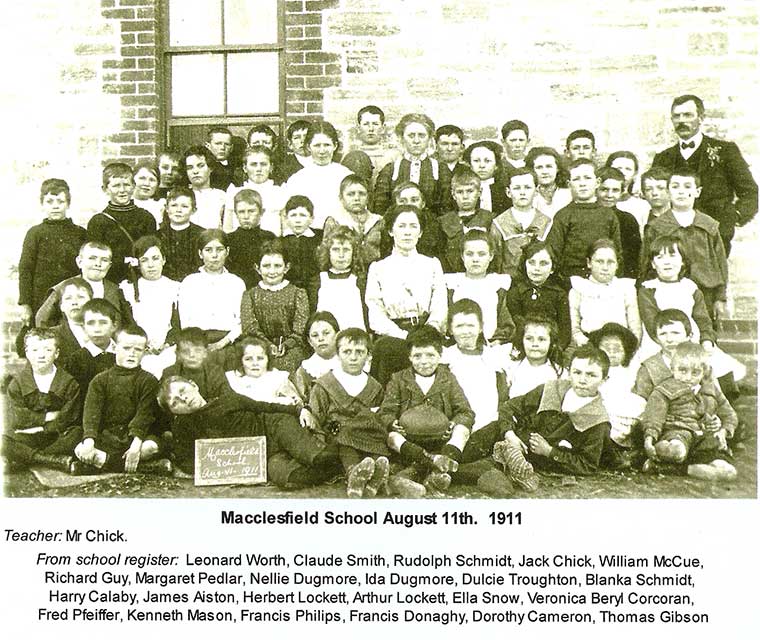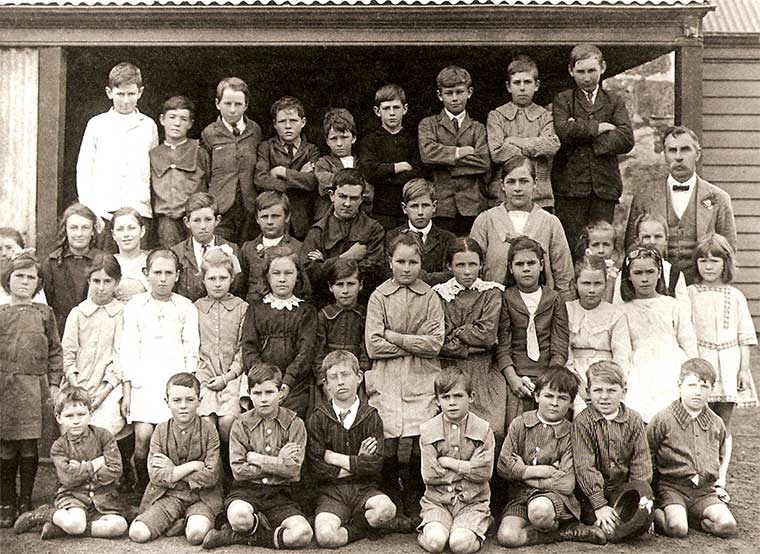 The Macclesfield School c. 1920. Teacher Mr E Nettle.
Back: Les Lemar, Stirling Stone, Bruce Fry, Ray Berry, Norman Anderson, Ken Davis, Vin Tonkin, Roger Davis, Norman "Chops" Yates.
Second Row: Hazel Bartlett (partially hidden behind Gladys Davis), Dolly Stokes, Jean Nettle, Ivan Ross, Clinton Roberts, Jim Dugmore, Bill Calaby, Evelyn Passfield, Beatrice Passfield, Dora Fry.
Third Row: Gladys Davis, Roma Ross, Thelma Calaby, Phyllis Davis, Jean Tonkin, May Pope, Madge Davis, Alice Wright, Dulce Davis, Phyllis Stephenson, Zena Fairweather, Dora Fairweather.
Front: Alec Anderson, Ted Dugmore, Angus Davis, Ralph Nettle, Ernie Grose, George Dugmore, Jim Peterson, Ray Nettle.
Note that Dora Fairweather is named in the Third Row, though actually she is in the Second Row.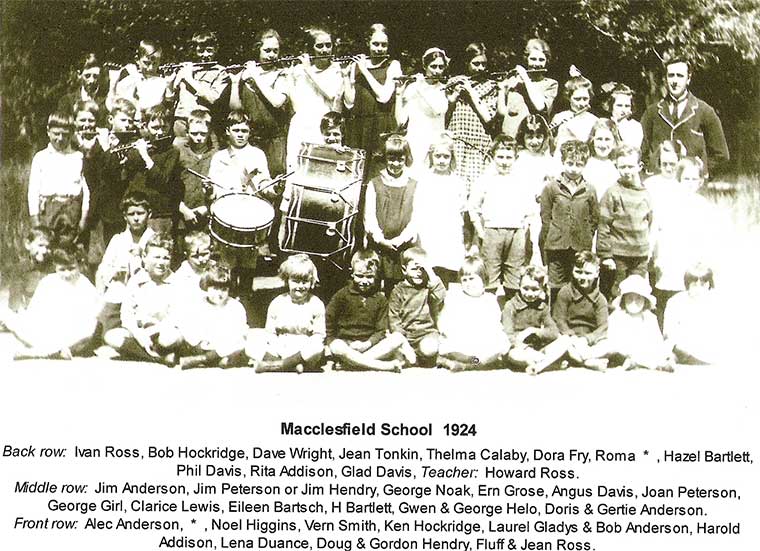 Some of the names could be incorrect. Still working on others:
e.g. Roma Ross instead of "Roma *"
e.g. Gwen George instead of "Gwen and George Helo"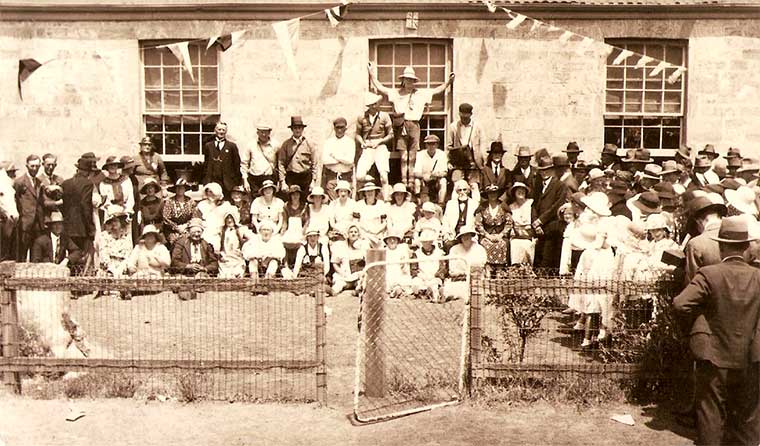 State Centenary celebrations 1937 'Back to School' reunion.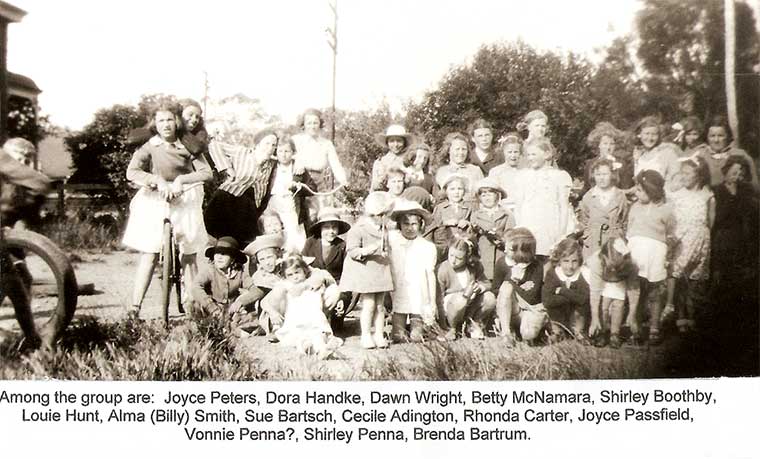 Sports Day, about 1940, taken against the south wall of the School masters house. Mix of students from different schools. Betty White in glasses and dark shirt at back, two thirds to right.