Bustles & Bows - Report
In May 2018 the SA History Festival featured an amazing program. Hundreds of events were held throughout SA promoting the State's wonderful collections, places and stories through a range of history-related activities.
This year our annual SA History Festival event was held on Saturday 26th May 2018 at the Macclesfield Institute Hall. It was an Historical Fashion Parade showcasing the Hills Victorian Ladies and their wonderful replica costumes from the past, hosted by the Macclesfield History Group and the Macclesfield Young at Heart group. During the afternoon Simply Women performed a musical interlude.
In keeping with the theme, a number of posters were displayed in the hall showing Macclesfield ladies from the 1880's and early 1900's, and a table of historical items were displayed. These items are generally on display in the glass cabinets in the supper room of the Institute.
This event proved to be very popular and tickets for 100 were sold out well before the day. The audience were delighted to see the fashionably dressed models and the full country-style afternoon tea provided by Young at Heart. Special thanks to locals Kerry Pinchbeck, Teena Cobiac and Janet Gunther who offered to model for the Victorian Ladies.
We thank local photographer Suzanne Opitz of Opitz Photography for most of these images. She can be reached by email at opitzphotos@hotmail.com.
Thanks also go to:-
- Bev Slack and her Young at Heart friends for organising afternoon tea. (For social activities and exercise classes ring 0407 710 543).
- The Macclesfield RSL for the use of their chairs and sound equipment.
- All those involved with moving and setting up the hall and general cleaning up afterwards.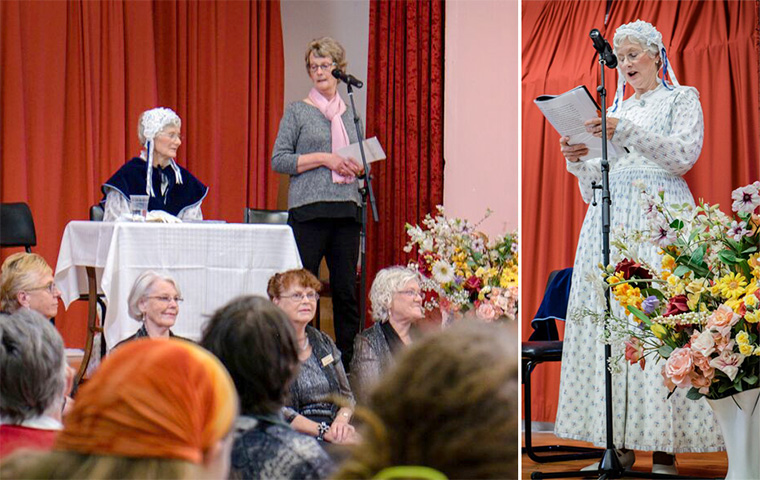 Lesley Schack, the convener of the Macclesfield History Group welcomed the audience to the historic Institute Hall c.1880 and described the program for the afternoon.
She then presented the fashionably dressed commentator Margaret Rose, at right in the photo above, who introduced each model with a full description of her costume and the relevant period and occasion that it was worn. She also described the extra accessories that ladies of that era carried such as reticules, parasols, fans and shawls.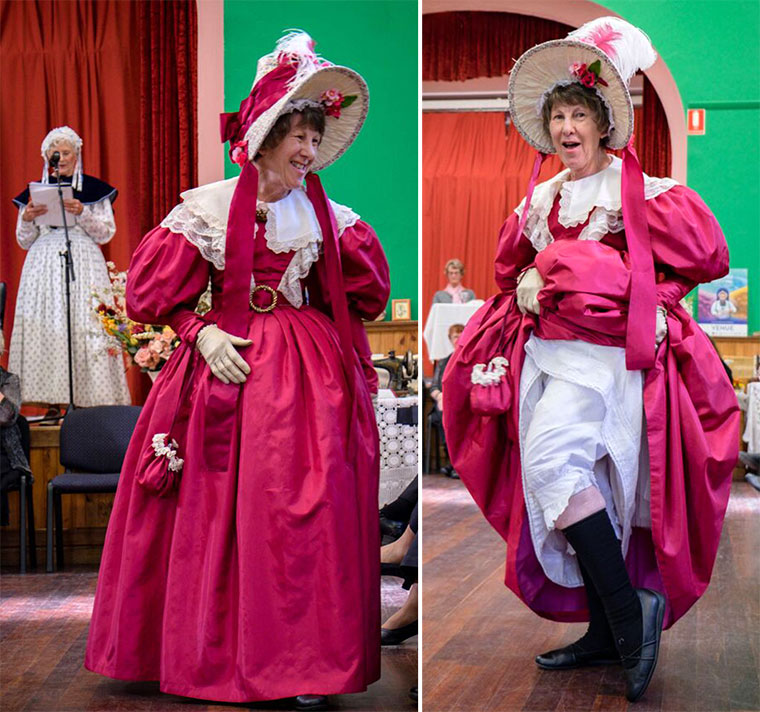 Ooh La La. Marlene Kelly, dressed in a gorgeous pink outfit, lifting her skirts for the crowd.
Hills Victorian Ladies
The Hills Victorian Ladies are based in Mount Barker and enjoy presenting fashion parades showcasing the amazing collection of gowns made by Jessie Ratledge. These are authentic replicas of 19th and early 20th century costumes including dresses, millinery and jewellery. The models also wear authentic undergarments. Jessie says, "they are as authentic as I can make them and are all made with natural materials silk, wool, linen and cotton".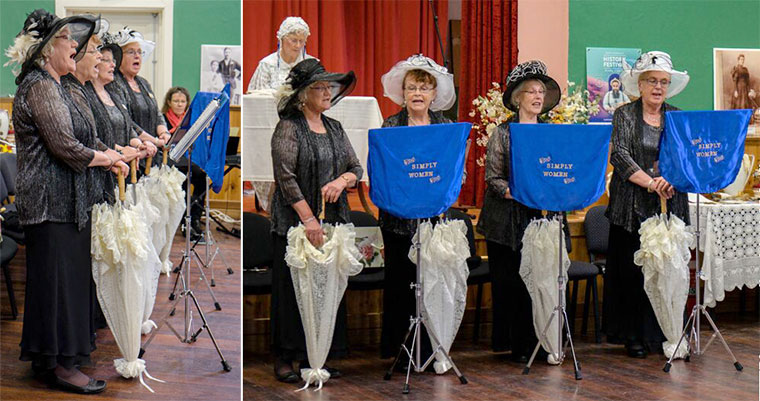 ' Simply Women' members from left: Raylene Magor, Ros Simmons, Erica Calaby, & Cathy Megson-McAllister were accompanied by Elizabeth Campbell.
Simply Women Singers
During the interval we were entertained by the Simply Women singers with a number of old favourites that were associated with Paris and which complemented the models' costumes.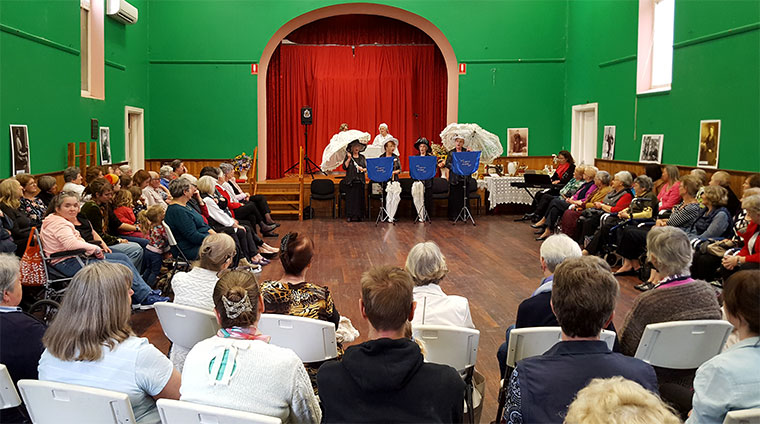 Simply Women singing to the 100+ attentive audience.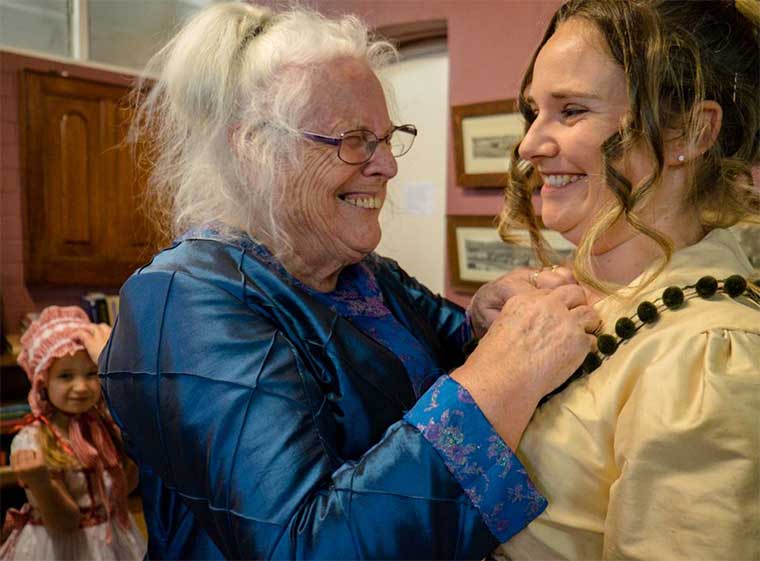 In the dressing room, Jessie Ratledge puts the finishing touches to Kerry Pinchbeck's dress.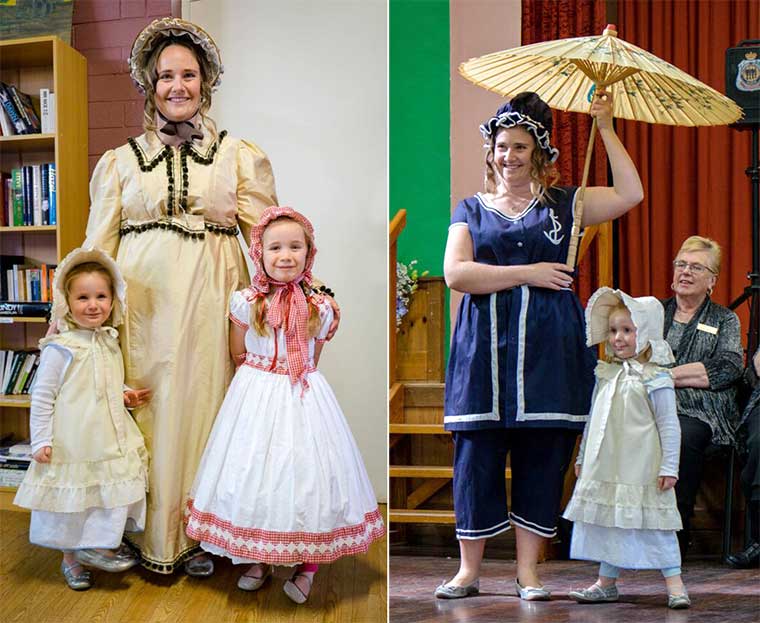 A family group - Kerry Pinchbeck and her daughters are dressed for an afternoon outing.   On the right Kerry is modelling a swimming costume with a parasol to protect her complexion.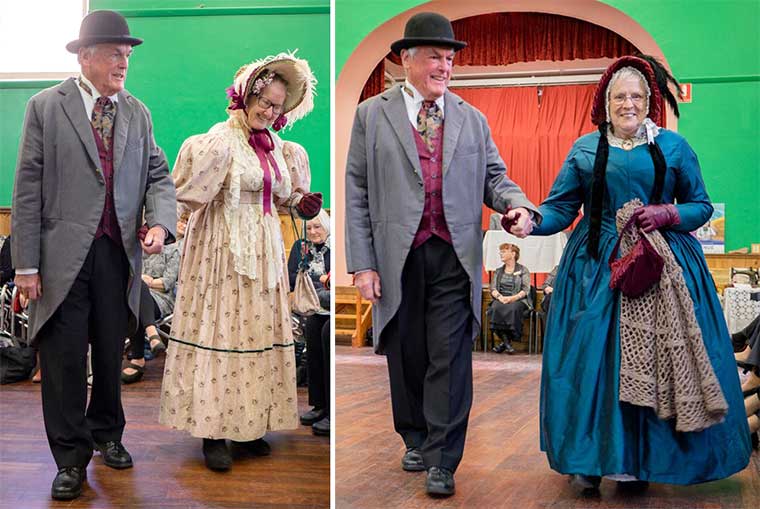 Strutting their stuff. Bruce Kelly, superbly dressed in a grey morning jacket and derby style hat, escorts Therese Cluff on the left and Jessie Ratledge on the right.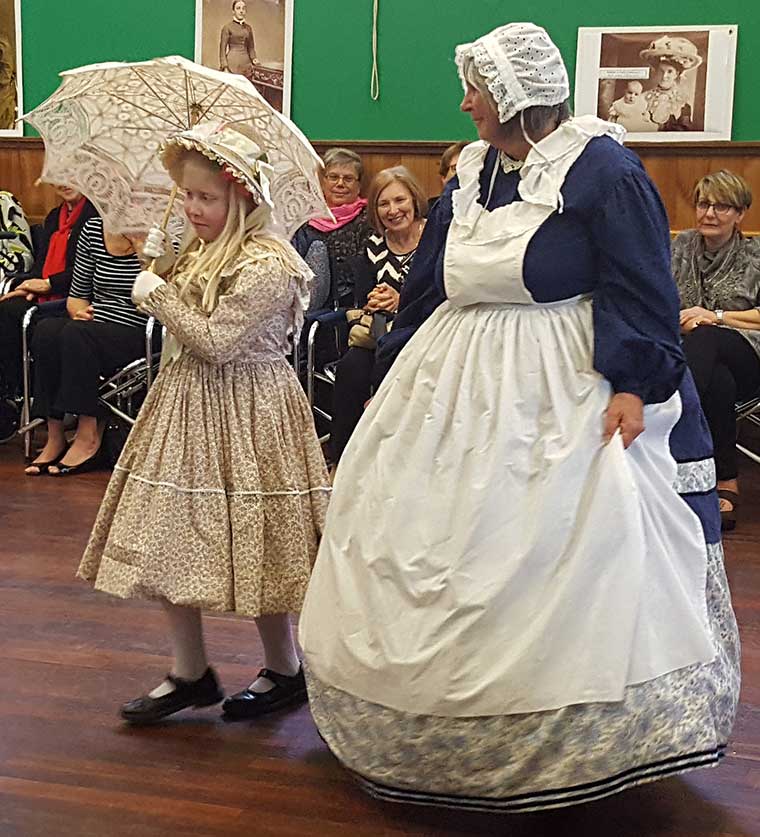 A young miss, Charlotte Stokes, with her maid, her grandmother Karin Stokes.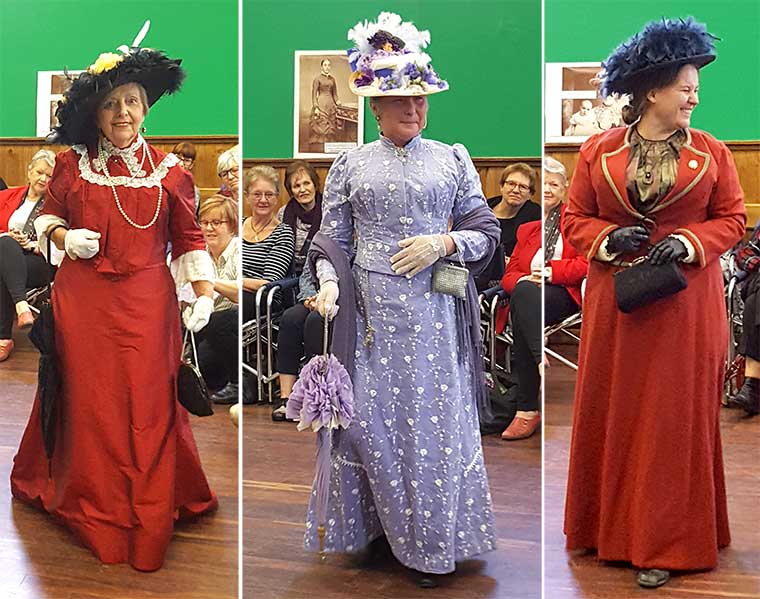 Some of the stylishly dressed ladies: Helen Gilmour, Carol Blackford, and local model Teena Cobiac on the right.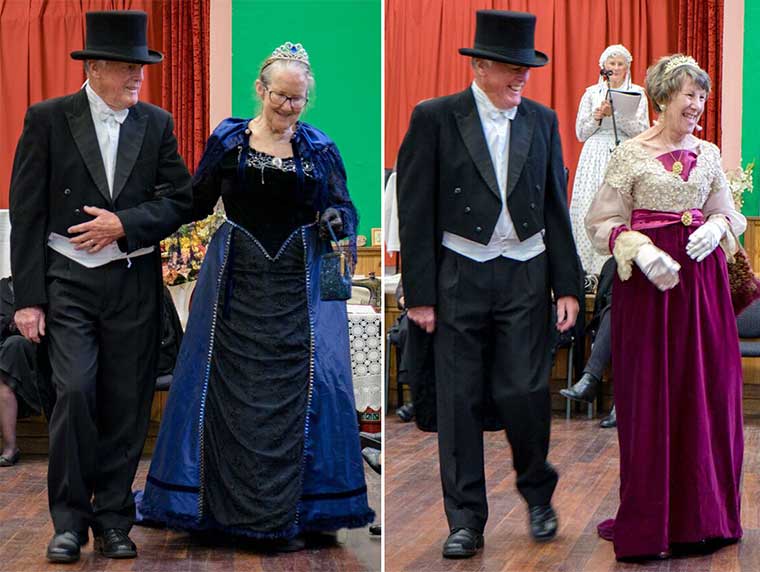 Bruce Kelly is once again splendidly turned out in top hat and tails, escorting Therese Cluff and on the right his lovely wife Marlene.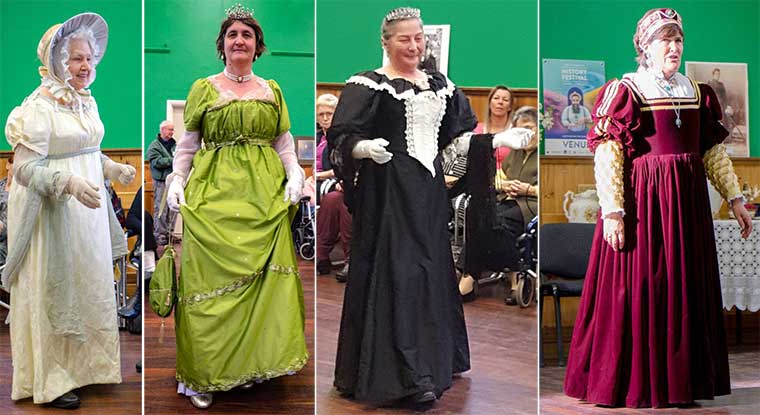 More of the beautiful period gowns: Myrtle Oats, Sandra Grindlay, Carol Blackford, Sandra Wilson.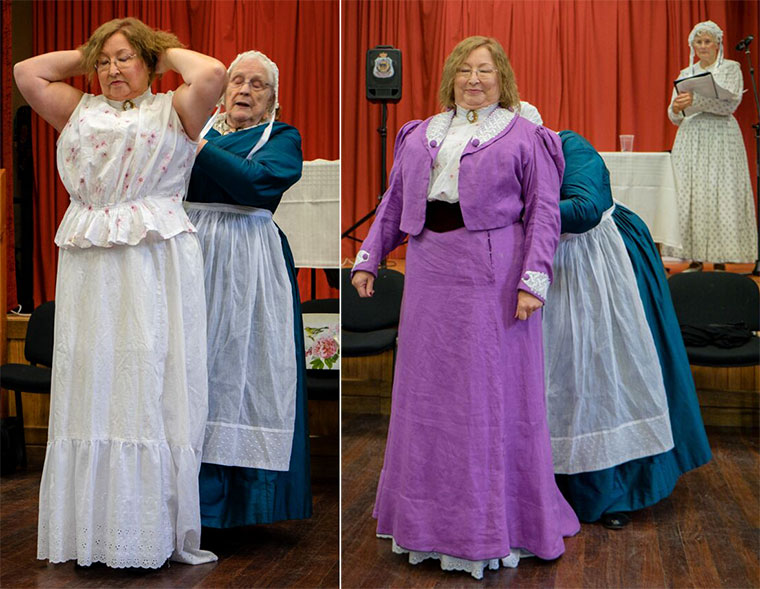 Janet Gunther, a local Macclesfield lady, is dressed by Jessie Ratledge to demonstrate the multiple layers of clothing worn in the 1800's.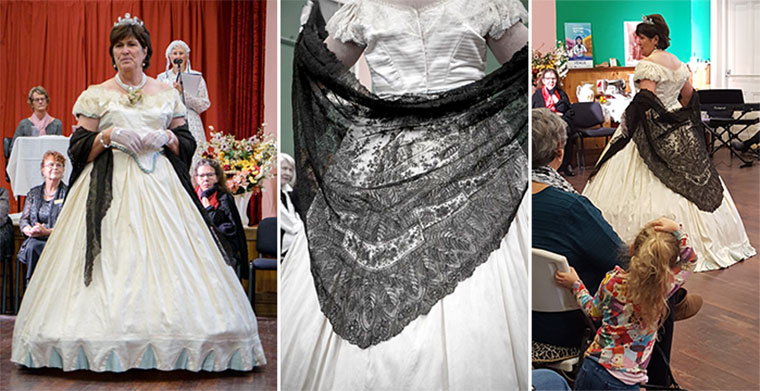 Sandra Wilson and shawl, which is over 100 years old.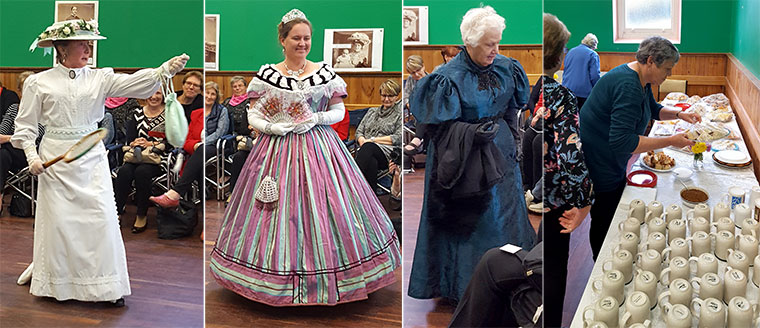 Leisure wear – tennis anyone, with Carol Blackford! Teena Cobiac in evening dress. Myrtle Oats in Beautiful Blue. A cup of tea? - provided by the "Young at Heart".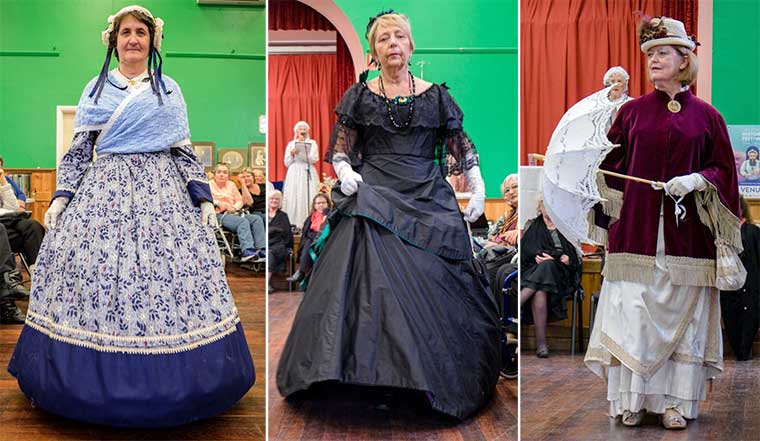 More of the beautiful period gowns: Sandra Grindlay, Helen Gilmour, Lyn Dickason.
Peter Dickason with Teena Cobiac and young Miss Pinchbeck in day wear. Sandra Wilson at right.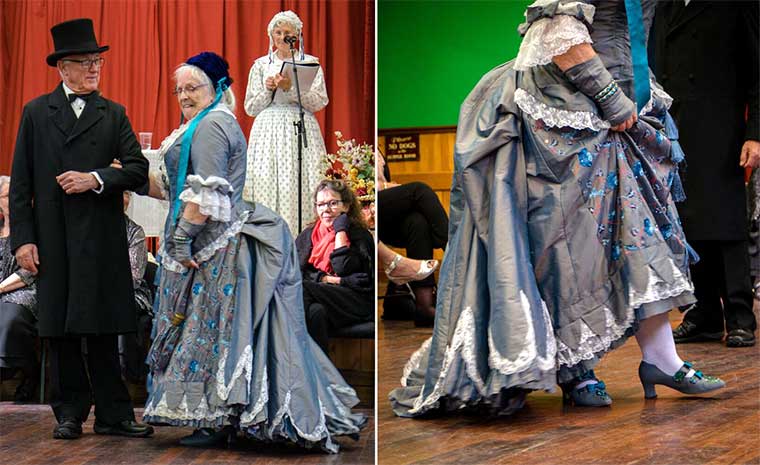 Now THAT is a bustle! Peter Dickason and Jessie Ratledge in a glamourous gown.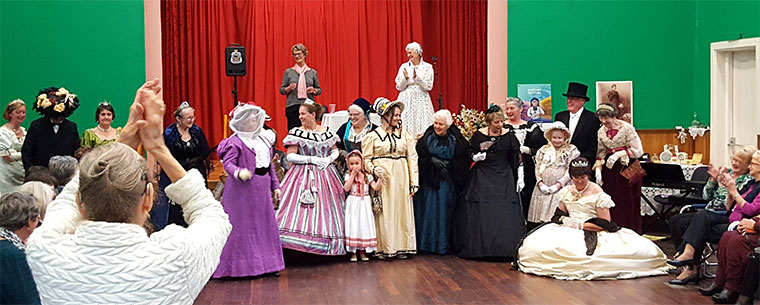 A great finale and well done everyone!

Goodbye till next time.
---