Macclesfield CFS (Country Fire Service)
CFS - A Brief History
CFS Auxiliary
1997 Photographs
1997 AGM
80 Years Celebration - December 8, 2019 - REPORT and Photographs
See the Fires near Macclesfield page.
---
CFS - A Brief History
This excerpt is from our 1990 publication, Macclesfield Jubilee 1840 - 1990, Families Old & New.
Compiled by the Macclesfield Community Newsletter Committee.
Note: For consistency CFS rather than C.F.S. is used in all instances.
Although there had been many fires prior to 1939, it was in January of that year that the whole of the South East of Australia was devastated by fires which caused huge losses of life, stock and property.
In South Australia the hills area including Macclesfield was one of those hardest hit. The fires spread because of the lack of mobility and basic equipment with which to fight the outbreaks - not because of the lack of manpower.
It was in the Macclesfield Institute on December 8, 1939 that the Macclesfield CFS had its origin, when a group of men of the district met and formed the 'Macclesfield District Volunteer Fire Service'.
Present at that meeting were the following: G PENNA, W WHITE, L SMITH, C DOWNING, K BOWEN, B JOHNSON, A THOMPSON, T McNAMARA, J ADDISON, L BARTLETT, J SMITH, W MOTT, L ZILM, S PETERS, H PASSFIELD, T COSGRAVE, P MALLINSON, S KEANE, J CALLIER (S.A. Police Dept.) and Councillor P PETERSON.
Many of the descendants of those attending that meeting are active in district organisations today.
Private vehicles were used to carry the few knapsacks and other equipment to fires, and it was some time before a tank and hand pump were purchased and the Meadows Council gave small grants toward purchase of equipment. Money was raised by holding functions and by donation. Many people donated a knapsack, as these were the main means of attacking the fire.
It was not until 1956 that funds were available to purchase the first truck for conversion to a fire unit, (this is still serviceable and is now owned privately). A shed was built to house the equipment; it still stands on the corner of Todd Street and Searle Street and is used by the Church of England as a paper store.
There was name change when the Brigade joined the 'Emergency Fire Service' which had been formed under Government Order and was administered from an office in Police HQ by Mr Fred KERR. Modernised by the use of radio equipment which was issued, Macclesfield became a vital part of the Meadows District Brigade structure.
It was realised that to properly serve the Macclesfield district more and better equipment was required, and an additional truck was purchased and fitted out. In 1964 a shed was built on council land opposite Davenport Square to house the two trucks and another light utility purchased later. The cost of this shed, complete with concrete floor and electricity connected, was about nine hundred pounds ($1,800).
Another name change occurred when the Government instituted the 'Country Fire Service Act' and we became known as the CFS in 1977.
Over the years six fire trucks have been built up by voluntary labour with some professional help. This will no longer happen, as all trucks will be supplied by Council to a CFS standard pattern. Several alterations have been made to the Fire Shed over the past few years, the latest being to accommodate the standard vehicles whenever a change-over is made.
We are proud to have four members who have received Life Membership in appreciation of their long and dedicated service to the Macclesfield Brigade. These are : Arthur EDMONDS, Len PULLEN, Mario FERRARESE and the late William WHITE. We are also proud of the members of the Brigade who during the past fifty plus years have done their share to make Macclesfield a safer place.
---
CFS Auxiliary
Until 1983 the CWA had undertaken the task of overseeing the catering arrangements for the CFS during bushfire emergencies, acting in the capacity of a supporting committee.
However, the increasingly important need for an independent and organised CFS Auxiliary with specific objectives, resulted in a meeting being held on Friday March 4, 1983 (7.45 pm.) to elect a committee, formulate a policy and decide how to put the ideas into effect. There were twenty-eight persons present at this initial meeting and six apologies were received. Two CFS members were also present - Colin MATSCHOSS and Alan JARMAN. Alan took the Chair and explained what type of help was needed and what this would involve.
The following Committee was then elected with Alan acting as the Returning Officer and Maxine TAYLOR acting as the Minute Secretary for that meeting:
President: Wendy SPRINGBETT
Vice-President: Doris HANDKE
Secretary: Colleen McNAMARA
Treasurer: Kay BOWEY
Committee Members: Pat FRANCIS, Helen PETERSON, Maxine TAYLOR, Noreen WENDELBORN, Rhonda DAVIS, Faye DAVIS
Initially, the Institute was nominated for use as the catering centre during any bushfire emergencies.
On November 14, 1985 the Auxiliary held its first meeting in the Fire Shed itself which was now equipped with an urn and other kitchen facilities which had been purchased and were available for use if needed. The continuing fundraising efforts of the Auxiliary have since resulted in the purchase of "...much of the equipment in the shed..." (A quote from the CFS News in the Community Newsletter dated December 14, 1989). Fundraising continues as an ongoing commitment.
The aims and objectives of the Auxiliary are consistent with those of the Brigade and both function in a voluntary capacity. At times the members of the Auxiliary are assisted by many residents of the town who are rostered into groups and help to provide with catering if called on during emergencies and also in the organisation of other Auxiliary functions.
The tasks of the Auxiliary are many and varied but all, (even the cleaning!), like those of the Brigade, help to make our town a much safer place to live in.
Present committee :
President: Shirley RISELY
Vice-President: Cathy FRY
Secretary: Jan WILSON
Treasurer: Kaye MOORE
Committee Members: Frank WILLIAMS, Ruth BLEY, Rhonda DAVIS, Kathryn TAYLOR, Wendy SPRINGBETT, Gill THOMAS, Helen RICHARDSON

---
1997 Photographs, please help us put them in chronological order
Can anyone add some further information for this period?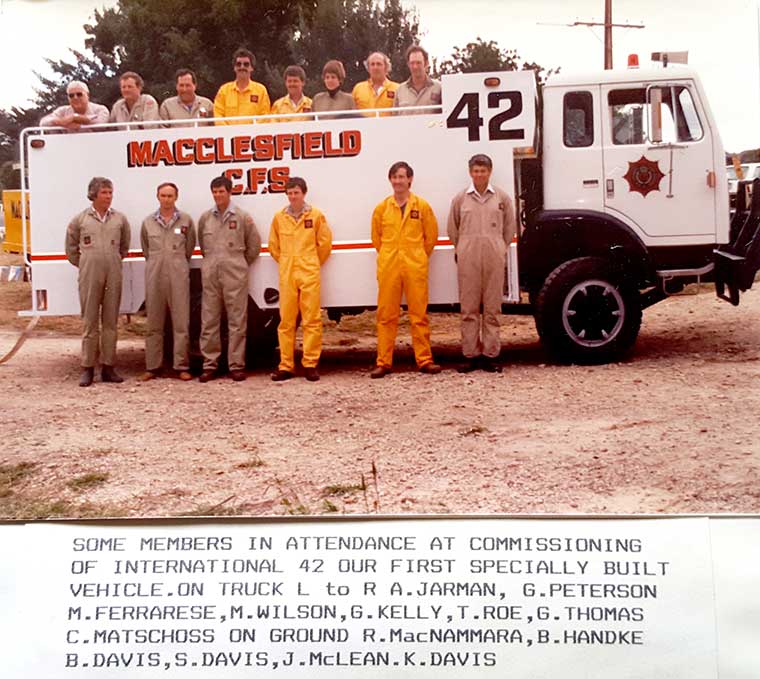 Allan Jarman, Geoff Peterson, Mario Ferrarese, Mark Wilson, G(reg?) Kelly, Toby Roe, Graham Thomas, Colin Matschoss, Rob McNamara, Brenton Handke, B Davis, S. Davis, J McLean, Kevin Davis.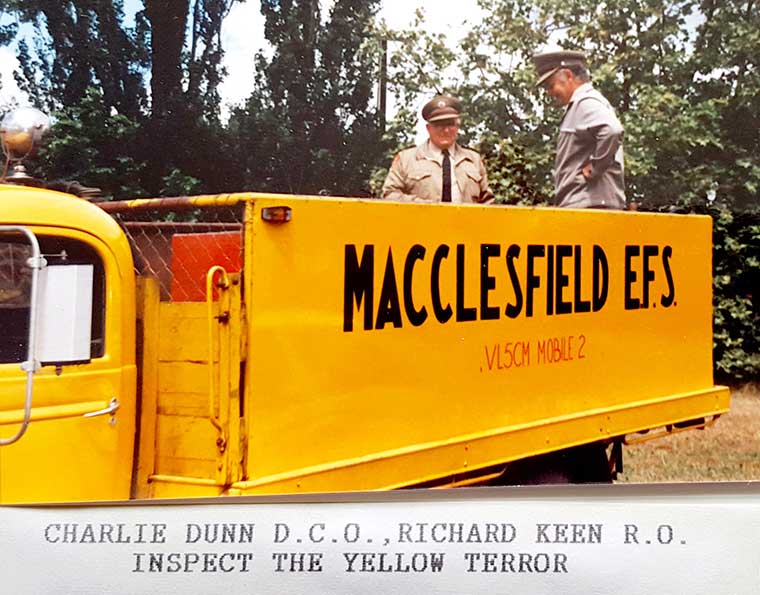 Charlie Dunn DCO and Richard Keen RO inspect the "Yellow Terror"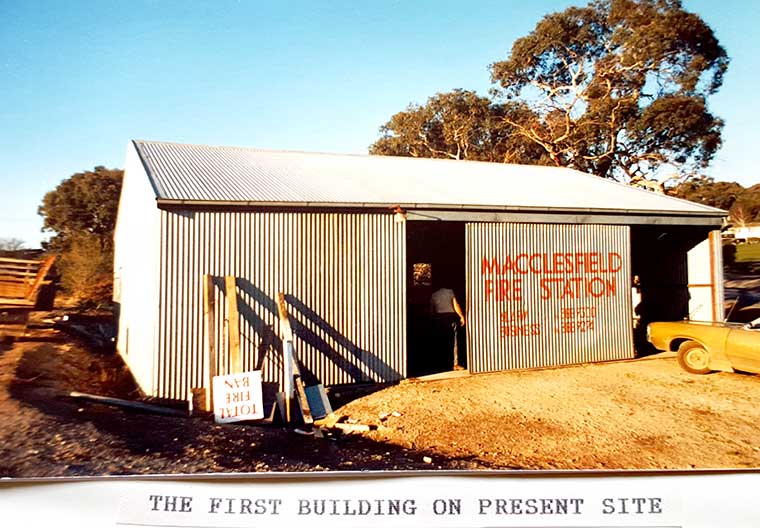 The first building on the present site.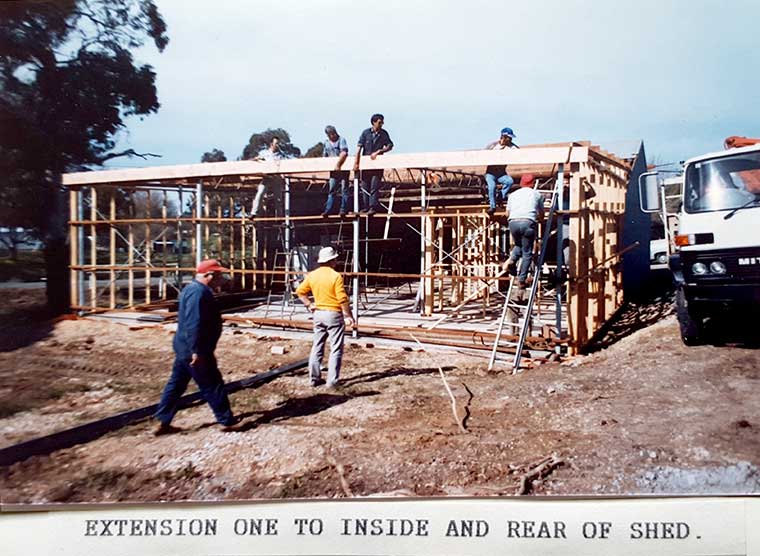 First extension to the inside and rear of the shed.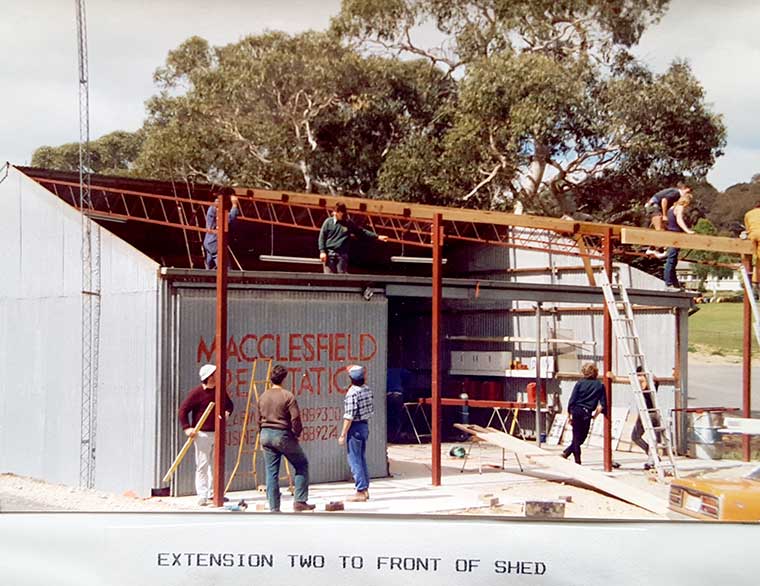 Second extension to the front of the shed.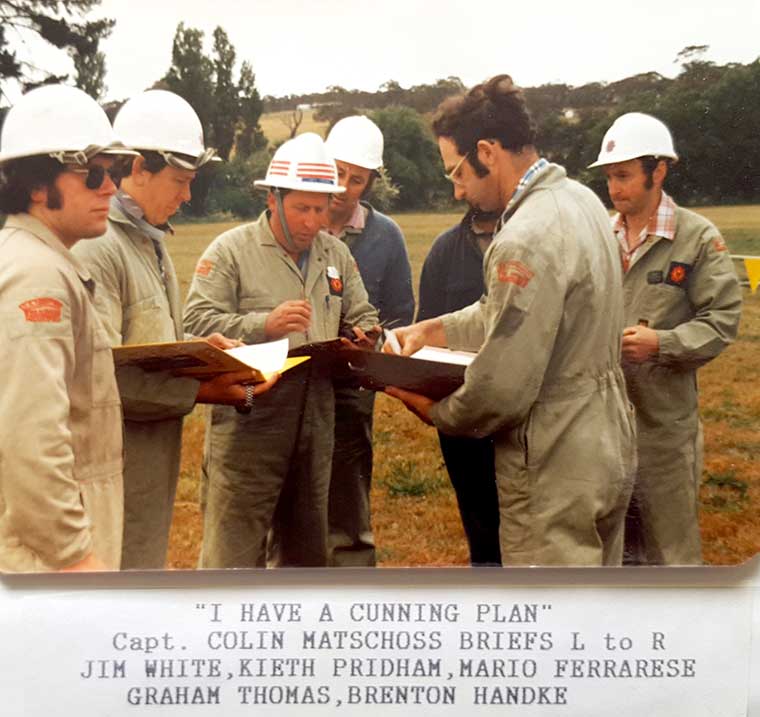 "I have a cunning plan": Captain Colin Matschoss briefs, left to right, Jim White, Keith Pridham, Mario Ferrarese, Graham Thomas and Brenton Handke.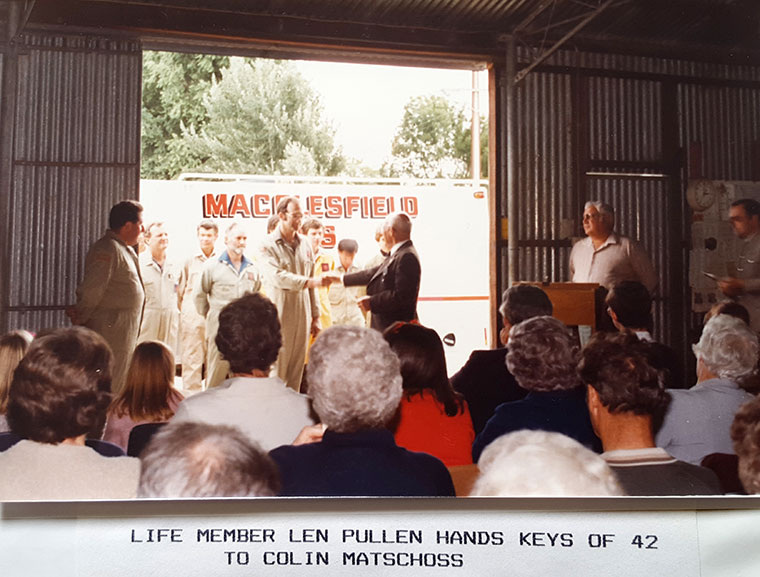 Life Member Len Pullen hands the keys of 42 to Colin Matschoss.

Above and below, Meadows District Fire Units during Fire Prevention Week 1977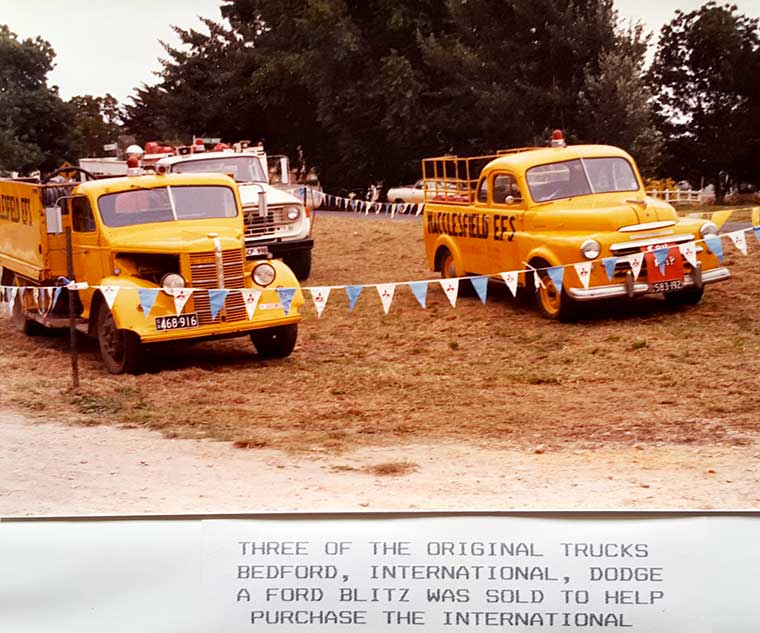 Three of the original trucks:- Bedford, International, Dodge.
A Ford Blitz was sold to help purchase the International.
---
AGM 1997
The AGM of the Macclesfield CFS Brigade was held on August 4th 1997 at the Fire Station and was well attended by 26 people, including 4 Group Officers.
After the presentation and adoption of the reports, a short report was given by Dennis Turner - Mount Barker Group Captain - thanking all of the members for their support during the last year, and congratulating the new incoming officers. He also told of changes coming for the following year.
The elections were then held with the following people being elected:-
CAPTAIN - Eddie Schneemilch
LIEUTENANT 1 - Trevor Franson
LIEUTENANT 2 - Steve Gardner
LIEUTENANT 3 - Greg Rault
COMMUNICATION OFFICER - Angela Franson
EQUIPMENT OFFICER - Greg Rault
LOGISTICS OFFICER - Greg Rault
TRAINING OFFICER - Trevor Franson
OCC. HEALTH & SAFETY - Peter Eime
PRESIDENT - Peter Eime
VICE PRESIDENT - Cathy Fry
ADMINISTRATIVE OFFICER - Shirley Risely
TREASURER - Cathy Fry
BUSH FIRE PREVENTION COMMITTEE REPRESENTATIVE - Eddie Schneemilch
VFBA REPRESENTATIVE - Sue Peterson
AUDITOR - David Barber
MANAGEMENT COMMITTEE - President, V/president, Captain, Admin Officer, plus Barry Heron, Tricia Deer and Rosi Cranwell.
The retiring President Rod. McBeath congratulated all office bearers and wished them a successful year. After a presentation of a CABA Certificate to Steve Gardner the meeting closed with a warming cup. CABA = Compressed Air Breathing Apparatus

---
80 Years Celebration - December 8, 2019
The Macclesfield Country Fire Service celebrated 80 years of service to the local community with a day of celebration and remembrance.
"Macclesfield is a small country brigade with incredible community support, which shows in our strong member numbers and community alliance. We are proud of everything we have achieved and look forward to what the future holds." - Katie Mattingly, Macclesfield CFS.
Date – 8th December 2019
Location – Davenport Square: 4 Vernon Street, Macclesfield SA 5153
The day ran from 11am until 2pm, with official presentations at 12.30.
REPORT: There was a good turnout for this anniversary, very good considering the 38 degrees day with a hot north wind. Fortunately there were no callouts throughout.
Many more photographs have been included than for the usual event. Not only were many present and past members here with their families, but also the top brass from the local Region 1 and from State Headquarters, in particular the new Chief Officer of the SA Country Fire Service, Mark Jones (with a heavy Scottish accent). With the various awards and Life Members, and local politicians well represented, we had the local who's-who in attendance.
HELP: please help me with the accurate names and awards for everyone shown in the presentations.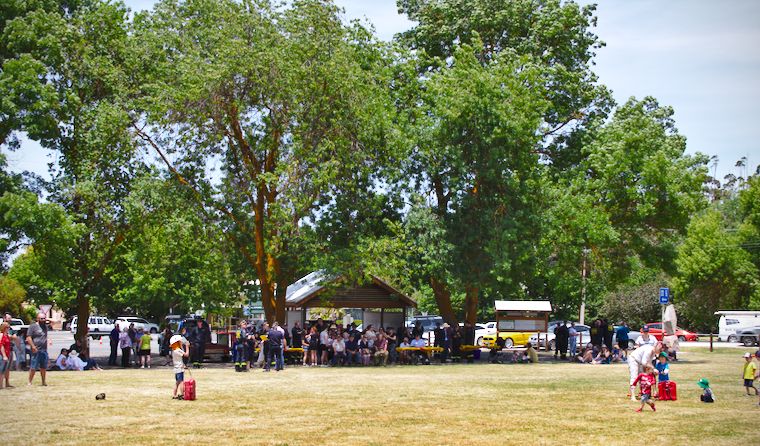 Above and below, sheltering from the hot sun at Davenport Square.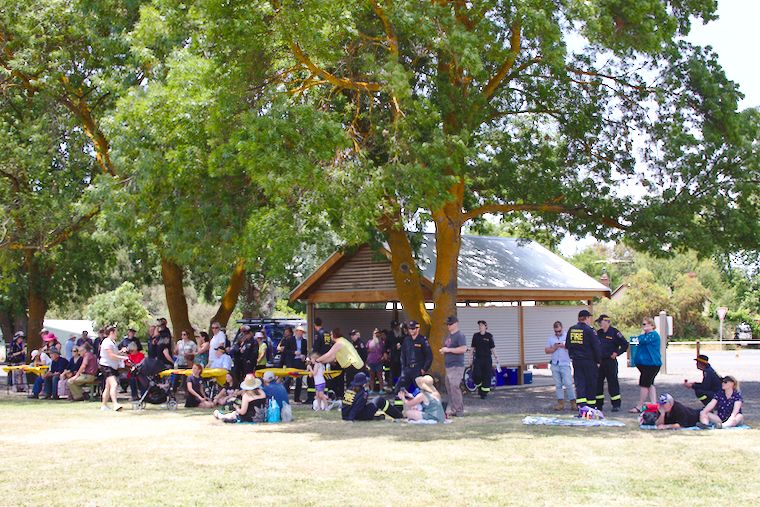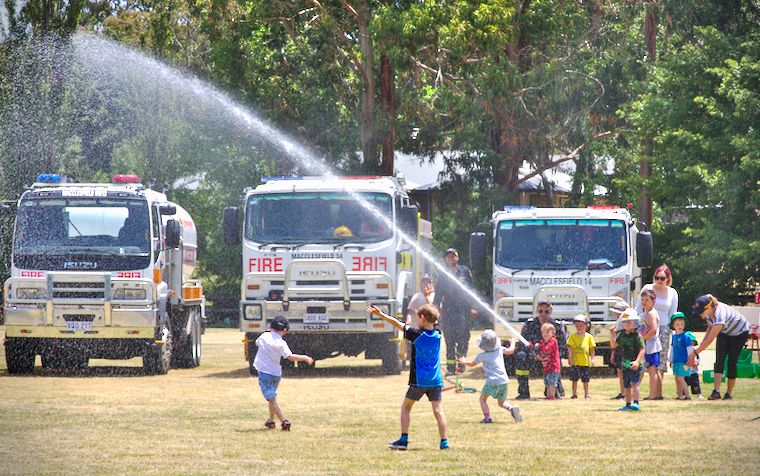 Above and below, kids + spray = wet fun.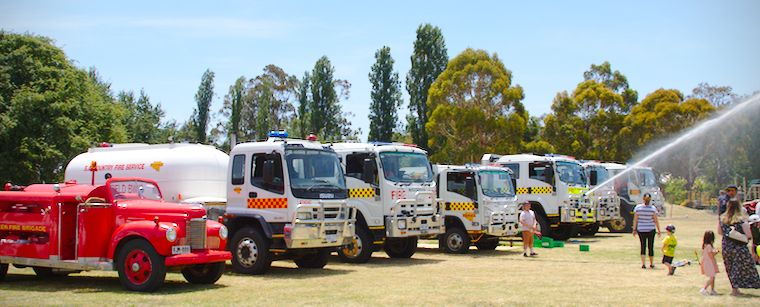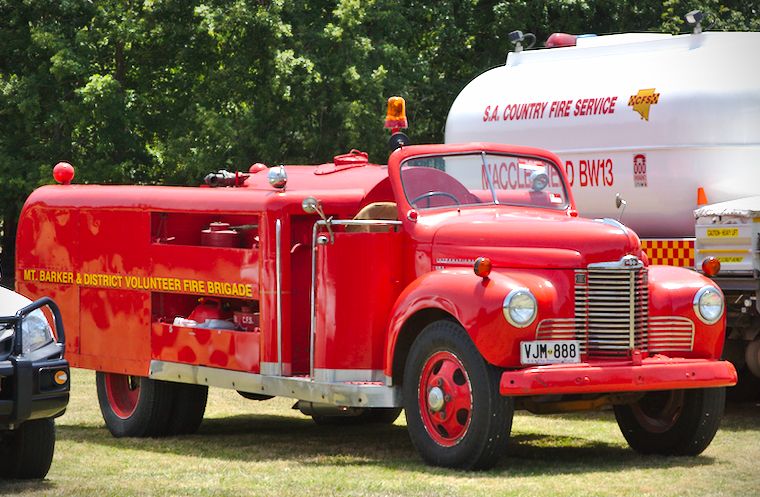 An old appliance from Mt Barker & District Volunteer Fire Brigade, with a present-day Macclesfield BW13 (Bulk Water carrier, 13000 litres) behind.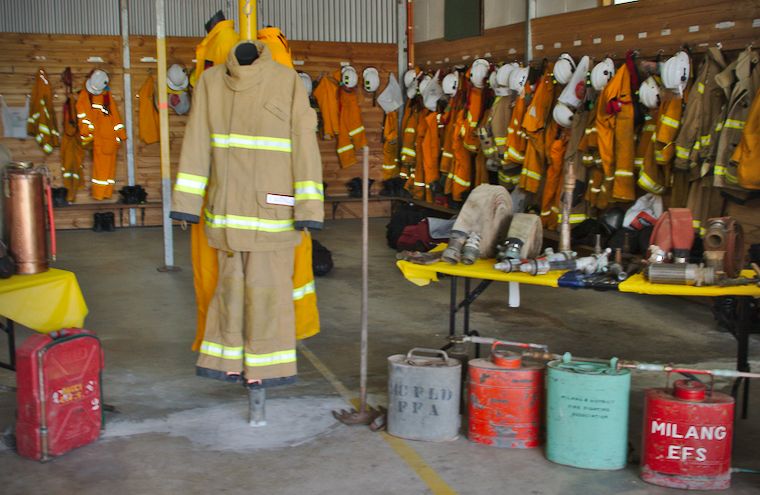 In the bay.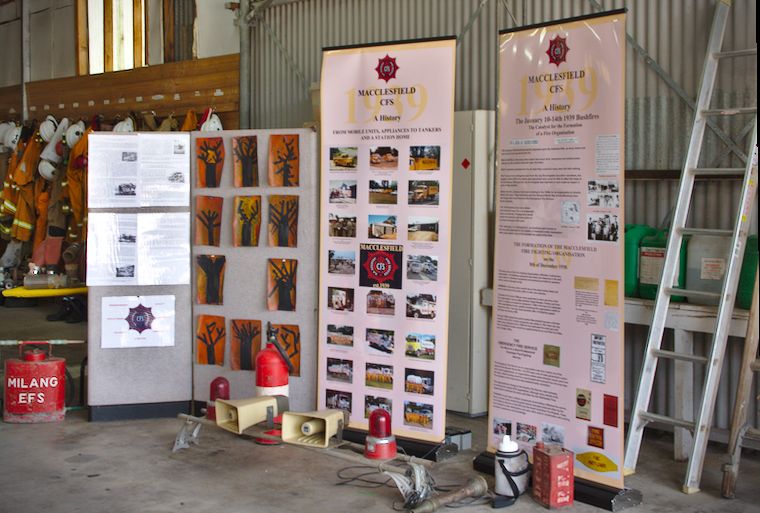 Public information boards arranged by CFS member James McLean.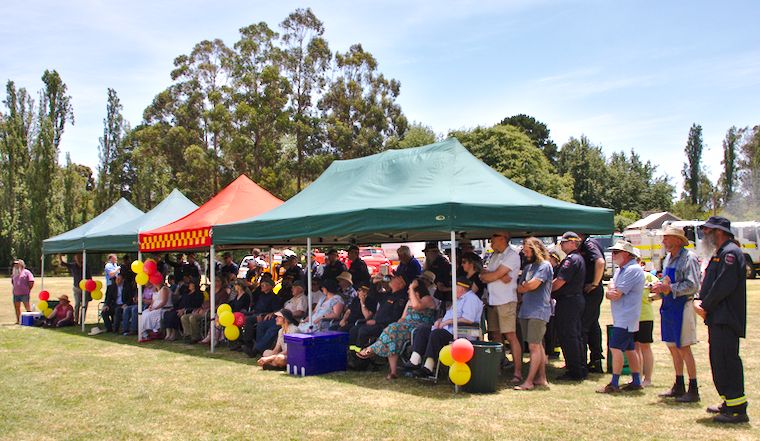 Listening to the speeches and awards.
| Josh Teague, Member for Heyson | Rebekha Sharkey, Member for Mayo |
| --- | --- |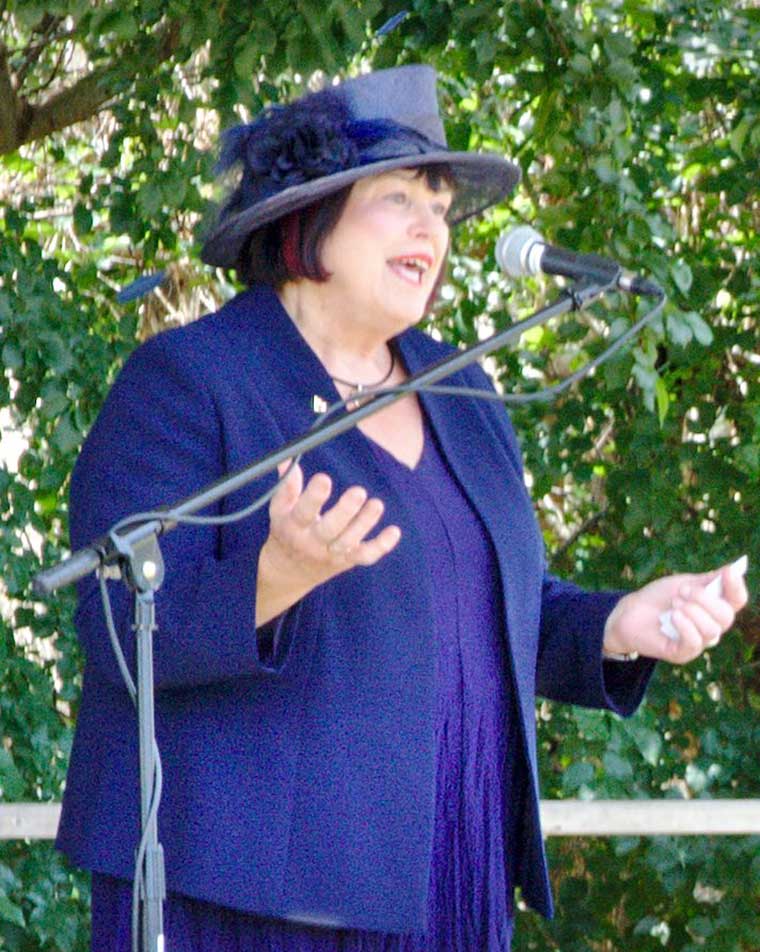 Mount Barker Mayor, Ann Ferguson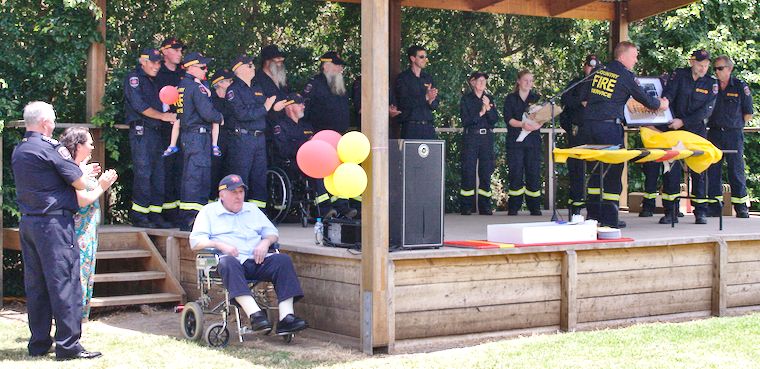 Macclesfield CFS photograph of firefighters. Mario Ferrarese in the wheelchair.
Photograph A
| Macclesfield Captain Fred Keal receiving an award from Chief Officer of the SA CFS, Mark Jones. | |
| --- | --- |
Photograph B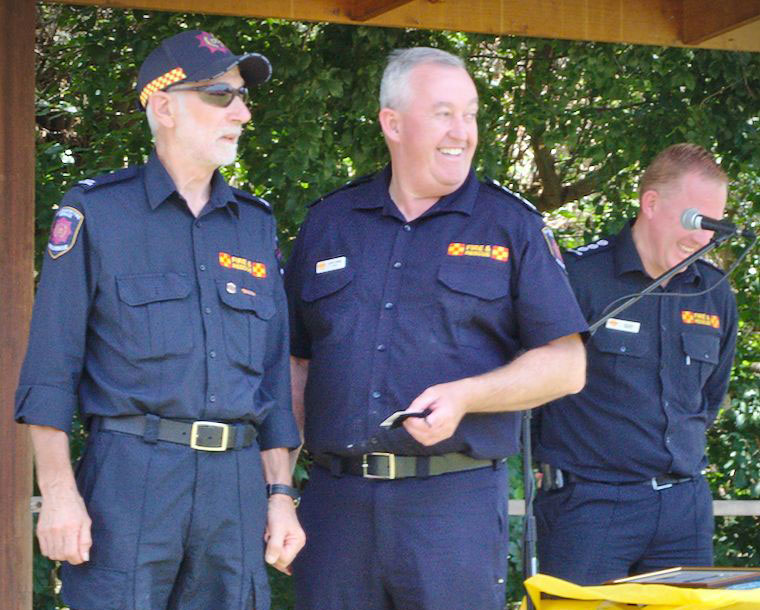 Photograph C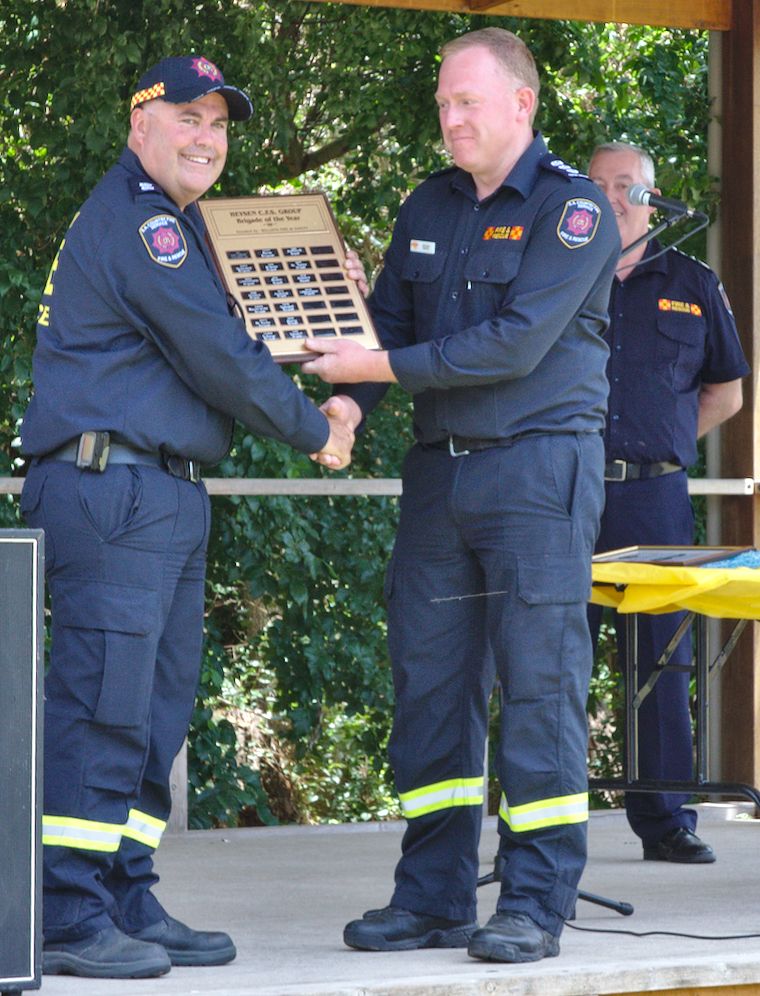 Photograph D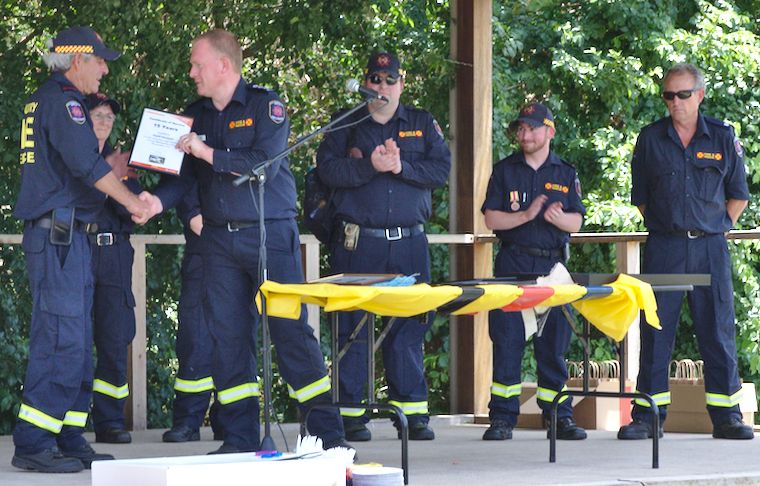 Photograph E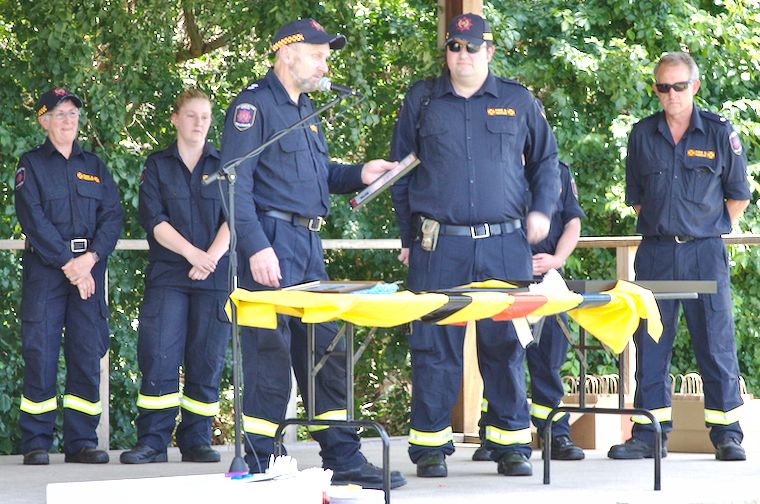 Photograph F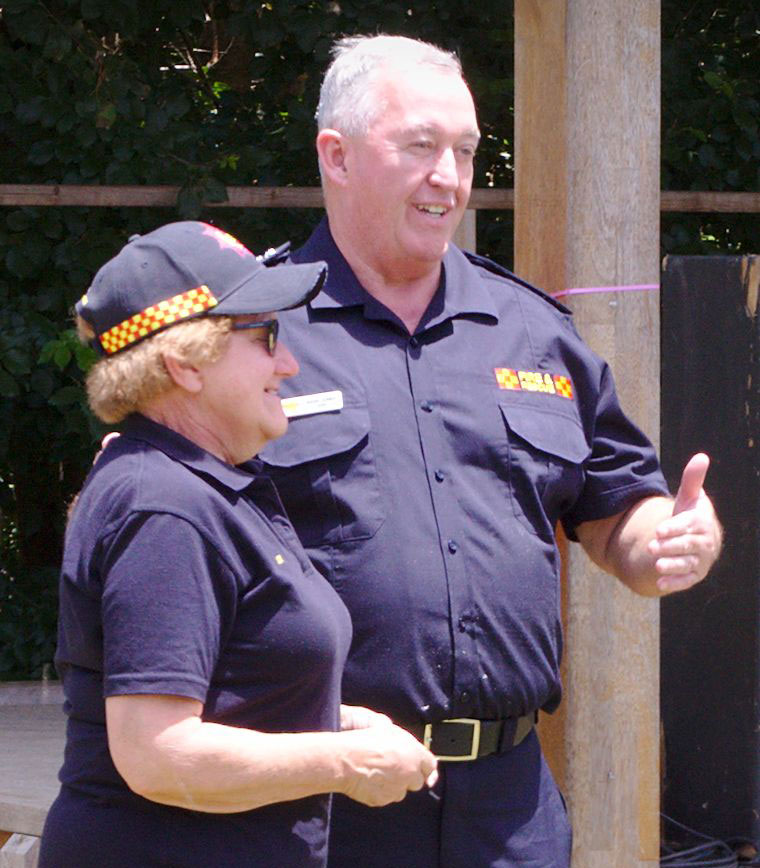 Photograph G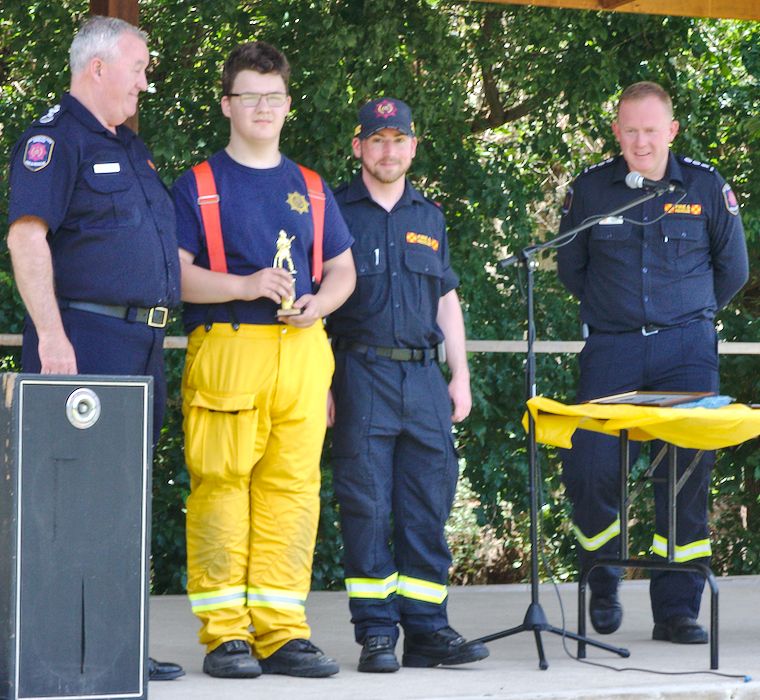 Photograph H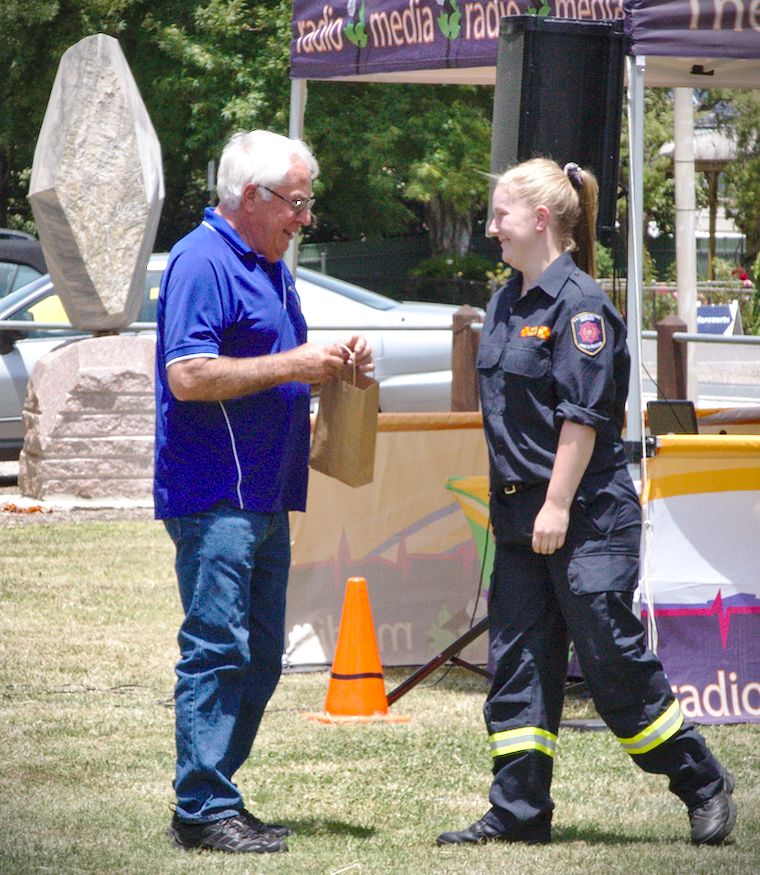 Photograph I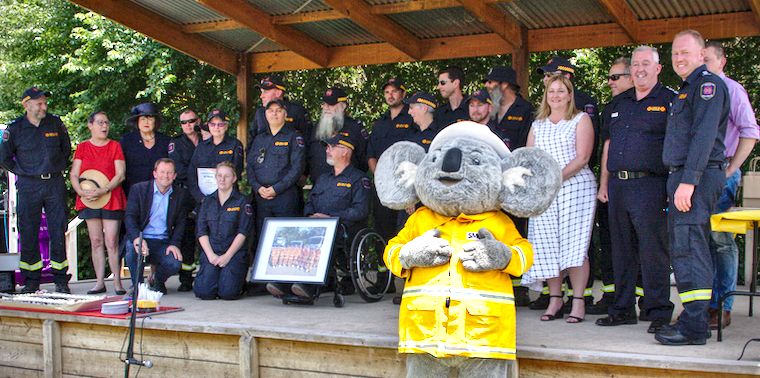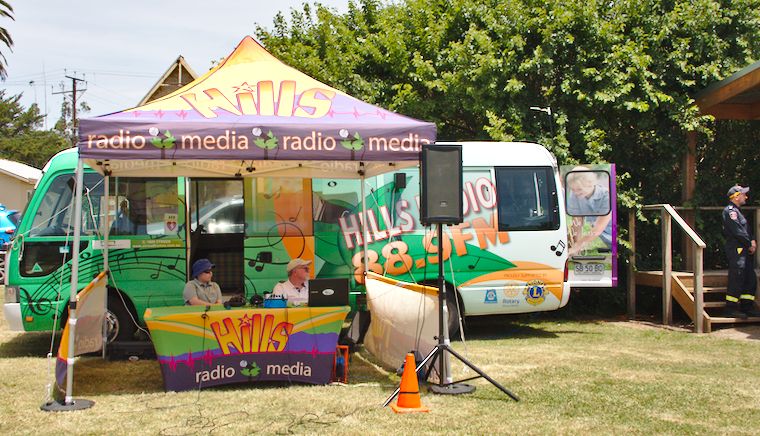 The Hills Radio, is a community based radio station located in Mount Barker, broadcasting to all of the Adelaide Hills on 88.9FM. Their bus is often seen supporting local events. See the website for more information.

---