Hall of Fame, Macclesfield Football Club
• William "Bill" BARTRUM
• Graham Ernest BROADBENT
• Trevor CALABY
• Henry CONIGRAVE
• Peter DRENNAN
• Charles George EDMONDS
• Trevor EDWARDS
• Wayne EDWARDS
• Arnold HANDKE
• Barry HANDKE
• Brenton HANDKE
• Peter MEEHAN
• Michael MOORE
• Brenton John SMITH
• George WYATT
• Cecil Bernard Alvin YATES
• Norman Arnold Theodore YATES
---
Inaugurated 13th August 2017
Front cover and first page of the event booklet.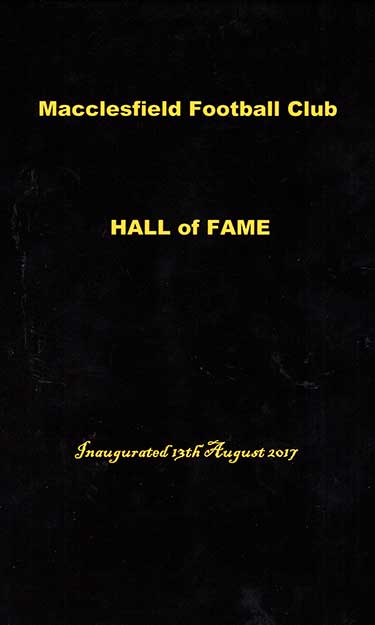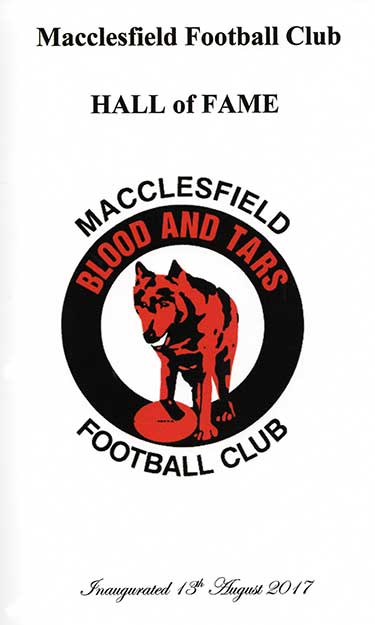 The HANDKE Family invitation to the event.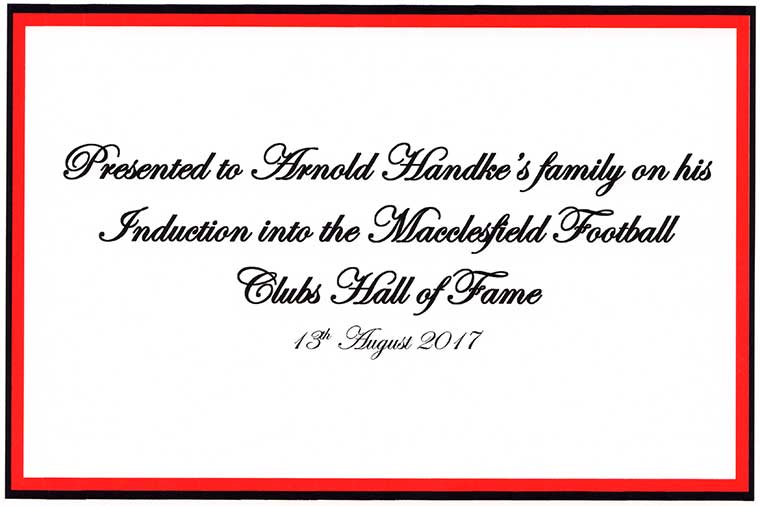 Selection Criteria for Induction into the Hall of Fame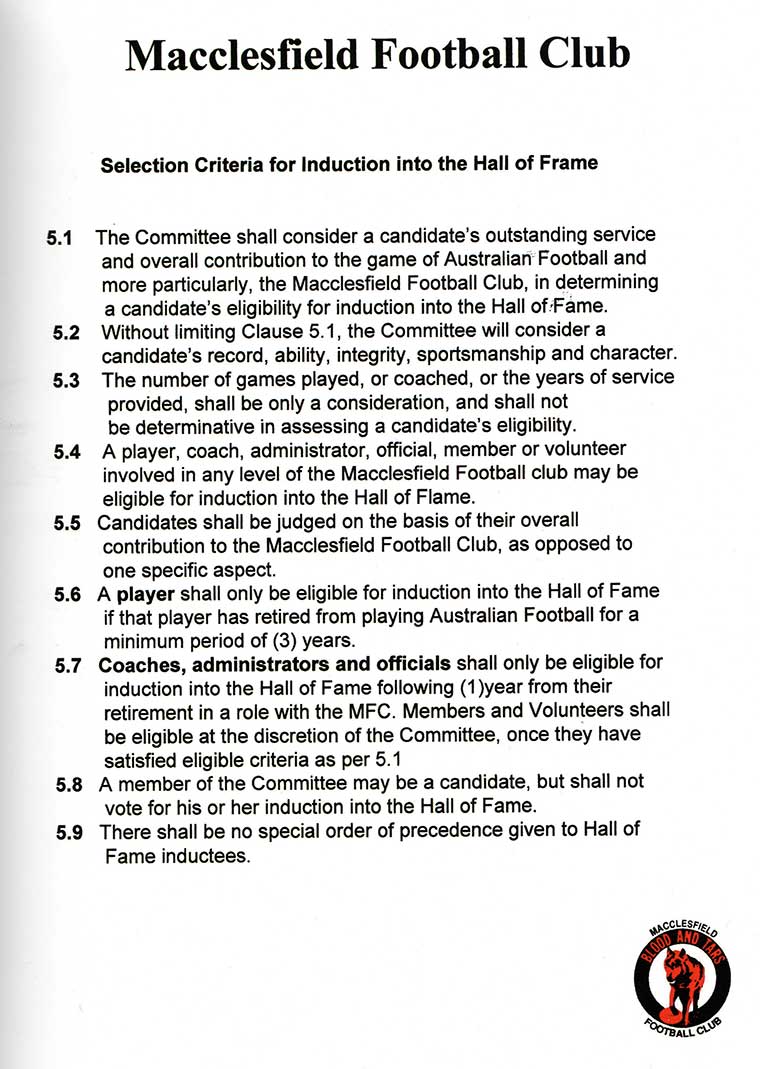 ---
Henry CONIGRAVE - Inductee 13 Aug 2017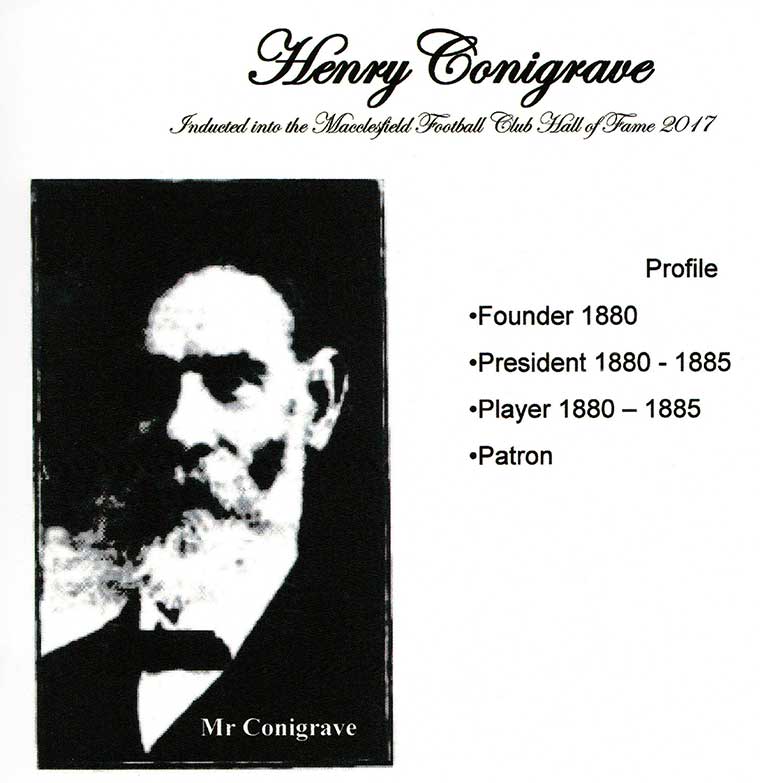 • Founder 1880
• President 1880-1885
• Player 1880-1885
• Patron
Henry CONIGRAVE was the main force behind the formation of the Macclesfield Football Club in 1880, and as such is arguably one of the most important people in the Club's history. Harry was born in Adelaide in June 1850 and moved to Macclesfield in 1879.
With his brother Benjamin, Harry took over the Macclesfield Brewery in 1879 and continued to run it until 1885 when the operation was moved to Kent Town.
Harry was a keen sportsman and with the formation of the Football Club in 1880 he over-saw our first recorded game. With the help of some players from Strathalbyn and Mt Barker, Macclesfield played against the Norwood Football Club on the Davenport Square for Queen Victoria's Birthday in May 1880. Norwood was in the middle of a 6 year Premiership run and with over 600 spectators watching, they took the win over Macclesfield. The Best player for Macclesfield was no other than Harry CONIGRAVE. Over the following years Macclesfield played regular games against Strathalbyn, Mt Barker and throughout the early 1880's teams from Adelaide. In 1881 they played against North Adelaide.
Harry was also interested in cricket and over Easter in 1880 the local paper reports "Our energetic captain arranged three matches. On Good Friday the Mulls played against the local club, on Saturday the Kensington, and on Easter Monday against the Adelaide Young Men's Society."
Henry also held significant appointments within the Macclesfield community having served as Auditor for the Macclesfield Council in 1882, 1883 and 1884.
Historical records from this era are to say the least, sketchy. His exact time spent serving on the Club's committee and as President are not revealed, nor the number of games he played. It is known that when the Brewery moved in 1885 Henry established a mining agency in Adelaide. Henry CONIGRAVE died on February 4th 1919 aged 68 and would have probably been amazed to know that the seed that he started in 1880 is still growing in 2017.
---
Norman Arnold Theodore YATES - Inductee 13 Aug 2017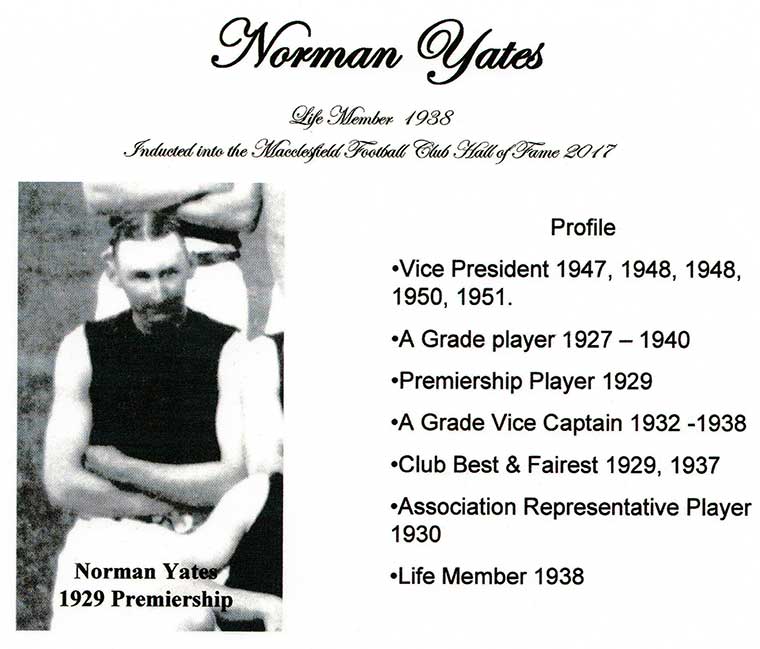 • Vice President 1947, 1948, 1949, 1950, 1951
• A Grade player 1927-1940
• Premiership Player 1929
• A Grade Vice Captain 1932-1938
• Club Best & Fairest 1929, 1937
• Association Representative Player 1930
• Life Member 1938
Norman "Chopper" YATES did not look like a footballer - he was of slight stature and a quiet and unassuming young man. However his contribution to the Macclesfield Football Club and his impact on the ground was most impressive. Norm was born in July of 1908 to Herb and Lydia (nee PASSFIELD).
Norm started his A Grade career in the second half of the 1920's and a few years later in 1929 he won the Clubs Best and Fairest award. In that same year (1929), he also played on the wing in the Clubs first premiership, in which Macclesfield defeated Aldgate. Norm was named as Best Player on Ground for the Grand Final. Norm again won the Club's Best and Fairest in 1937 and was runner up on several occasions.
During his playing career Norm represented the Club at Association level in 1930 and was the A Grade Vice Captain from 1932 and again in 1938. As records from this period are sketchy, it is likely he was also either Captain or Vice Captain on other occasions. Norm continued to play until 1940 when the Club went into recess for the duration of World War 2.
Football resumed in 1946 and in 1947 Norm was elected to the position of Vice President and he continued in this capacity for the next 4 years. It was during this period the Club won several Grand Finals - the B Grade in 1947 and the A Grade in 1948.
Norm had been nominated and awarded Life Membership in 1938. However the actual Life Membership presentation was made on the 19th February 1946 due to the interruption of life due to war.
Norman YATES' involvement with Macclesfield as a player, administrator and volunteer worker were outstanding and his efforts certainly contributed to the early foundations and success of the Club. His family remembers Norm as a quiet unassuming man, who rarely spoke of his football prowess, and were in fact pleasantly surprised to learn of his achievements within the Club.

---
Charles George EDMONDS - Inductee 13 Aug 2017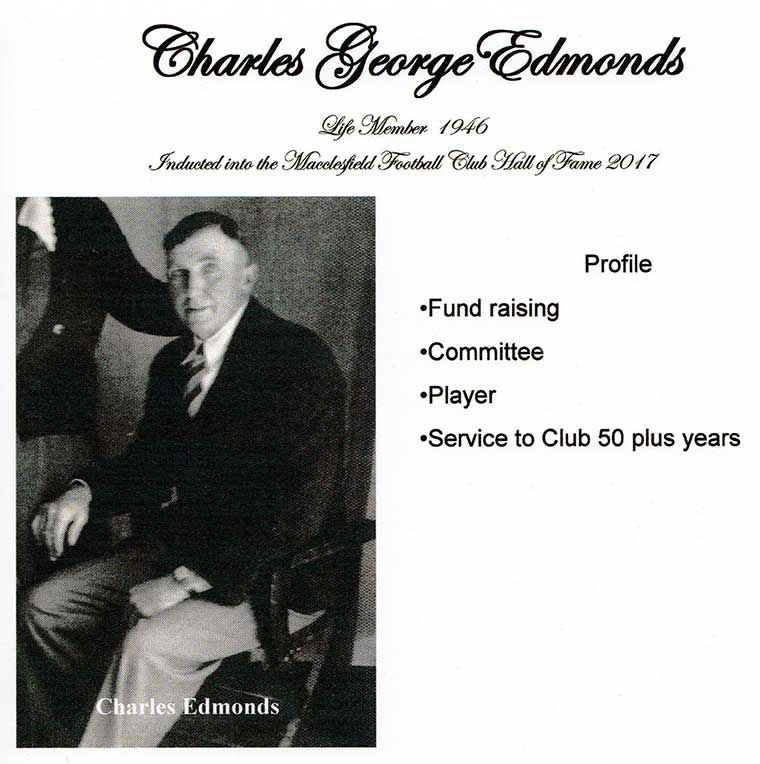 • Fundraising
• Committee
• Player
• Service to Club 50 years
Charles was destined to be involved with the Football Club, being in the second of so far five generations to play for the Macclesfield Football Club. His father, Charles Senior had been an inaugural player of the Club and was Secretary of the football club when Charles Junior was born in April of 1892.
Playing in red and black with a green band just after World War 1 and then during the Great Depression, Charles played in the Hills Central Football Association against the likes of Aldgate, Echunga, Meadows, Kangarilla, Milang, Mylor and Ambleside. All his football was played for Macclesfield on Davenport Square.
A great servant of the Club, Charles was recognized in 1946 with a recommendation for Life Membership, only the 4th person in the history of the Club to be so, this after 35 plus years service to the Club at that point.
Charles was always frugal with money, and as a farmer, there just wasn't enough to go around, especially in the Depression years. Maybe that's why he got the job later in life of collecting the donations from the public watching the football on Davenport Square. Back then the Club couldn't charge admission - so to raise money they collected donations! He would walk around the oval ringing a bell, persuading the patrons to contribute. He also didn't believe in wasting petrol or the work horses going to football training, so Charles ran to training (from Flaxley) and then after training ran home again.
Charles continued to serve until his passing in 1959 and his involvement with the Macclesfield Football Club spanned an impressive 50 years. His sons Frank and Arthur were also destined to be involved in the Blood and Tars between service in World War 2, and the family is still involved with the Club.
---
George WYATT - Inductee 13 Aug 2017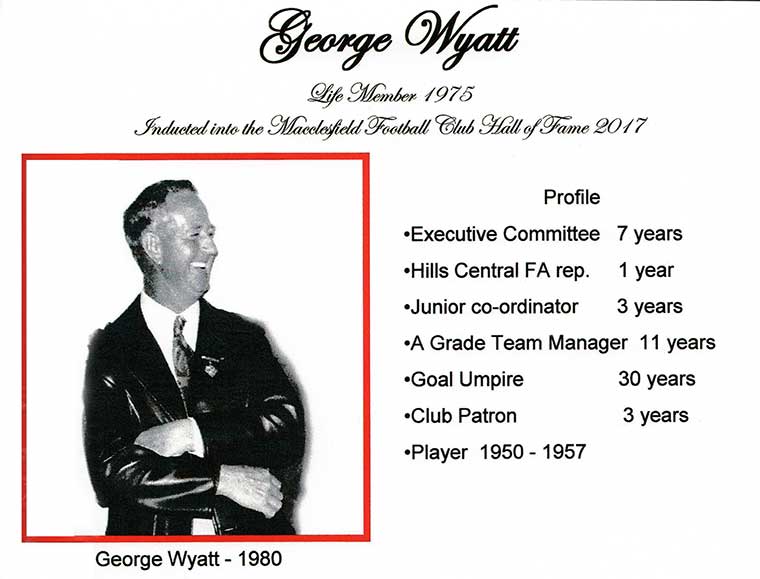 • Executive Committee 7 years
• Hills Central Football Association Rep 1 year
• Junior Co-ordinator 3 years
• A Grade Team Manager 11 years
• Goal Umpire 30 years
• Club Patron 3 years
• Player 1950-1957
George was born in 1925 and attended the local Macclesfield Primary School. After leaving school he worked in his mother's grocery shop and made deliveries around Macclesfield. He worked at Jacobs Dairy Factory for a time and then spent 30 years with the Highways Department.
In 1949 George married. He started playing football in the early 1950's. In 1957 George was elected to the Club's Executive Committee. During his time on the Executive Committee George represented the Club at Hills Central Football Association meetings for 1 year. He later became the Junior coordinator for 3 years.
After retiring from playing George took on the role of A Grade Team Manager for 11 years and then A Grade Goal Umpire for an amazing 30 years. George spent countless hours around the oval lining it for Saturday matches and getting wood for the canteen fire to heat the pies and pasties. Then on Sunday would turn up to clean the change rooms and tidy up around the oval.
George was a member of the Macclesfield Football Club for 45 years and gave back to the Club more than he received.
George was awarded Life Membership in 1975 and sadly passed away in 2014 aged 88.

---
William "Bill" BARTRUM - Inductee 13 Aug 2017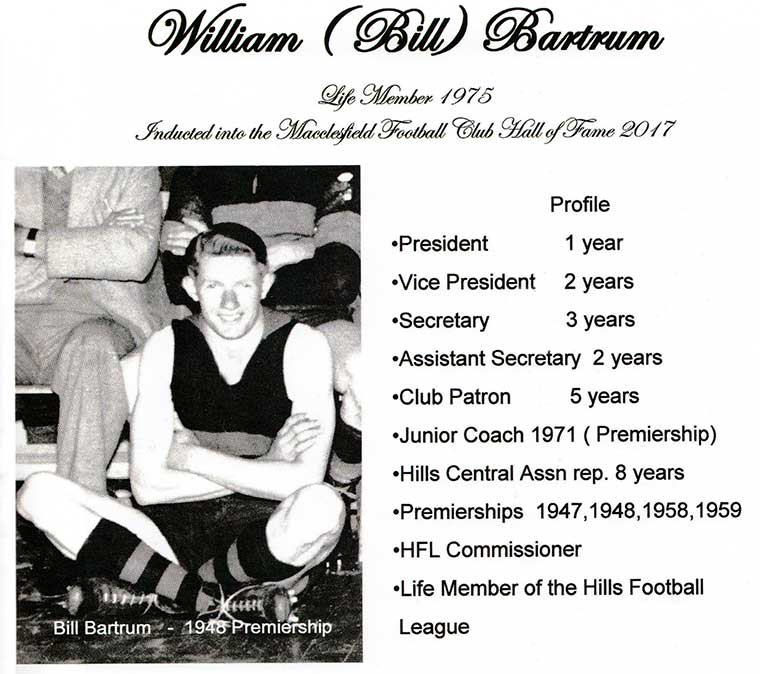 • President 1 year
• Vice President 2 years
• Secretary 3 years
• Assistant Secretary 2 years
• Club Patron 5 years
• Junior Coach 1971 (Premiership)
• Hills Central Association Rep 8 years
• Premierships 1947, 1948, 1958, 1959
• Hills Football League Commissioner
• Life Member of the Hills Football League
Bill was born in 1928 to Frank and Myrtle BARTRUM. The family moved to Macclesfield in 1939 to a property just out of town. Bill and his siblings attended the Macclesfield Primary School and Mt Barker High School. Bill married in 1954 and took over the management and running of the farm milking around 60 cows.
Bill was a fine athlete and was a regular entrant in the Bay Sheffield foot race at Glenelg. He joined the Macclesfield Football Club in 1946 and was an outstanding footballer, administrator and worker for the Club. As well as milking cows twice a day Bill found time to act as President of the Club for a term, filled the position of Vice President for 3 years and Secretary or Assistant Secretary for 5 years.
Bill also believed in supporting football beyond his local club and was very active at Association or League level. Bill was the Club's representative at Association level for 8 years in the predecessor of the Hills Football League, the Hills Central Football Association.
Bill's reputation and standing in the football community was such that he was also appointed as a Tribunal Commissioner of the Hills Football League for many years. Bill was among the first people to be awarded Life Membership of the Hills Football League and on his passing in 1988 the League honoured his memory with an Umpires Medal bearing his name.
---
Arnold HANDKE - Inductee 13 Aug 2017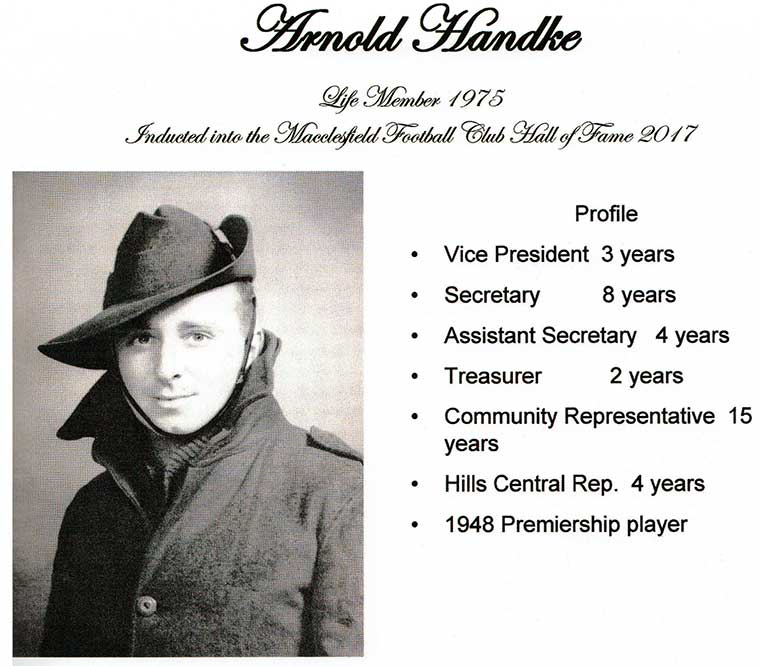 • Vice President 3 years
• Secretary 8 years
• Assistant Secretary 4 years
• Treasurer 2 years
• Community Representative 15 years
• Hills Central Rep 4 years
• 1948 Premiership player
Arnold was a member of the Macclesfield Football Club for 40 years, as a player, administrator and volunteer. Arnold was born in the Barossa Valley on the 9th June 1919 and was the eldest son of four children.
The family moved to a dairy farm in Macclesfield in 1923. He attended the Macclesfield Primary School during which time he developed an interest in sport, mainly cricket and football. Arnold originally started going to football practice in the early 1930's and would fill in if the team was short of players. It wasn't long before he was a regular in the side and playing most weeks.
In 1940 all football clubs went into recess during the 2nd World War. A lot of club members, including Arnold, joined the forces. He enlisted on the 16th July 1941 in the NF. Arnold was discharged in November 1945 and returned home to work on the farm and at Macclesfield's Jacobs Cheese Factory. Arnold and his wife Doris had 3 children, Brenton, Kingsley and Christopher, all of whom had their own football careers at Macclesfield.
Arnold continued playing until 1955 and was a member of the 1948 Premiership side. During his time as a member Arnold held the position of Vice President for 3 years, Secretary/Assistant Secretary 12 years, Treasurer for 2 years and was the Clubs representative to the Community Association for a massive 15 years. Arnold represented the club in the Hills Central Association for 4 years.
Arnold was awarded Life Membership of the Macclesfield Football Club in 1975 and passed away in 1980.
---
Brenton John SMITH - Inductee 13 Aug 2017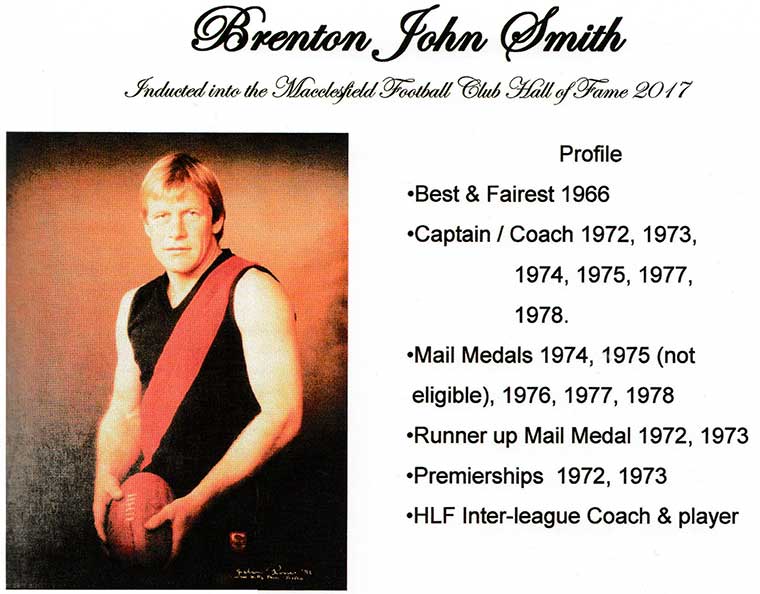 • Best & Fairest 1966
• Captain / Coach 1972, 1973, 1974, 1975, 1977, 1978.
• Mail Medals 1974, 1975 (not eligible), 1976, 1977, 1978
• Runner up Mail Medal 1972, 1973
• Premierships 1972, 1973
• HLF Inter-League Coach & player
Brenton was born in 1948 to Max and Margaret SMITH at the Memorial Hospital, North Adelaide. He began footy at the age of 7 with Macclesfield's first colts side, interestingly in a grey jumper with a green V.
His first senior season was in 1966 and at the age of 17 he won the Club's Best and Fairest. Brenton started a Carpentry Apprenticeship the following year and continued to play senior footy at Macclesfield as well as in the Norwood junior grades.
1968 saw the Smiths move to Melbourne where Brenton played for Oakleigh Districts FC where he was included in their Team of the Century after just 2 seasons. He trained briefly with North Melbourne before being conscripted for National Service and did a tour of Vietnam in 1971.
In 1972 Brenton was appointed as Macclesfield's A & B grade Coach. Brenton continued as Captain/Coach until 1979, playing in 4 Grand Finals and winning Premierships in 1972 and 1973. During this period he won 4 Mail Medals, 1974,1976, 1977 and 1978 and lost a 5th in 1975 due to an incident in the previous year's final match. Brenton was also runner up medallist in 1972 and 1973. Brenton regularly played Hills Association games and coached the Hills Association team for one year.
In 1979 Brenton transferred to Strathalbyn as Coach and in their Centennial Year won the Great Southern Football League Premiership. From 1979 to 1983 Brenton coached Strathalbyn to 5 consecutive Grand Finals, winning 3 of them. He also coached the GSFL Combined side to its first Lovelock Shield victory in almost 30 years and won his 5th Mail Medal in 1981, after being runner-up to his brother Kym in 1979.
Brenton also coached the Strathalbyn Senior Colts for 3 years, served as club President for 9 years and is still (2017) on the Clubs Management Committee.

---
Trevor EDWARDS - Inductee 13 Aug 2017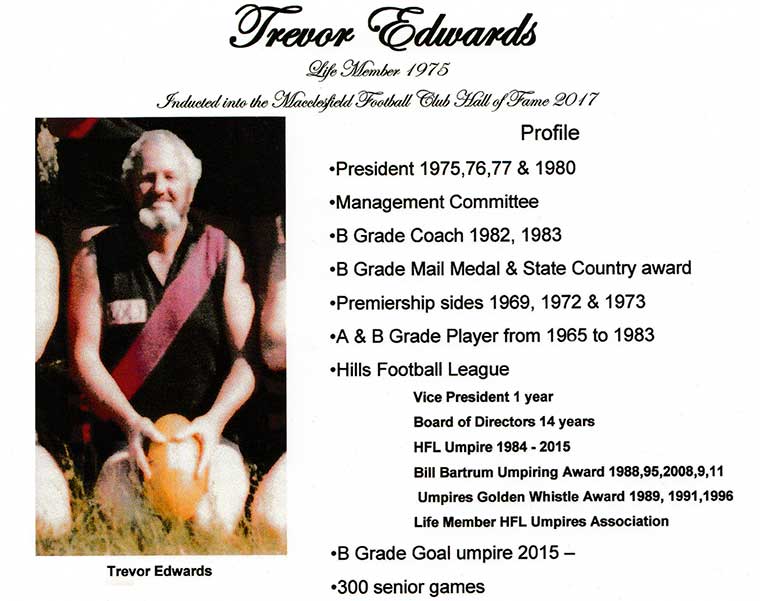 • President 1975, 1976, 1977 & 1980
• Management Committee
• B Grade Coach 1982, 1983
• B Grade Mail Medal & State Country award
• Premiership sides 1969, 1972 & 1973
• A & B Grade Player from 1965-1983
• Hills Football League
• Vice President 1 year
• Board of Directors 14 years
• HFL Umpire 1984-2015
• Bill Bartrum Umpiring Award 1988, 1995, 2008, 2009, 2011
• Umpires Golden Whistle Award 1989, 1991, 1996
• Life Member HFL Umpires Association
• B Grade Goal umpire 2015—
• 300 senior games
Trevor played his first games of junior football at Balhannah before moving to Macclesfield in 1961 where he played A and B grade for the next 23 years. He moved briefly to Kapunda in 1968 but returned in time to qualify and play in the 1969 GF against Meadows. This was Trevor's first Premiership with Macclesfield and he went on to win 2 more in 1972 and 1973.
Even while a player Trevor had a keen interest in the future and management of the club and was elected President in 1975, 1976, 1977 and 1980. Unfortunate to just miss out playing in the 1980 Premiership side, Trevor continued to play A and B grade football before taking over the B Grade Coaches role for 1982 and 1983.
1984 saw Trevor retire from playing after a few games and revealed his passion for umpiring which continued for another 31 years. As one of the Hills Football League's best known and popular umpires Trevor won numerous awards including the Golden Whistle 3 times and Life Membership of the Umpires Association. Trevor also spent a total of 14 years on the Management Board of the HFL.
Trevor is a keen supporter of junior football and is a regular at games from the Mini Colts through to the U17's. A valuable club man, Trevor continues to help out and support the Macclesfield Football Club in many casual volunteer roles.
Thoughts :-
"The highlight of my playing career was beating Meadows in the 1969 Grand Final, I even remember the score, 13-10 to 10-10, and the best player I played with was Brenton SMITH.
I remember Maccy for the 'good old days' after-match presentations around a fire drum, the Ladies catering shed with a dirt floor and the old wood stove. I made many lifetime friends, not only at Maccy, but across the Hills. I enjoy sitting with old football friends Hank and Broady on the verandah watching Maccy, we never make mistakes from up there! I get the most pleasure out of following our junior grades and seeing these boys develop into good footballers and great club people".
---
Graham Ernest BROADBENT - Inductee 13 Aug 2017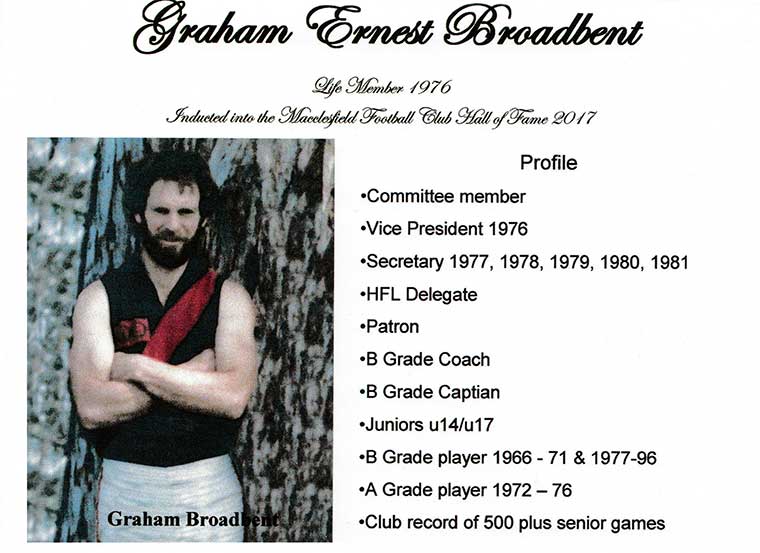 • Committee member
• Vice President 1976
• Secretary 1977, 1978, 1979, 1980, 1981
• Hills Football League Delegate
• Patron
• B Grade Coach
• B Grade Captain
• Juniors U14/U17
• B Grade player 1966-1971 & 1977-1996
• A Grade player 1972-76
• Club record of 500 plus senior games
Graham started his football career with the Macclesfield Football Club in 1963 aged 13 and retired as a player in 1996 aged 46. Spanning 33 years he played over 500 senior games and is very proud of the fact that Macclesfield is the only club he played for.
During that time he not only played but had a strong belief in giving back to the sport and club he loved. Graham filled the positions of Vice President, Secretary, HFL Delegate, Committee Member and Patron.
Graham amused himself by videotaping 1980's games and replaying them at the Davenport Hotel (now the Three Brothers Arms). In 1976 Graham introduced Junior Participation flags for the Macclesfield FC, he has continued this for 40 years continuously for the Hills Football League. Graham's talents, other than football, included designing the label for the Club's Centenary Port, reproducing a 2 metre version of the Club Logo for the change rooms, introducing the legendary Woodley Duckworth Award, designing and building the Club's electronic scoreboard and being an enthusiastic supporter of the end of year footy trips.
Graham's involvement in football continued after Maccy at the Walkerville Junior FC from 1997 to 2010, and with the Hectorville FC from 2011 where he filled the positions of Committee member and A Grade team Manager.
Thoughts :-
"I started playing at 13 with a group from Paris Creek, the BLACKMOREs, PEARCEs, PUTLANDs and BARTONs. We traveled in a black Humber and afterwards I would be dropped off for a 1 mile walk home down Broadbent Road, rain, hail or shine. My Dad, Lawrie, would goal umpire and do other jobs. A key thing I remember was the regular request for a donation of a sheep toward a big BBQ. Tom SHOBROOK, the butcher, would cut it up. Steak didn't appear very often, nor did pork, chicken, sausages or hamburgers (don't think they were invented yet). Dad only saw a few of my games but did see a Grand Final win.
Events that stick in my mind: the accidental fire that destroyed the tin shed change rooms in the early 60's and triggered the construction of the 'new' brick building on the western side. The old canteen shed and wood stove, the introduction of selling alcohol in the 70's, the construction of the complex. The upgrade of the oval, with soil from BOWEY's dam in heaps all over the oval for a season. The footy trips and premierships. The oval drainage, which changed the oval from the worst to the best in the Hills, the 'newer' change rooms on the eastern side.
And of course the mud. But most of all it's the people in the Club that I remember most fondly. The friendships, the shared experiences, the learning of new skills both on and off the field, the support both given and received during times of adversity and the fun and reward of being associated with such an enthusiastic and devoted team. I tried to give as much as I could to the Macclesfield Football Club but it has given me so much more".
---
Peter DRENNAN - Inductee 13 Aug 2017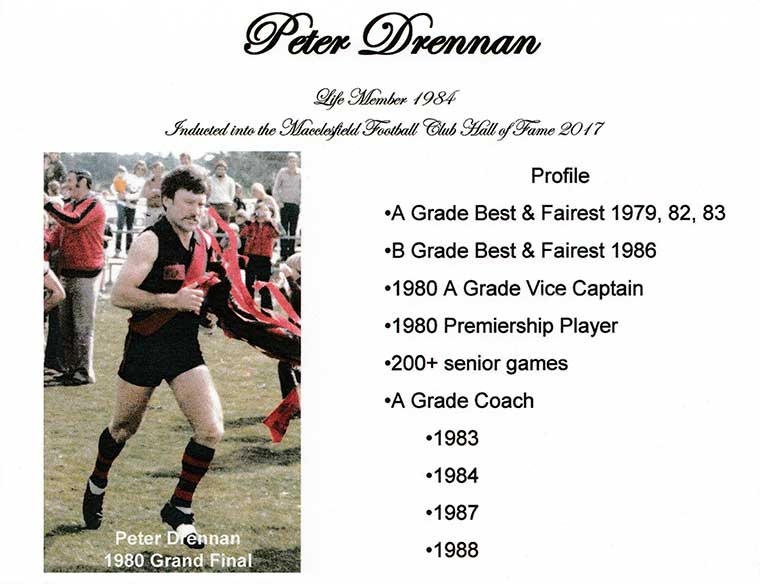 • A Grade Best & Fairest 1979, 1982, 1983
• B Grade Best & Fairest 1986
• 1980 A Grade Vice Captain
• 1980 Premiership Player
• 200+ senior games
• A Grade Coach 1983, 1984, 1987, 1988
Peter's early football was played for Flinders Park where he won the U15 B&F and Premiership in the same year. In 1963 he joined the West Torrens FC and in 1964 was R/U B&F in the U17's. In 1967 he played in a West Torrens side in the Adelaide Metro competition, graduated to the reserves and made League by the end of the season. Peter continued with Torrens in 1968 and played 2 League games, he also played in the Reserves Premiership.
In 1969 he suffered injury and then had 3 years out of football. 1974 saw Peter at Torrensville United and another Premiership.
He married in 1974 and moved to Nairne in the Hills. Peter worked on the family market gardens in Verdun and Inverbrackie before starting his own delivery business. Recruited to Macclesfield by Brenton SMITH in 1975, Peter had a notable playing career with a highlight being Vice Captain in the 1980 Premiership side in the Club's Centenary year. Playing over 200 games between 1975 and 1989 Peter won 3 A Grade and 1 B Grade Best and Fairest.
Peter coached the Club in the Hills Football League and into the finals in the Southern Football League.
Thoughts :-
"I always had a desire after West Torrens FC to play country footy. Maccy helped me achieve that thanks to the generosity and friendship of the townspeople, especially the WYATT, VANINETTI and PULLEN families.
The 1980 Premiership was an obvious highlight but in the late 70's the competition against Langhorne Creek, Echunga, Hahndorf etc. I thought was equal to the SANFL League reserve footy and so pretty enjoyable.
The best player I played with was -idol- Lindsay HEAD, but at Maccy, Brenton and Kym SMITH, Kingsley, Chris and Barry HANDKE, Trevor EDWARDS, Gordon WRIGHT, Steve and John VANINETTI, Des WYATT, Mick TSCHARKE, John O'BRIEN, Rick CLAYTON, Paul LEMAR and Bob MINNE certainly stay in my memory."

---
Peter MEEHAN - Inductee 13 Aug 2017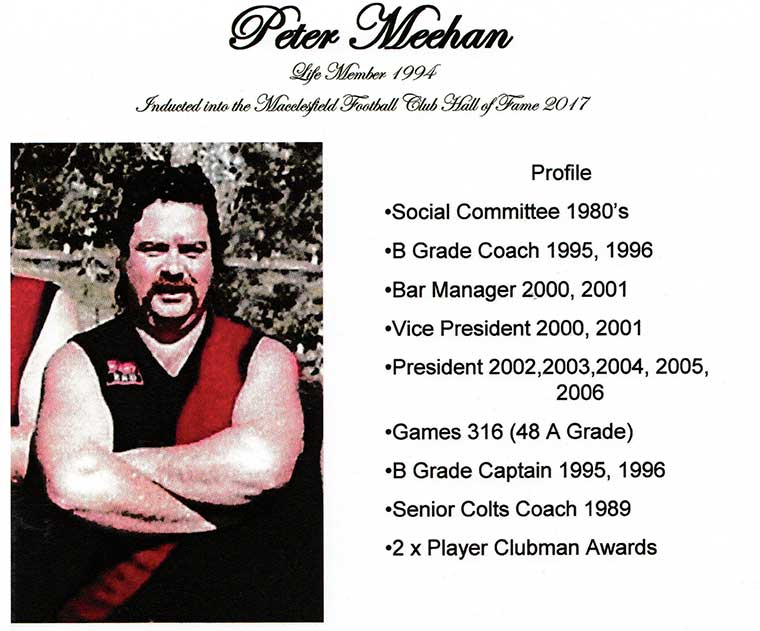 • Social Committee 1980's
• B Grade Coach 1995, 1996
• Bar Manager 2000, 2001
• Vice President 2000, 2001
• President 2002,2003,2004, 2005,2006
• Games 316 (48 A Grade)
• B Grade Captain 1995, 1996
• Senior Colts Coach 1989
• 2 x Player Clubman Awards
Peter was born in 1963 and attended the Seaford Primary School where he began his football career. Moving to Macclesfield in the 70's Peter attended the Mt Barker High School and joined the Macclesfield Football Club as a Colt. He began his senior football career in 1981 under senior coach Phil RIEMANN and continued playing until 2004.
Peter played 316 senior games including 46 A Grade games. Hills Football League records show him kicking an impressive 124 goals. Peter captained the B Grade for several years during the 1990's. He won the Clubs B Grade Best and Fairest in 1985 and 1995.
An active club member Peter became heavily involved in the club management in 2000 when he became Vice President, a position he held for another year before stepping up to the position of President for 2002, 2003, 2004, 2005 and 2006.
In 2017 Peter remains an active volunteer within the club supporting the U13 Team and helping out with social functions and game day duties. Peter was made a Life Member in 1994.
Thoughts :-
"I have loved every moment of playing and serving the Macclesfield Football Club. Through the years I have played with some great footballers, coaches, Mail Medallists and leading goal kickers.
Along the way opponents have become acquaintances and some, friends, because of our love of the game and abilities. By far though, I am most grateful for the lifelong friends within the Macclesfield Football Club".
---
Michael MOORE - Inductee 13 Aug 2017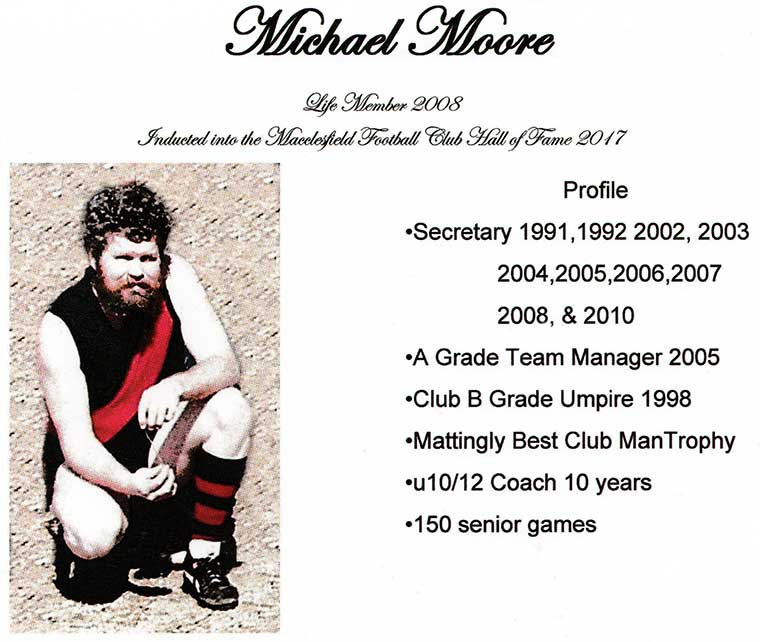 • Secretary 1991, 1992, 2002, 2003, 2004, 2005, 2006, 2007, 2008, & 2010
• A Grade Team Manager 2005
• Club B Grade Umpire 1998
• Mattingly Best Club Man Trophy
• U10/12 Coach 10 years
• 150 senior games
Michael moved to Macclesfield in 1989 from Katherine in the Northern Territory where he had played football for 5 years. Prior to that he played for Roseworthy College just north of Adelaide.
Michael was a confident player and enjoyed the camaraderie and social side of the club as much as the competition on the field. Very early in his career with Macclesfield, Michael became involved in club management, stepping almost straight into the shoes of the Club Secretary for the 1991 and 1992 seasons. He then had a few years off the management committee and concentrated on playing and coaching the U10 and U12 sides for a period of 10 years.
Michael continued playing until 2004, competing in over 150 games for the Club. He was again elected to the position of Secretary in 2002 and continued in this position until 2010 with a brief break in 2009. During this period of time this position became more and more demanding at every level - juniors, seniors, club and league. Michael took the workload in his stride, and added A Grade Team Manager to his portfolio in 2005. During this period he also contributed match day write-ups to the local Courier and Southern Argus papers.
His talent for organization was a bonus for the Club and the social functions certainly had the 'Moorey' stamp. Michael was an extremely popular club member and a fine representative of the Macclesfield Football Club. Michael was awarded Life Membership in 2008.
Thoughts :-
"Even though I was in my late 20s when I came to Macclesfield, I feel like I've grown up around the club, from scally-wagging as a semi-young player, working with committees and coaching the kids, to seeing my own sons Pat and Connor together in the A Grade.
Maccy is a beautiful little hidden town with a plucky soul that has a lot of anchors, including the churches, the pubs, the school, the Post Office, the shop, the CFS and the sporting clubs. The potent spirit of the footy club rises from its many good people, and that's why it feels like family.
A lot of remarkable people have come and gone during my time, but the best of them seem to have been around forever. I won't name them because there are so many, but this club is blessed with people that have given immensely for a long time, with many of them still doing so, and the heart this has grown for us has made Maccy the envy of other clubs, I am proud to know these friends and to have helped them as a club person, and I will always feel that I owe a debt to this great football club".
---

Cecil Bernard Alvin YATES - Inductee 2019
Profile
• Patron
• Player
• Secretary — 1919, 1920, 1921, 1922, 1923, 1924, 1925, 1926 and 1927
• Association Delegate
• Selector
• Master of Ceremonies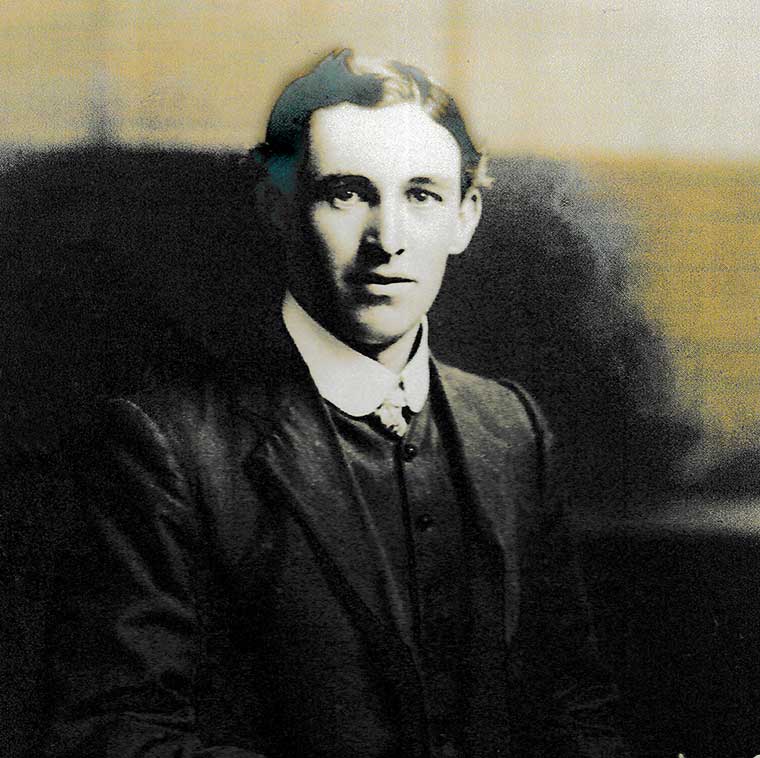 Cecil Yates was born on 25th November 1891 into an iconic Macclesfield football Family. Cecil was the oldest of 6 siblings, with 4 brothers and 1 sister. His grandfather, Thomas, was a founding member of the Club in 1880, and his father also played and was involved in the Club as a Patron. Cecil's mother, Lydia (nee Passfield), also had members of her family involved in the Club.
The Yates Clan was one of the Club's first family dynasties, with all the boys playing at one time or another and his sister marrying a footballer. One could imagine the talk around the table on a Saturday night would focus on the game played that day. Cecil himself married Jessie Edmonds, the daughter of Hall of Fame member Charlie Edmonds.
Unfortunately, no official records exist of Cecil's playing days due to their loss in the 1939 bushfire, but suffice to say his involvement in the Club until his premature death was extensive. Surviving records indicate he was involved in the Club for 33 years up to the commencement of World War 2. Life Memberships were not awarded until 1937, however in 1925 at just 35 years of age, he was presented with a 'Pipe and Tobacco' for outstanding services to the Club. In 1946 the Club rectified the lack of Life Membership recognition but for Cecil, who had passed away suddenly in April of 1945 it was too late, as deceased persons were not awarded Life Membership status in those times.
Cecil was renowned in the Macclesfield Township for being the Master of Ceremonies for many events. He was the Football Club's MC at the end of season Dinner Dances for an amazing 30 years. A butcher by profession, he lived with Jessie in the house known as "Yates Cottage" in the main street. They had one child (Irene) who only survived for 26 hours.
As well as football, Cecil was a member of the Institute Committee (and largely responsible for the laying of the floor in the Institute Hall). Other memberships included the Cemetery & War Memorial Committee, Treasurer to the Cricket Club and Scout Troop, President of the Tennis Club, and a member of the Rifle Club Committee. The local paper of the time reported that Cecil's funeral 'attracted a large attendance from the township of Macclesfield'.
---
Trevor CALABY - Inductee 2019
Profile
• PatronLife Member 1975
• Treasurer — 1 year
• Association Representative — 6 years
• Executive Committee — 6 years
• Building Committee
• Premiership Player — 1958,1959 and 1969
• Captain Coach — 1963
• Player - 1953 to 1969
• Association Medal — 1958
• Umpire — 3 years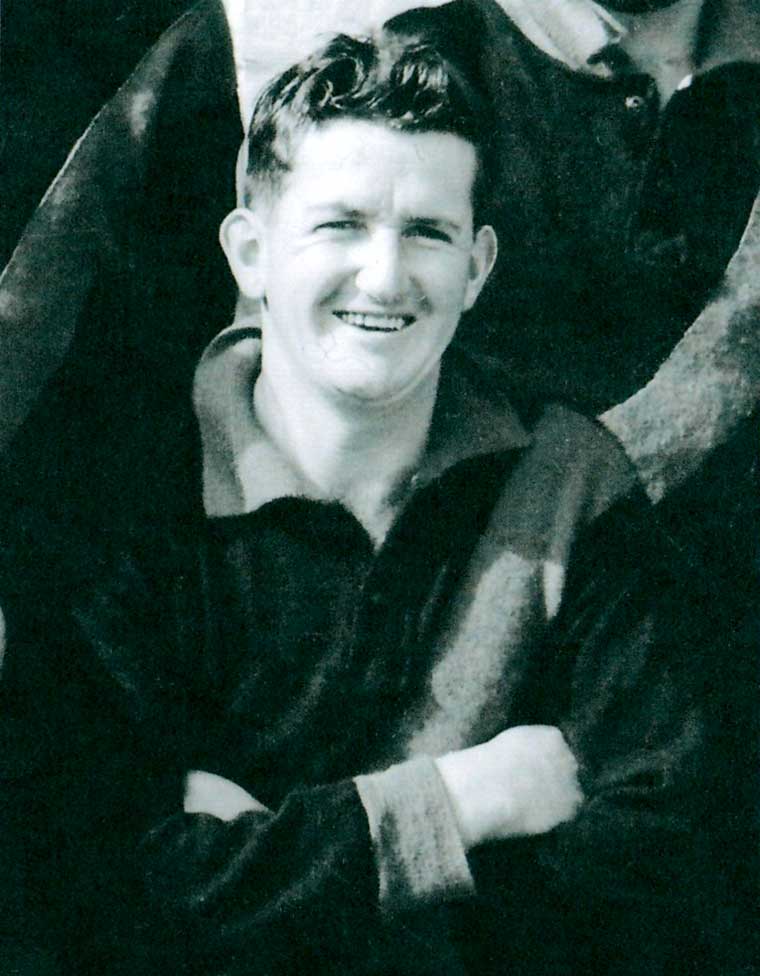 The Courier Newspaper records that one of Trevor's first games was against the Meadows Primary School team on 15th June 1950. This was the first game to be played after the Education Department lifted Inter School Sports restrictions due to polio. Trevor was named as best player for the Macclesfield P.S. team. As a junior footballer he then played for Mt Barker High School in 1952 and 1953. He captained the 1st Year side against Birdwood High School and played an outstanding game at centre.
Trevor's football career with the Macclesfield Football Club started in 1953 at the age of 14. As the Club had no junior sides Trevor's first game was as 19th man in the A Grade side against Mylor at Echunga. In 1954 he won the Clubs Junior Trophy while playing in the A Grade.
Trevor was invited to play for Sturt Senior Colts in 1957 and after a successful year retumed to Macclesfield in 1958. This was a great year for the Club and Macclesfield finished up winning the Grand Final against Langhorne Creek. Trevor kicked 5 goals and was named as best player. 1959 was another good year for the club defeating Clarendon in the Grand Final by 1 point and again Trevor was named as Best Player and also won the Association Medal. Trevor also kicked 15 goals in one game against Aldgate that season.
In 1963 Trevor was elected Captain and also coached the senior side. 1969 saw Macclesfield defeat Meadows in the Grand Final and Trevor won the Dennis Wilcox Best & Fairest Shield. After the grand final Trevor announced his retirement from playing and took up umpiring for 3 years.
Trevor's involvement in the club extended beyond playing to official positions including Treasurer, Committee Member, Association Representative and the Building Committee. He was heavily involved in the building of the "new" changerooms on the western side of the oval in 1958 and the Catering Shed at the southern end of the oval. Trevor was awarded Life Membership in 1975.
Thoughts :-
"Playing and winning 3 Premierships with the club is a special memory. In 1958 we won all the minor round games but were beaten in the 2nd semi. Fortunately we still went on to win the Grand Final. The next year, 1959, we defeated Clarendon in the G.F. by 1 point, I kicked the last goal! The 1969 Grand Final where we defeated Meadows was my last game and I was honored to win the Dennis Wilcox Best and Fairest Shield.
I played football for Macclesfield for 16 enjoyable years and also played cricket for 40 years. I was also pleased to be the President of the Recreation Grounds Committee when the current Clubrooms Complex was being built.
---
Brenton HANDKE - Inductee 2019
Profile
• Life Member 1975
• Secretary — 1965, 1966
• Treasurer — 1967, 1969
• Association Delegate — 1965, 1966, 1972, 1973
• Executive Committee — 6 years
• Junior Selection Committee — 4 years
• Senior Selection Committee — 3 years
• Trainer — 7 years
• A Grade Time Keeper — 2 years
• Colts Coach 1968, 1969, 1970, 1971.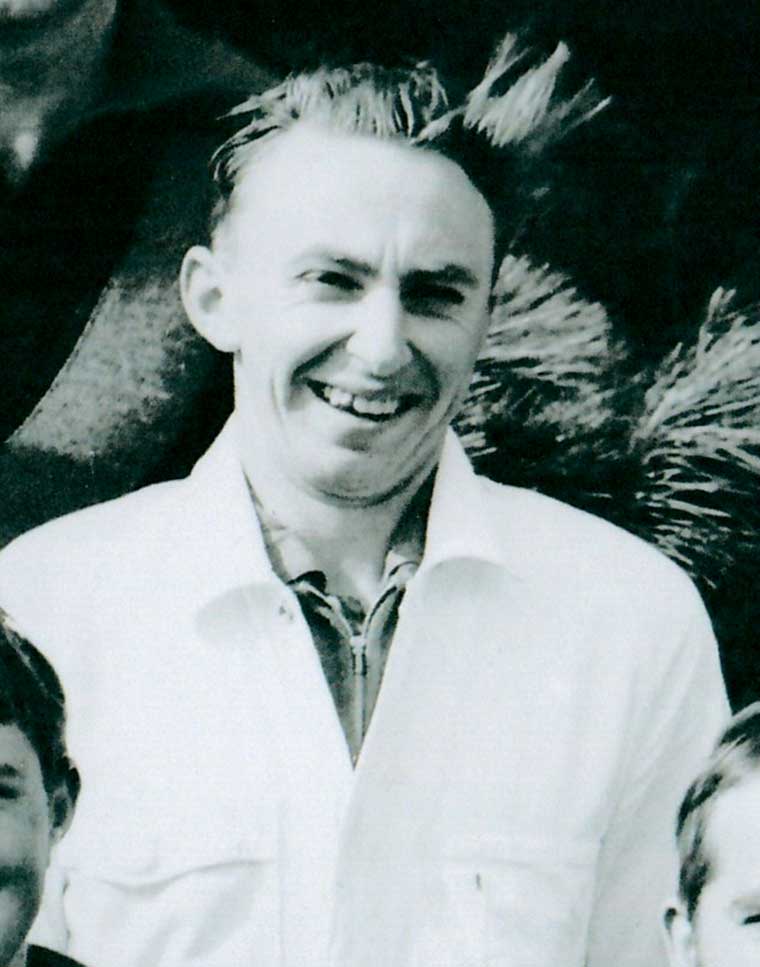 Brenton was born in 1946 to Arnold and Doris Handke. His football career started in 1958 playing in the Junior Colts. In 1961 Brenton was selected to play in the Hills Football League Southern Zone colts team to play against the Great Southern team at Victor Harbor. Brenton progressed to senior football at the age of 14 in 1962 and at 16 won the Most Improved Player award.
He had most of 1966 off due to breaking his ankle playing against Mt Barker. Brenton returned to football in 1967 but then in 1968 suffered another serious injury that ended his playing career.
Rather than give up football altogether Brenton continued to support the club in other important areas. These included 2 years as Secretary, 2 more as Treasurer, 4 years as the Clubs Association Delegate and 6 years on the Executive Committee.
On the field Brenton took control of the Colts side, coaching them in 1968, 69, 70. A highlight was the 1969 Colt Grand Final played at Langhorne Creek against Nairne. Brenton's side won by 2
points. The same day the A Grade played Meadows and had a second victory for the Club.
Brenton continued to coach the colts into 1971 but was unable to complete the season due to work commitments. Bill Bartrum took over Brenton's team and won another premiership. During this period (1968-1975) Brenton was also a Trainer for the Macclesfield Senior team. Brenton was awarded Life Membership in 1975.
A very sad memory for Brenton was in 1968 when Dennis Willcox collapsed on the field while playing against Meadows. Brenton was among the first to reach Dennis and render aid, but sadly Dennis never regained consciousness and passed away, a huge shock for the whole club and district. Brenton continues to follow the MFC as a supporter and only retired from competitive tennis at the turn of the century.
Thoughts :-
"I enjoyed my 19 years with the Macclesfield Footbal Club, the Handke name reaching back to the 1930's when Dad started playing. In the 1969 grand final there were 6 Handke boys participating, 1 in the Colts, 4 in the A Grade and me coaching the colts, and trainer for both sides.
Back at the oval after the Grand Finals the BBQ'S were lit, keg tapped and a pile of wood set alight ready for a good night of celebrating. I have great memories of the mums and wives in the tin shed, the fires lit in the wood stove, water boiling, the pies and pasties in the hot oven and a big pot of soup on the stove.
I still follow the Club, and at home matches you will still find some of us past players under the veranda wishing we were out there on the ground. We umpire very well under the veranda...".
---

Wayne EDWARDS - Inductee 2019
Profile
• Life Member 1981
• Player 1961 — 1989 (approximately 400 senior games)
• Bar Manager 1985 — 1995
• Incentive Club coordinator — late 70's to mid 80's
• B Grade Goal umpire 1984 — 1988
• Fund Raising Committee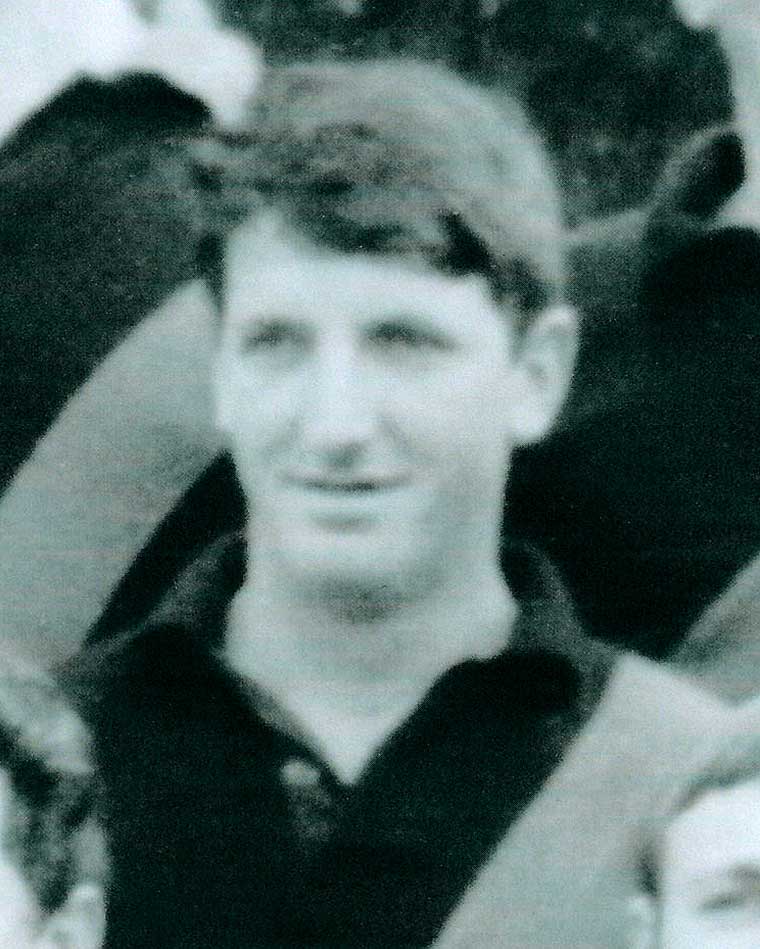 Wayne (Winky) Edwards was born on the 31st July 1946 in Adelaide. He spent his early life at Balhannah and moved to Macclesfield In 1961. His football career with the Macclesfield Football Club started that year and continued until 1989. During this time Wayne played approximately 400 senior games (A and B Grade ) for Macclesfield.
He was a member of the A Grade side that defeated Meadows in the 1969 Grand Final. In 1973 and 1974 Wayne had a brief stint playing at Meadows as Macclesfield did not field a B Grade team in those 2 years. He was fortunate enough to win a B Grade premiership with Meadows in 1974. 'Winky' continued to play football into his 40's and always said that a spot in the goal square as a defender was his pick of positions in the later years.
Wayne was a do'er, not a talker, and his involvement with the club was on many levels. He was one of the volunteers that added the Medical Room to the change rooms on the western side of the oval, did many years fulfilling the duties of Bar Manager and was instrumental in organising and running the Player Incentive Club through out the 70's and 80's. The annual end of year shows at Clayton are deserving of a book on their own!
On retirement from playing Wayne continued to tum up at every game and during the Club's participation in the Southern Football League Wayne filled the B Grade goal umpiring position. An avid supporter, Wayne also maintained the upkeep of the Football Club's Honour Board until he sadly passed away in 2011. Wayne also took up cricket and table tennis in the early 80's and started playing Lawn Bowl's at Meadows in 1986.
Wayne was awarded Life Membership of the Macclesfield Football Club in 1981.
Thoughts from Wayne's wife, Christine:-
"We lived most of our married life in and around Meadows and it would have been very easy for Wayne to switch clubs and play for Meadows. The thought never crossed his mind except for the 2 years that Macclesfield couldn't field a B Grade in the 70's. Wayne followed the Maccy Football Club through to the end and, although he took up lawn bowls in the 90's, football was still his love, and win or lose Macclesfield was his team."
---
Barry HANDKE - Inductee 2019
Profile
• Life Member 1975
• President 1982, 1983
• Vice President 1981
• Treasurer 1979
• Committee 1978 — 1980
• A Grade Best & Fairest 1976
• Premiership Player 1969, 1972, 1973 and 1980
• Player Colts 1965
• B Grade 1966
• A Grade 1966 — 1984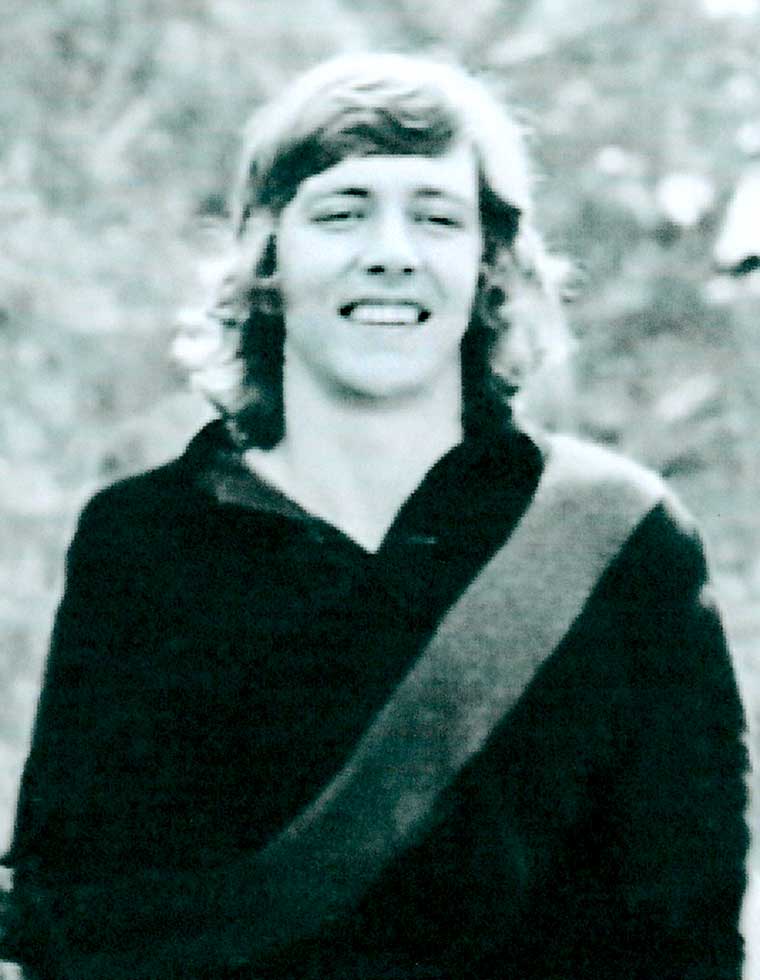 Barry Handke was born in 1950 to Ted and Audrey Handke and attended the Macclesfield Primary School followed by the Mt Barker High School. Barry's first year of football with Macclesfield was in 1965 in the U16 colts side. The following year he started the season in the B Grade, quickly progressing to the A Grade in the same year. He continued his career through to 1984 playing over 250 A Grade games.
Barry's first premiership with Macclesfield was in 1969 under Captain/coach Wayne Koop, and his
second and third premierships in 1972 and 1973 were with Brenton Smith as coach. Barry was an
outstanding footballer and played the key Centre Half Forward/Back positions for a large part of his career, winning the clubs Best and Fairest in 1976.
Early in his playing career Barry became actively involved in the administration of the club. Starting in 1978 Barry joined the Management Committee and took on the role of Treasurer in 1979. During these years Barry successfully combined playing at the top level as well as management and recruiting roles.
1980 saw Richard Kleinig appointed coach and Barry's fourth premiership, again playing at Centre Half Forward. Following the 1980 premiership Macclesfield was promoted to the top division in the Hills Football League. Barry continued to stand on the Management Committee and in 1981 was_ elected Vice President and then president for 1982 and 1983. Barry's last year of football at Maccy was in 1984. Barry was awarded Life Membership of the Club in 1975.
Thoughts:-
"The Macclesfield Football Club was a large part of my life from early teens to when I stopped playing in 1984. I enjoyed my involvement with the administration, and the experience gained
was, I believe, helpful to me in my later working life. There was also a family history of involvement as my father, uncle, my brothers and cousins all played with the Macclesfield Football Club. Although I have not had any involvement with the club for many years, I have fond memories of the enjoyment I had and the people that I met and played with."
---