Macclesfield's Irish Identity
The Davenport family established Macclesfield in 1840 following the purchase of a 'Special Survey' of 15,000 acres with the proviso that 576 acres be set aside for a town. George Davenport, an influential Oxford banker and a director of the South Australian Company, was well aware of the opportunities that existed in the South Australian colony. He saw in the policy of Special Surveys a chance to purchase a large amount of cheap land that could be rented to small farmers and eventually sold at a profit.
The way in which Davenport and other landowners, including Reverend JB Austin and Dr John Rankine, encouraged tenant farming no doubt attracted many Irish settlers. By the 1870's the Macclesfield district had become home to many Irish Catholic people who had emigrated to South Australia as part of the mass exodus from Ireland following the Great Potato Famine of 1845 to 1849.
It has been said that Samuel Davenport made a habit of meeting incoming ships and searching for prospective tenants. These tenant farmers were usually very poor and had little chance of buying land of their own, so it was understandable that they sought areas where small parcels of farming land could be rented. The tenants paid either an annual cash rental per acre or an annual wheat levy per acre, but there were also many other variations with the opportunity to work for their landlords either as farm labourers or domestics.

One of the Irish Catholic families who moved to the area were Thomas and Margaret Nestor who arrived in South Australia in 1846 on board the Hooghly. They were early Irish settlers who remained in the Macclesfield area all their lives and are the ancestors of a large number of present-day residents. The senior Nestors had three children when they arrived and later had eight more children. By 1879 they owned 120 acres at Bugle Ranges and rented an additional 180 acres.

John and Brigid McNamara arrived in South Australia from County Clare, Ireland, in 1853 and they had five children and were tenant farmers in the Paris Creek area in the 1860s. Their eldest son Dennis McNamara married Sarah Anderson in 1874 and in 1880 the couple bought a total of forty acres. Here they raised twelve children. The family grew potatoes and kept cows and pigs but Dennis frequently had to supplement his income by working on the roads of the district or by burning charcoal.
Denis Murphy arrived from Ireland in 1858 and married Margaret Maloney of Macclesfield four years later. The couple had five children. They were evidently more prosperous than some other Irish immigrants because by 1879 Denis owned a substantial house and about 100 acres of land less than a kilometer east of Macclesfield. Furthermore, he was sufficiently affluent to be able to lease five acres to one of his Irish compatriots Michael Leary.
Apart from the opportunity to rent a small parcel of land, other factors also played a part in the strong Irish influence in our district. Labour shortages, sympathy for Irish famine victims and re-activation of an assisted migration program for female orphans to South Australia also helped. This resulted in an influx of Irish girls at the Mount Barker Immigration Depot. Many found employment in the local council areas of Macclesfield, Echunga, Nairne, Onkaparinga and Mount Barker.
The presence of the first Catholic priest outside of the Adelaide area may have further influenced the Irish to settle in the district. An Irish immigrant himself, Father Michael O'Brien had pastoral care of all the Catholics in the district from 1849 to 1865. During this time the Roman Catholics of Macclesfield assembled for worship in a wooden Church building. In 1867 this was replaced by the Church of St James the Less which is still used today.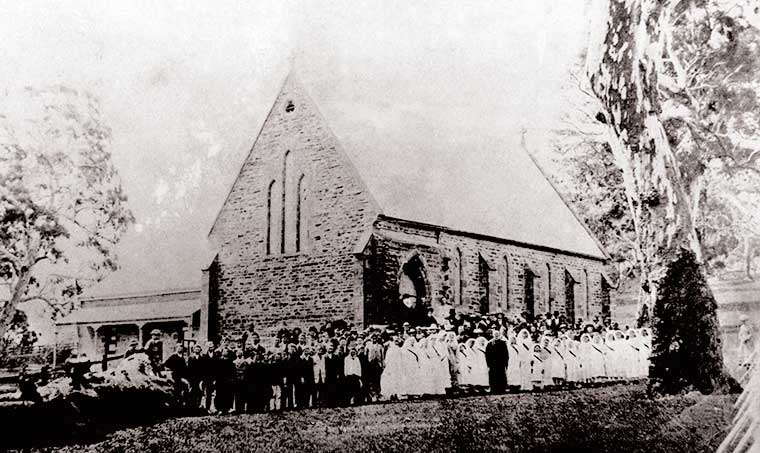 Confirmation 7 Oct 1886 at St James the Less. This is our earliest photograph.
Mary MacKillop, with Father Julian Tenison-Woods, co-founded the Order of Sisters of Saint Joseph of the Sacred Heart at Penola in 1866. They saw a need for the education, both religious and secular, for children with parents in humble circumstances. They recruited and trained a band of women who were interested in living among the people and teaching in remote areas.
By 1867 there were 30 fellow Sisters who took the vow of Poverty, Chastity and Obedience and a year later a school was opened in the Church of St James the Less at Macclesfield. This necessitated a curtain being drawn across the sanctuary area, pews pushed to the front and the back area used for the school. On Friday after school the desks, forms and any teaching aids were put in the side aisles and the pews shifted back ready for Sunday Mass. Monday morning before school the pews went to the front again and desks etc. set up for school. This continued for many years. If there was a special Feast Day, Mass or a funeral it all had to be done again.
Catholic School children c. 1920

Back: Tom Cosgrave, -, Guerin McNamara, Tom Brennan.

Front: Joan McNamara, –, Jean Anderson.
Supported by the Catholic Church and the Sisters of Saint Joseph, the Irish settlers in Macclesfield maintained their faith and fostered their Irish culture. Annual events such as the Catholic Picnic on New Year's Day (now called the Horse Show) and regular school concerts ensured that Irish traditions and skills were maintained. (References –Reflections along the Angas and Irish South Australia).
Apart from the McNamara, Murphy and Nestor families previously mentioned, other local Irish names include Carey, Corcoran, Cosgrave, Considine, Hogan, Hoobin, Kain, Leary, Leonard, Magin, Malone, Maloney, McGrath, McMahon, O'Brien, O'Connor, O'Grady, O'Malley, O'Loughlin, Ryan, Tierney and no doubt there were others.
Paddy's Town
In fact, the deeply Irish character of Macclesfield; the Catholic Church, the Sisters of St. Joseph and St. Patrick's Day celebrations earned it the label of Paddy's Town. (Macclesfield Reflections along the Angas p38). Pat Nestor, Pat Magin, Pat Cosgrove, Pat McNamara, Pat Kavanagh, were just some of the Irish men that may have been called Paddy!
A report from the Southern Argus described an anniversary picnic held on St. Patrick's Day 1881 'the genial sons of Old Ireland form so great a part of the population of the township and surrounding district that it is generally regarded as the Hibernian headquarters of the South' (Southern Argus 19 Dec 1881 p2).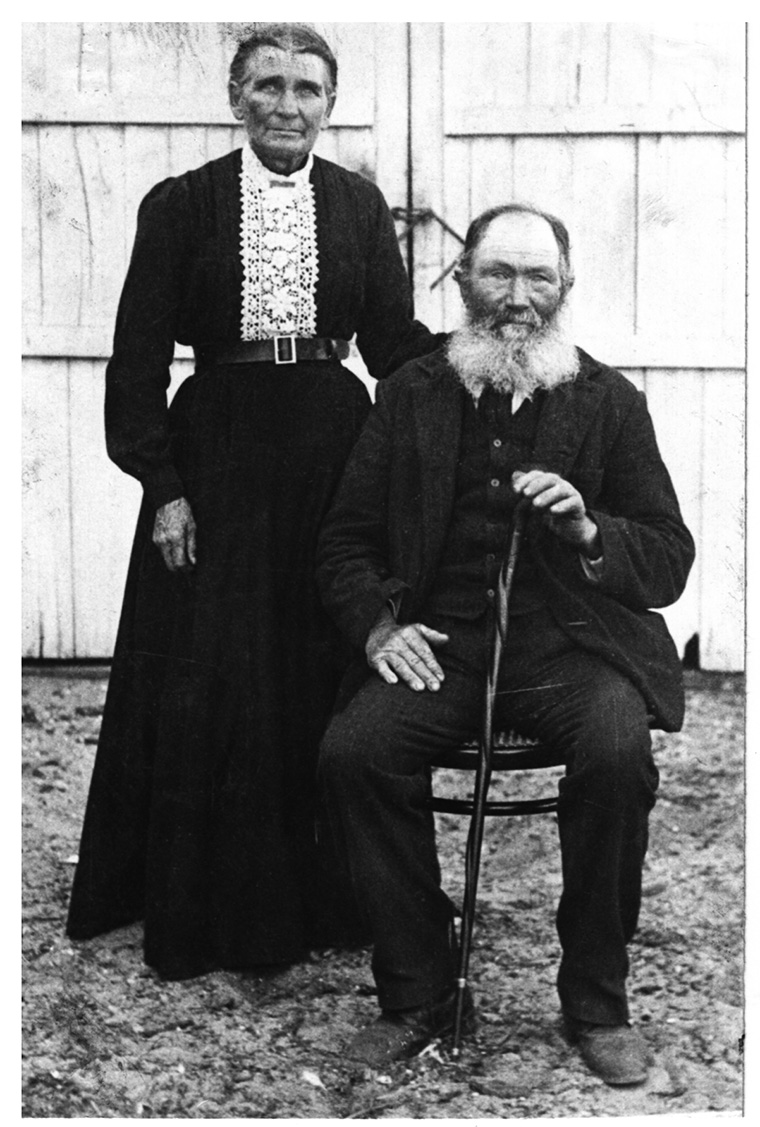 Photograph showing Dennis and Sarah McNamara, our own Betty White's grandparents.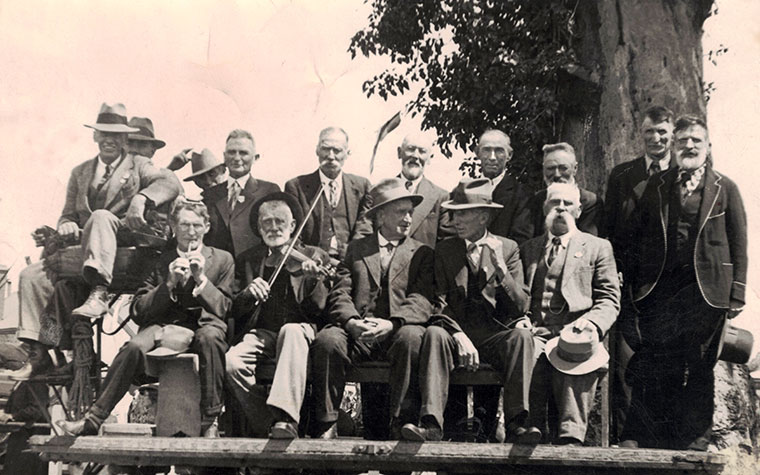 Photograph of Pioneers in Back to Macclesfield Centenary 1937.
Group includes Talf Gooch (fiddle), Tom Cosgrave, Pat Nestor, Pat Magin, George Wyatt, Joe Hunt, Jack Leonard, George Pfeiffer, Pat Cosgrave, Jack O'Loughlin, Clem O'Brien, Martin Manser, Sam Davis, Ed O'Loughlin, and Alf Shepley.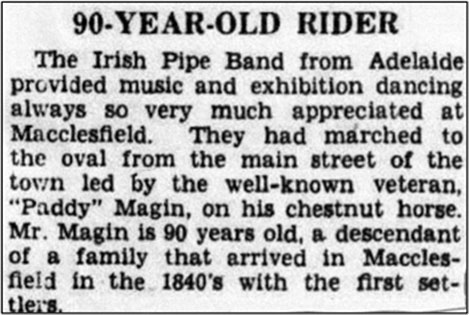 Above: Image of a newspaper cutting "90 Year Old Rider", with text "Paddy Magin featured in a Southern Cross article about the Macclesfield Annual Sports Day in 1954. (Southern Cross 20 Feb 1954 p14)

Below: Image of Paddy Magin 90yo (right) and T C Cosgrave 88yo from the Meadows District Council Centenary celebrations 1953.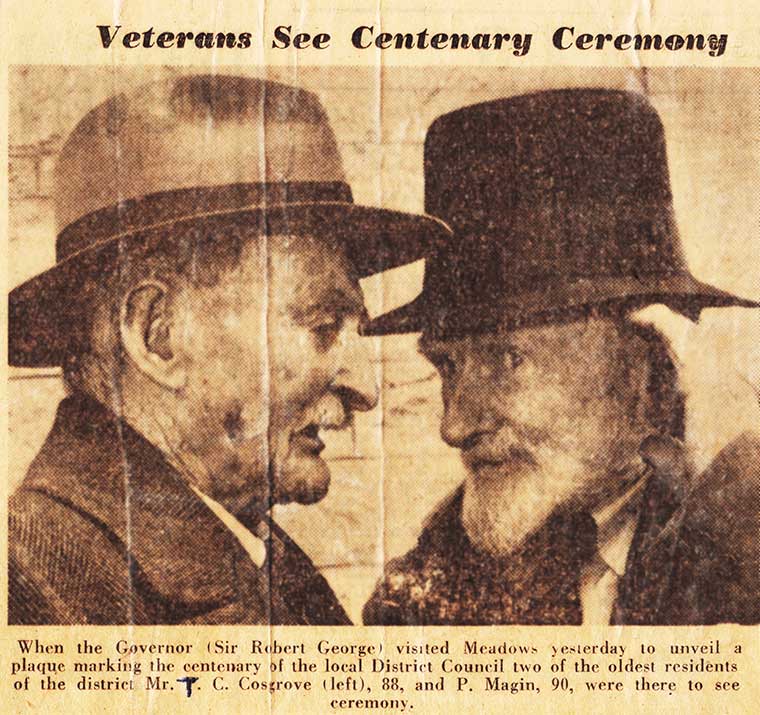 Some Genealogy
Thanks to Sue Boyland from Western Australia and her brilliant website, we have learnt more about the O'Gradys and their family connections to Macclesfield.
Laurence, his wife Anne Considine and baby daughter Mary were the first members of the O'Grady family to emigrate from County Clare in Ireland and settle around Macclesfield. They arrived in Port Adelaide on the Britannia in 1846. Also on board were Benjamin Colbert and his wife and two children, who were from County Cork, and Margaret Considine, who was possibly Anne's sister.
Laurence and Anne lived for a time at Thebarton, a suburb of Adelaide, and were there when their second child Margaret Elizabeth was born. By July 1850 they had moved to Bugle Ranges near Macclesfield where their third child Michael was born. His baptism was sponsored by Thomas Nestor and Margaret Durick née Considine. Margaret married Michael Durick in Adelaide in 1847. Thomas Nestor and his wife had arrived in SA in 1846 aboard the Hooghly and settled in Macclesfield.
Two years later Laurence and his family moved to an area called Angas, or locally Tory Banks near Blackwood Park, and their son John O'Grady was born. His baptism was sponsored by Daniel Guiny and Ellen Murphy. Daniel Guiney had married Catherine Moloney in 1851 at Mount Barker. He was also a sponsor at the baptisms of children of the McNamara and Lewis families.
In about 1854, Laurence's brother Matthias O'Grady, his wife Mary McNamara and their son John moved from Victoria to Angas where Laurence and Anne were living. Matthias helped build many of the stone fences in the area and also worked for the Macclesfield Council building roads.
Blackwood Park was established in 1840 by Dr. John Rankine at the junction of the Angas River and Gould Creek (or locally Doctor's Creek), between Meadows and Strathalbyn. He originally purchased an 80-acre section and established the homestead and laid out a garden of three or four acres and which in time was well stocked with a variety of fine fruit trees and vegetables. He later bought up neighbouring sections until, in 1855 when he left for England, he owned more than 1,100 contiguous acres, some of which he leased to tenant farmers. (Macclesfield Reflections along the Angas p60).
Meadows Heritage, a book by Paul Stark, describes the stone walling on this property as notable, with quality drystone construction carried out by three Irish families: O'Grady, Walsh and Brennan. Approximately fourteen kilometers of stone fences surround choice watering points and a number of shepherd hut sites remain. According to the late Sir Ewan Waterman the stone walls were constructed between 1853 and 1857. (Meadows Heritage (P Stark) p184).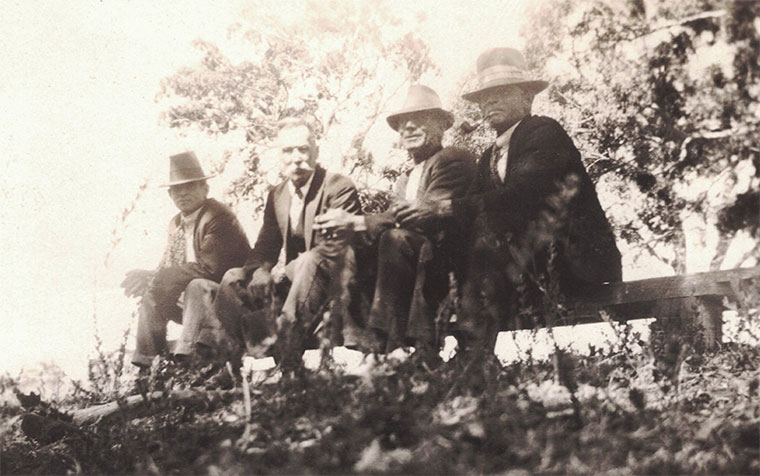 Photo 4 guys: - L-R Jim or Pat McGrath, Pat Nestor, Rodney McNamara, Tom McGrath c.1955
St. Patrick's Day (17th March) is a day to celebrate Irish heritage, history and culture. Traditionally involving public parades and festivals, Irish music and dancing, Guinness beer and Irish whisky, leprechauns and shamrocks. In the early years the Macclesfield Catholics and the Hibernian Society held their annual picnic and sports day event on St Patrick's Day.
This later became a New Year's Day event and in January 1906 the Mt Barker Courier reported on 'a record gathering at the annual Catholic Picnic held on the new recreation-ground, located almost opposite Mr. Mott's property situated on the main road to Echunga. As usual, at 9.30 Mass was celebrated in the Catholic Church by the Rev. Father Adamson, there being a very large congregation, and at the close the members of the Hibernian Society, the committee, children of the Catholic school and others formed a procession and headed by the City Volunteer Band, wended their way to the recreation-ground'. (Mt Barker Courier, 5 Jan 1906 p3)
Photo
Dennis McNamara and Tom or Pat Cosgrave picking up supplies for New Year's Day 1928
Hibernian-Australasian Catholic Benefit Society
Many local Irish men joined the Macclesfield branch of the Hibernian-Australasian Catholic Benefit Society (HACBS 1873-1983) in the 1890s. An informative article from The Southern Cross in 1899 describes a visit by the HACBS District Executive to the Four Evangelists branch at Macclesfield. At the time, Mr. J J O'Malley was Chairman and Mr. M Murphy was Secretary.
Glimpses of the visit include a splendid dinner prepared by Mrs. Mott, hostess of the hotel. After the good things provided had been done full justice to, the fresh air making vigorous appetites even more vigorous, Mr. JJ O'Malley proposed the health of the 'District Executive'.  It was the first visit of the officers since the branch was opened nine years ago and he could assure the brothers that the present officers were in every way fitted to fill their high offices.
Mr. RJ Cavanagh (District President) thanked the chairman for the kind things he had said and the members for their hearty welcome. The society was now in a good financial position and they could fairly offer the same benefits as other orders. But, although they were in a good position, it was very possible for it to be improved and it was with that object in view they were visiting the different branches. The policy of the executive was to popularise the society and increase the membership. They regretted that many young men who should join their ranks drifted into other societies, principally on account of apathy of our members. These young men fairly belonged to the HACBS and they intended to try every legitimate means to get hold of them.
The dinner was followed by an adjournment to the Institute where, to the accompaniment of the violin and piano, about twenty couples danced until midnight.
Next morning the Executive attended Holy Mass at St James' which they described as a fine substantial structure near the township and certainly the best church in town. Father Phelan said Mass to a large congregation and afterwards a branch meeting was held at Mr. Cain's house next door to the church. Dinner followed at Mr. O'Malley's, and later the visitors journeyed home with very pleasant memories of their visit. (Southern Cross Adelaide SA, 13 Oct 1899 p6).
The Hibernians were members of one of several lodges with branches in Macclesfield, set up to protect members against debts incurred through illness, death or old age. Membership of a lodge provided social security at a time when government welfare benefits were minimal. In the early years the Macclesfield Council administered various State Government Boards including the Destitute Board and the Board of Health. The destitute received ration tickets for use at local stores and medical care from a Council appointed doctor.
Many Irish settlers were desperately poor and in 1884/85 Margaret Nestor, Margaret Flynn, Eliza O'Malley, John McGrath and Laurence O'Loughlin were all mentioned as receiving rations. Eliza O'Malley was told by the Board that she could get no more rations until she put her two eldest daughters into service. The Council also agreed to pay the publican Mr. Considine for maintaining a destitute lady at the hotel for four days, while she was waiting for a free seat on the coach to enter the Destitute Asylum in Adelaide. (Reflections Along the Angas, p210).
Branches of The Independent Order of Oddfellows (IOOF), the Independent Order of Rechabites (IOR) and Manchester Unity (MU) took part in early celebrations within the town including St Patrick's Day Sports, lodge picnics, dinners and balls.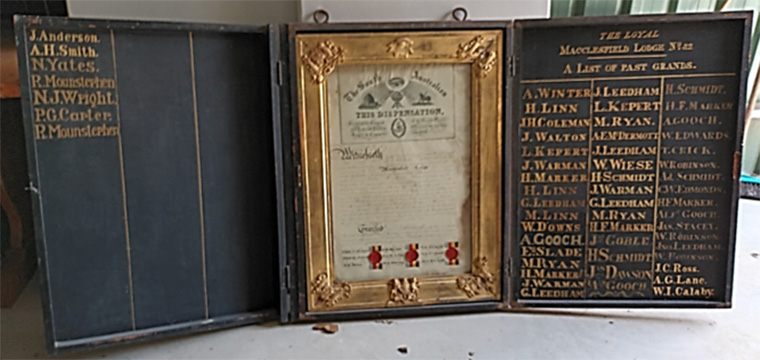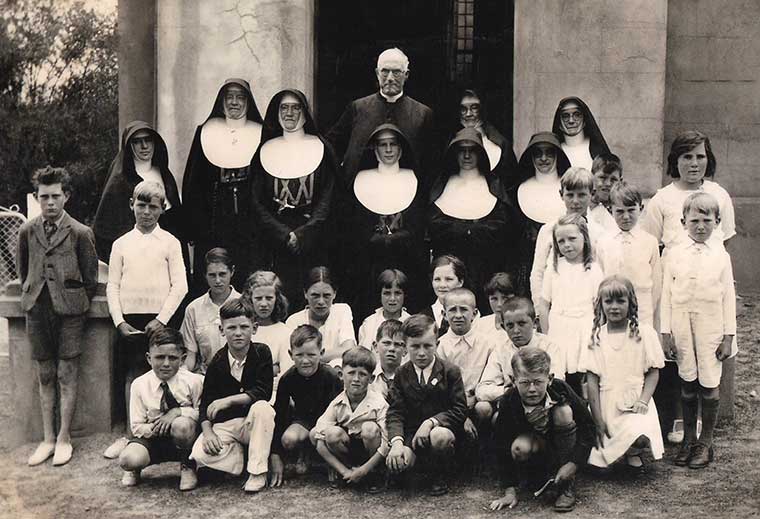 Above: - 1937 Back to Macclesfield State Centenary.
Rev Father Fallon, (not sure of Sisters' names) Sr. Blandina on his right, others perhaps Sr. Lenora, Sr. Jerome, Sr. Francis de Sales one of those on his left (Sr. Wenseslaus, Sr Agneta).
Boys on left: Dennis McNamara, David Smith
1st row Girls: Betty Lemar, Shirley Stevens, Patricia McNamara, Winifred Lemar, Delia Brennan, Betty McNamara, Patsy Dwyer, standing.
Boys: Bernard Vaninetti, Michael Brennan, Leo Brennan, Frank McCue, Rodney McNamara, unknown, Olympio Farca, Bruno Vaninetti, Paul Whittle.
Group standing: Stanley Smith, unknown, Bill McNamara.
At Back: Mary Cosgrave, Girl in Front: unknown.