Jordan Family of Macclesfield
Glimpses of the Past: In May 2015 Greg Whitcher sent this email to the History Group – at that time he knew very little about the past lives of his Macclesfield ancestors who had lived here in the late 1850's.
This is what he said: – 'My interest with Macclesfield has only recently been aroused. My late Mother (from Morphett Vale) knew absolutely nothing of her family history which died out with the early death of her grandfather in 1908. Amazingly it has come to light that his father John Jordan and mother Bridget had lived and raised their large family in the area from the late 1850's until his death in 1902. I was hopeful that maybe you could help me with any information about the family's life in the town, where they may have farmed and lived and if there are still descendants in the area. It would be great if you could give me some leads'.
Greg obtained much of his material from "Trove" and their collection of digitised newspapers and we were able to supply some details about this early pioneer family; it was pleasing to note that the Macclesfield Community History website: macclesfieldhistory.com.au had played a part in Mr Greg Whitcher's search for his family history and the subsequent brilliant article that he has been able to write about his ancestors.
He is keen to share his family story and hopes for feedback from other descendants of this old Macclesfield family who may still live in the local area. Please contact the Macclesfield History Group if you have further information at macclesfieldhistory@gmail.com, via our online form, or post to the Macclesfield History Group, c/o PO Box 357, Macclesfield 5153.
---
His story.
During the afternoon of the twenty ninth of July Eighteen Hundred and Fifty One the Emigrant ship "Marion" rounded the bottom of Yorke Peninsula on the final leg of her journey to Port Adelaide, South Australia. The weather was moderate although very hazy, greatly reducing visibility, when shortly before eight pm the ship struck Troubridge Shoal gently riding up high and dry. Unfortunately there were no lighthouses along Investigator Strait in those days to warn the Captain of his position and the tides in the Gulf had pushed the ship off course. With the bow stuck high on the shoal and with the tide receding the stern quickly filled with water flooding the lower decks. Captain Kissock ordered the long boats lowered and assisted as many of his unfortunate passengers into them as possible.
This dramatic event thus started the beginning of our Jordan Family in Australia. John Jordan, his wife Honora, nee Flanagan, and their infant daughter Mary Theresa [just seven weeks old when they put to sea] had left County Clare, Ireland to start a new life in Australia. Emigration from Ireland had peaked after the Potato Famine of 1845–49 when it is estimated that over a million people died from starvation and related illness and one and a half million people had immigrated to different parts of the world. The small farm owners and labourers of the west and southwest counties of Ireland were the most affected and the population of the country dropped by almost a quarter.
John and his wife decided their future was on the other side of the world so they had booked passage and joined three hundred and fifty other hopeful emigrants leaving England and Ireland aboard the 'Marion', sailing from London and finally Plymouth on 24th March 1851. The voyage to Australia was to take 127 days mostly spent in cramped cabins with poor hygiene and food. Conditions were very hard with five infants and one adult dying at sea. Amazingly there were nine births during the voyage.
There were insufficient long boats on the doomed "Marion" for all the passengers so women and children were loaded first with the sailors given strict orders to steer west for the peninsula's coast only about six mile distant. One boat succeeded but another carrying John's wife and child became lost, headed east and after enduring a very trying night came ashore about a mile from the Cape Jervis boat harbour. The longboat was swamped in the surf on the rocky shore but luckily all were dragged out of the water by the sailors then accommodated and fed by the locals along the coast. The party consisted of 9 women, 10 children, 2 men and 3 crewmen. Next day they were loaded aboard horse drays and started the two day trip to Adelaide. Sadly the only death of the entire tragedy occurred this day when one of the drays over turned and a young Mother [Mrs. Ann Johnston] was thrown out and badly injured. She succumbed to her injuries a few hours later.
Meanwhile the remaining passengers, crew and most of the cargo at the wreck site were rescued and also transferred to Port Adelaide. All of the passengers were reunited with their families ready to start a new life in Australia after what could have been a much worse disaster. In Adelaide the emigrants received aid from the "Adelaide Benevolent and Strangers Friend Society" and the Government gave 900 pounds to help replace their losses.
Today all that can be seen of the "Marion" is a few spars on the ocean floor. The anchor was recovered in 1977 and is on display overlooking the bay at Edithburgh with a story of the disaster and a list of the passenger names.
John is described on the ships list as being 26 years old and Honora as 22. His employment had been described as an agricultural labourer and his residence was County Clare, Ireland. After a few months in Adelaide the lure of the Victorian goldfields beckoned and he left for Bendigo, Victoria. He is believed to have been fairly successful in his endeavours on the goldfields and returned to Adelaide for a while before settling in the Macclesfield area in 1854.
The township is situated on the banks of the Angas River in the picturesque Adelaide Hills. Honora had died in Adelaide on the 10th of April 1855 and it was only three months later that he was married for a second time to Bridget Kain/Kane on the 8th July 1855 at St. Patricks Church, West Terrace, Adelaide.
Saint Patricks was the first Catholic Church built in South Australia, opened in 1845 and used as a school and a church. The original church was demolished in 1959. Bridget was born about 1828 to James and Bridget Kane, nee Lyons at Trinyland, a small farming village six kilometres to the south of Carlow town, County Carlow, Ireland. The Jordan's lived and raised their large family in Macclesfield until their deaths.
For some years John was engaged as foreman for Mr. Alfred Terry who owned a large road contracting business in the area, later doing a little road contracting for the local councils and then putting his effort into his old trade, farming. Bridget died in Macclesfield on the 2nd of January 1900 and John passed away two years later on the 4th of November 1902. There is a lot of conflicting data on his birth date, but he was probably born about 1811. Both were buried at the Mount Barker Catholic cemetery.

Children of John Jordan
1. Mary Theresa (Jane): Mary was born in Ireland in 1851 to John Jordan's first wife Honora. Married to Edmond Golding at Willunga, S.A. on the 23rd of September 1879 she lived all her married life at Port Elliot. Her obituary describes her with a loveable disposition with a fondness for home life and her garden. Shortly before her death she had prepared and given an interesting talk about the very early days of the region. She had two daughters and four sons. It is also believed that she raised Lucy, one of the daughter's of her brother James killed in WW1. She died in Port Elliot on the 1st October 1927.
2. Bridget: Bridget was born in Macclesfield on the 15th of July 1856 and died aged 3 on the 24th May 1859.
3. Michael: Michael was born in Macclesfield on the 10th of September 1857 and died in Macclesfield aged 7 on the 19th June 1864.
4. Honora: Honora was born in Macclesfield on the 6th of June 1859 at Macclesfield but no other details are known.
5. Annie Agnes: Annie was born at Macclesfield about 1860. Married to William Augustine Peake at Macclesfield on the 18th of February 1882. For some years William operated a delivery business to Adelaide then briefly owned the Mount Bryan Hotel in the north before returning to Mount Barker opening a storekeeping business. She gave birth to five sons and five daughters and passed away on the 15th of November 1935 at Mount Barker.
6. Catherine (Kate): Kate was born in Macclesfield on the 6th of May 1863, she married Andrew Lawson on the 2nd of January 1885 at St Frances De Sales Church, Mount Barker. Andrew's family had emigrated from Norway and changed their surname from Oleson. Kate died in her early thirties at Mount Gambier.
7. Elizabeth (Nellie): Nellie was born in Macclesfield on the 16th of March 1865, she married James Andrew McFarlane at St Frances De Sales Church, Mount Barker on the 20th April 1898. James was employed as a blacksmith in Mt. Barker and he died in 1931. Nellie died in Renmark on the 23rd of September 1945.
8. Patrick William: Born at "Temple Bar", Macclesfield on the 5th of March 1867. Patrick is the direct line descendant of the researcher's branch of the Jordan tree and will be discussed in the next section. Patrick's story is continued below.
9. Michael: Michael was born on the 12th of September 1869 and passed away one day later on the 13th.
10. James Andrew: James was born in Macclesfield on the 26th of September 1872. He married Mary Cecelia (Cecilia?) O'Loughlin on the 5th of September 1894 at St. Francis De Sales Church Mount Barker. Unfortunately Mary died following complications after an operation in the Adelaide hospital. The family was split with the five girls going to different foster parents. At Mount Gambier on the 7th January 1916 James enlisted in the army, he was 43 years old. Sent to France as a member of the 32nd Battalion on the 25th of March he was killed in action at Pozieres on the 3rd of August 1916. His memorial is at Villers Bretonneux Military Cemetery, Somme, France. His name is included on the Macclesfield R.S.L. World War One memorial plaque.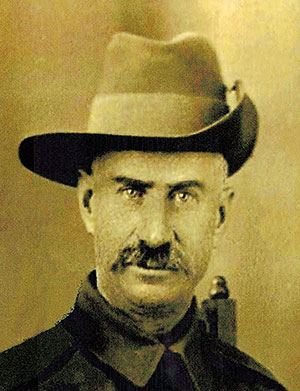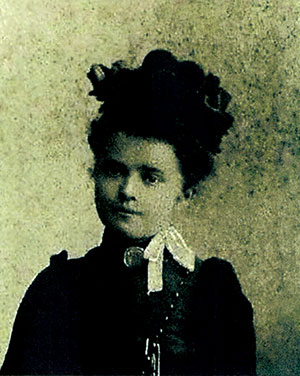 James Andrew Jordan and Mary (Minnie) Cecelia Jordan (nee O'Loughlin)
11. Michael Martin: Michael was born at Macclesfield on the 26th of September 1872. He was an identical twin to James and people had trouble telling them apart. Strangely they both died in the same year. Michael married in Mount Barker on the 6th of January 1904 to Margaret Daly. The couple had no children and at the age of 43 Michael passed away, after a long battle with cancer, at the Adelaide Hospital on the 4th of January 1916 and was buried at Mount Barker.
His wife Margaret lived for another thirty years and she passed away at Macclesfield on the 23rd of November 1946. She is remembered here in reminiscences by an old Macclesfield resident: "Further down Cunliffe St and on the left side was Mrs Mag Jordan's cow shed with 'two bails and a small store room', while her home was on the next block. Mrs Jordan (or Auntie Jordan as she was known to all) had a four room wattle and daub cottage built right on the road boundary and with a covered walkway all the way down one side. There were two steps leading down to the kitchen with its shining brass and copper utensils and black stove. Auntie Jordan, a widow with no children of her own, fostered four boys who always regarded her as their mother. Remembered for her garden and fruit trees, and for her Irish accent which tendered to lapse into 'the Gaelic' when annoyed."
12. John: In his father John and also brother Michael's obituaries another son residing in Victoria is included but no details are known.
---

Patrick William Jordan
Patrick William Jordan was born on the 5th of March 1867 at Temple Bar, Macclesfield, South Australia to John and Bridget Jordan, nee Kain. He spent his early life in the Macclesfield area probably working with his father on the road works and then securing employment with the Department of Public Works.
He married Mary Ann Chidzey at St. Frances De Sales Catholic Church Mount Barker on the 27th of October 1891 and by January she had delivered twin boys, unfortunately little John died just three months later.
The Happy Valley Reservoir started construction in 1892 and it can be assumed that as the next three children were born at Happy Valley that was where he was working before moving on to the next major project for the Works Department at the Bundaleer Dam Site.
At Bundaleer Dam Pat was employed as a foreman on the dam wall construction site and it was in the main trench that disaster struck on the 25th of May 1899. Part of the trench collapsed onto a crew working below and luckily Pat was not in the danger zone and was able to rush in to assist in the recovery effort. Five men were killed and three badly injured in the accident that was reported as being the worst catastrophe in South Australia's history. There had been disquiet about safety on the site before the accident, mainly about the lack of timber trusses and shoring and Pat and the managers had to appear at a Government inquest into the disaster but were eventually cleared of all blame.
The family lived in the large shanty town at the dam site but eventually moved into nearby Spalding. He was a keen cricketer and was mentioned in the papers playing for Macclesfield in his early years and was on the committee of the inaugural cricket club in Spalding. After the main work at Bundaleer finished he was employed by the Waterworks as the caretaker of Yakilo Weir which is associated with the Bundaleer dam project. It was at this time that Pat became seriously ill and he was admitted to the Jamestown Hospital for an operation on his appendix. Unfortunately the operation was not successful and on the twenty third of July 1908 he died from peritonitis. He was buried in the Jamestown cemetery.
This was a huge blow to the young family of seven children and Mary Ann decided to pack up and move her family to live in her parent's home town of Dimboola, Victoria. To assist Mary Ann with the welfare of her children the townspeople of Spalding held a charity concert and other fundraising events; with a total of fifty pounds, six shillings and sixpence raised. This was quite a large sum of money in those early days as the minimum wage for a labourer at that time was around two pounds and six shillings per week. She left Spalding for Dimboola just two months after Pats death and lived there until she passed away aged 59 on the 13th of April 1928. Mary Ann is buried in the Dimboola Cemetery.
Children of Patrick Jordan
1. John Edward: John was born on the 22nd of January 1892 at Macclesfield and died just 3 months later on the 5th of May 1892.
2. Thomas Edwin: Thomas was also born on the 22 of January 1892, a twin to John. He enlisted at O'Halloran Hill for duty in World War 1 and was sent to France with the 43rd Battalion. On his return he married Florence Jessie Sweetman and they had one daughter. Sadly his wife died in 1924 and in 1930 he re-married to Mabel Rose Mattinson with whom he had a boy and girl. Thomas died on the 30th of December 1974 and is buried in Mount Gambier, South Australia. Mabel died in 1985 in Frankston, Victoria at the age of 95.
3. Ellen Bridget: Ellen was born at O'Halloran Hill South Australia on the 9th of March 1894. In1914 she married George Hercules Docherty in Dimboola and they had two daughters. Ellen passed away at the age of twenty three in 1917 and lies in the Dimboola Cemetery.
4. Agnes Eileen: Agnes was born on the 20th of August 1895 at Happy Valley, South Australia. In 1914 she married Frederick Arthur Capp and they had three girls and a boy. She passed away in Dimboola in 1986.
5. William Patrick: William was born on the 21st of December 1896, also at Happy Valley. During World War 1 he fought in France with the 9th Light Horse Regiment where he was badly gassed in the trenches. When he returned he married Irene Isabel Dunstan at Morphett Vale on 16th September 1922. The couple had two daughters and a son.
6. Mary Ann (Mamie): Mary Ann was born on the 14th of March 1898 at Port Augusta, South Australia and sadly passed away at Bundaleer on the 7th of March 1901 just short of her third birthday. She is buried in the Georgetown Cemetery.
7. Joseph James: Joseph was born at Georgetown, South Australia on the16th of September 1899. He had moved to Dimboola with his mother and when World War 1 began he enlisted and was sent to France with the 23rd Battalion. He was only eighteen. In France he was badly wounded in the arms and was repatriated to Australia in 1918. On the 23rd of October 1923 Joe married Hulda Ernestine MacKenzie at Dimboola and had two sons and a daughter. The youngest son Maurice spent time in New Guinea with his wife as a Lutheran missionary. Hulda died in 1963 and Joe later married Nellie Kuhl a widow from Dimboola in 1968. Joseph died on the 15th of June 1974 and Nellie in 1997, both are buried in the Hamilton cemetery.
8. Doreen Magdalene: Doreen was born on the 10th of November 1902 at Norwood, South Australia. She married Raymond Lawrence McRae of Warracknabeal, Victoria and had two children. Ray joined up for service during World War 1 and served in Egypt with the 8th Light Horse Regiment. The McRae family had 6 sons serving overseas and their mother Flora received a letter from the King thanking them for their patriotic spirit. Doreen passed away in 1955 and was buried in the Dimboola cemetery. Ray died in 1973 and is buried in Warracknabeal.
9. Norman John: Norman was born on the 30th of November 1904 at Rose Park Maternity Hospital in Adelaide. He is the direct line decendant of the researcher's family tree. He moved to Dimboola with the family after the early death of his father aged just three and a half. He returned to live in South Australia in his youth and at eighteen he was married to Winifred Pearl Rosina Wapper. The marriage was conducted in the brides family home at Hackham on the 1st of February 1923. The couple lived in the Morphett Vale area and raised a family of three girls and three boys. Norman passed away on the 10th of June 1967 and Winifred on the 16th of May 1968. Both are buried at the Morphett Vale Scotch Cemetery.