The Lemar's
Also see Glimpses of the Past - John Lemar, as told to Betty White
• The White's and Lemar's, probably by Ray Risely
• Oswald Lemar; A Tribute, by Gerald O'Callaghan
• Lemar Family from our publication "Macclesfield Jubilee 1840-1990 Families Old and New"
Editing in progress :) (Could be a slow progress - much to add.)
The White's & Lemar's
From "The White's & Lemar's.ppp", a Macclesfield Newsletter article, probably by Ray Risely, a past member.
This is the third in our series, highlighting the story of some of the pioneers of our local district, through the photos of old homes or ruins, where they lived and brought up their families.
The White's
Patrick and Margaret White (nee Hogan) lived for quite some time in the house pictured here, out on Shady Grove Road, before eventually relocating into Venables Street in Macclesfield.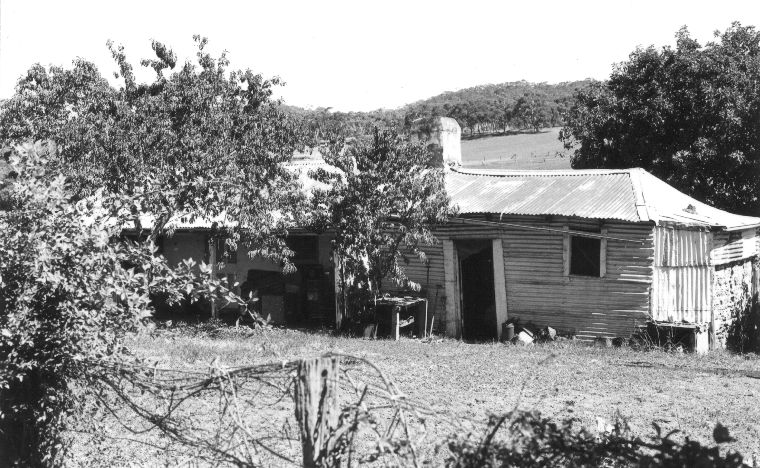 White's house in Paris Creek
Among the children in the family, the following were born in or near Macclesfield.
| | |
| --- | --- |
| Edward & Edmund | 14th Nov 1868 |
| Bridget | 18th Oct 1870 |
| Patrick | 18th Sep 1872 |
| Ellen | 23rd May 1875 |
| Ann | 27th May 1881 |
There may also have been a Michael born c1867, a Catherine, a Margaret, and a Thomas who we understand lived only for one month. As far as we are able to ascertain none of the children are recorded as having married here in South Australia and therefore, we know of no descendants.
J.T. Kerslake Sen. bought the Paris Creek property and an Italian employee of his, one Tony Donati, lived in the house whilst working for him.  In October of 1939, the Ferrarese family moved in, share-farming the property and eventually buying it. The Ferrarese family later built a new house on the opposite side of the road, which is still occupied today by well-known Macclesfield identity Mario Ferrarese.
In the St John's Catholic Church here in Macclesfield, one of the windows is dedicated to Patrick and Margaret White.
The Lemar's
The photograph below is of a house belonging to one branch of the Lemar family and it was also situated out on Shady Grove Road, in the area of Tea Tree Swamp as it was known back in earlier days.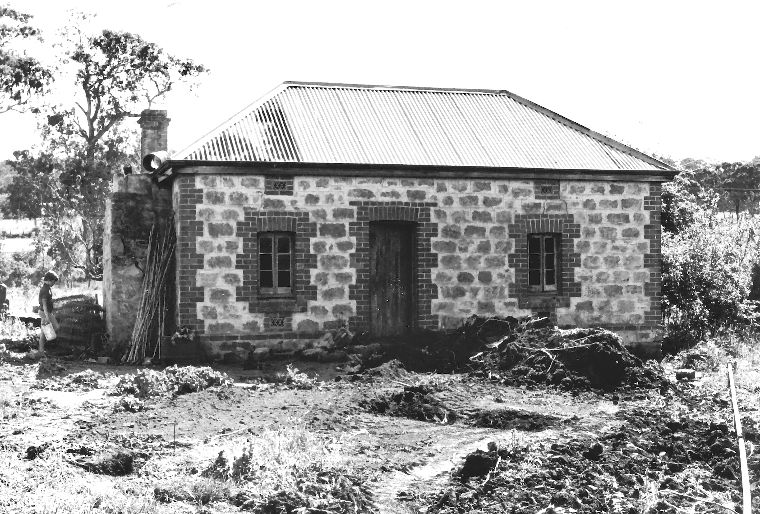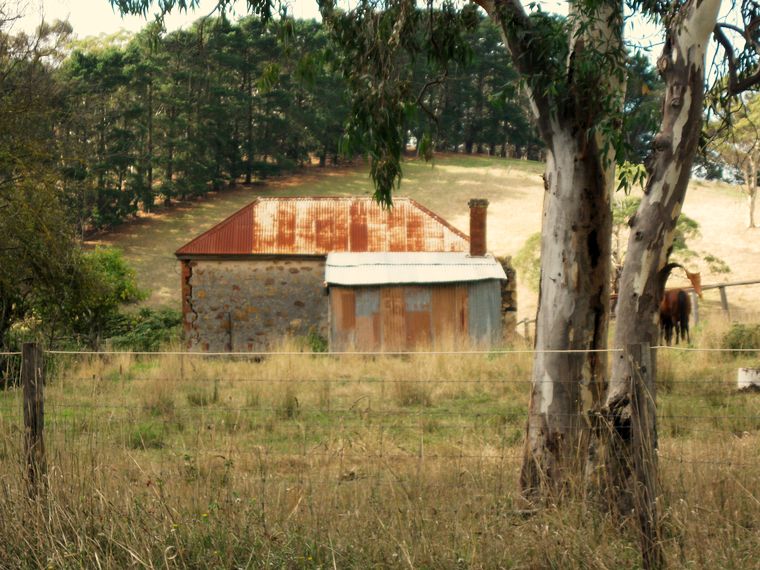 Lemar's Shady Grove house, taken 2012
Thomas Lemar, a shoemaker and gardener, arrived in SA from Canterbury England in 1837 and, in 1852 along with his two sons, John Thomas and William, purchased a considerable parcel of land in the area known as Shady Grove.
Thomas was apparently quite well known as a successful cultivator and was mentioned in Loyau's book "Representative Men of South Australia". The text reads: -
"LEMAR, THOMAS, One of the early South Australian pioneers. He arrived by the ship Resource in 1837, and was one of the first settlers at the Black Forest, and afterwards of Macclesfield, where he resided till the time of his death, which occurred January, 1882, in his eighty-second year. Mr. Lemar may be regarded as a very successful cultivator and horticulturist, and he for many years in succession carried off prizes at the Mount Barker and Strathalbyn Shows."
His son John Thomas married a Sarah Wood, and between 1859 and 1882 they raised nine children in the area, whilst the other son William, married Ann Norah Carey, on the 16th of July 1856 at the home of his father Thomas, out at Tea Tree Swamp and they had some seven children who were also born in the Macclesfield area.
Lemar is of course still a well-known family name in Macclesfield. Mention of the early family is made in the book "Macclesfield, Reflections along the Angas".

---
Oswald Lemar; A Tribute, by Gerald O'Callaghan
from a document by Ray and/or Shirley Risely, about 2009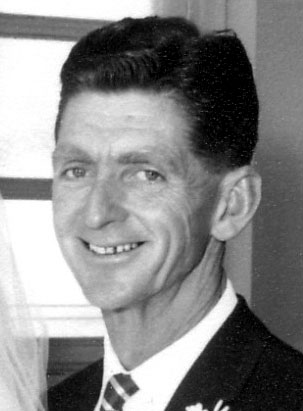 During History Week (22-31 May) the three churches in Macclesfield intend once again to cooperate in conducting a history walk, during which the walkers will be invited to visit the churches in Macclesfield and view the exhibitions arranged in each. In preparation for the event, articles relating to past church and town personalities will appear in the Macclesfield Newsletter. This first tribute features some memories of Oswald (Os) Lemar.
Except for the years when he served in the Australian army in the Pacific, Ossie spent his life in Macclesfield (1922- 1987). But it is not for his work as factory hand, farmer or RSL President that he is primarily remembered, but for the way he lived his life and for the very moment of his dying.
He loved people; wife Roma, sons Graham and Paul of course, as well as the wider circle around him. He seemed to be there when others needed him. Even in later years when he himself was sick, he would visit those who were housebound to ask for jobs that he could do on their behalf.  He was seen as a merry man, making many witty interruptions at meetings and always prepared to tell a good story.
Even the night before his first heart bypass operation he invited his family to drink to his "good health", for tomorrow, he said with strange foresight, "the lights go out". True enough, just before his operation, Adelaide had a complete power failure and hospitals had to turn to emergency power.
The premonitions continued. On a Saturday a friend went searching for Os. The sure place to find him was at the church, working. That particular morning he was mowing the grass around the Catholic church in preparation for the following Sunday. "You'll die in this place one day", quipped his friend. "What better place could you chose?" rejoined Os.
The next day, October lst 1989, after receiving the Eucharist and wine himself, Os moved with the priest to distribute communion to the congregation. Among the first to receive the host was his sister, Win, then he slowly crumpled to the floor ensuring not a drop of wine was spilt.
Efforts to revive him by First Aid members in the church and later ambulance attendants were unsuccessful. The visiting priest anointed him before his body was removed. He then baptized baby Simon Thomas: one soul entered eternal life and another began the journey.

---
Lemar Family
from our publication Macclesfield Jubilee 1840-1990 Families Old and New
Thomas LEMAR and his sons William and John arrived in South Australia in 1837. By 1852 they owned land at Paris Creek, naming it "Shady Grove". The family were well known horticulturalists and won many prizes for their produce. Thomas died in 1882 and by 1909 the property had grown to 147 acres and had been passed down to three descendants - Alfred, William and George.
George married Mary NESTOR, the daughter of a pioneering family and they continued to live on the property. They had one child, Edmund, who, when old enough, helped to deliver vegetables to Strathalbyn and Milang; a two day round trip with a wagon and two horses. As a sideline they burnt marble to produce building lime. George passed away in 1931 and Mary in 1953.
Edmund and his wife Dorothy and their children, Betty, Oswald and Winifred moved to Bugle Ranges in January 1934; Dorothy died in March of the same year. Their children were educated at the Wistow School and later at the Convent at Macclesfield - walking both ways in all weather.
After returning from service in World War II, Oswald married Roma SMITH of Norwood and their two sons Graham and Paul were educated at Macclesfield and at Mt. Barker High School. The family are well known in local sporting circles, Graham for football and cricket and Paul for football, cricket and softball. Since retiring from tennis Roma plays bowls with the Meadows Bowling Club. "Os" passed away in 1989; he had been a familiar figure 'around' Macclesfield, always with a smile and a cheerful joke despite his health problems.
Winifred married Ron MOTT and still lives in Macclesfield and Betty, now Betty HENLEY, lives in Western Australia.
During his lifetime, their father Edmund, was a prominent figure in the Macclesfield Rifle Club as well as being a lifelong supporter of all the town activities - including fifteen years as a starter for the athletic events at the New Years Day Picnic.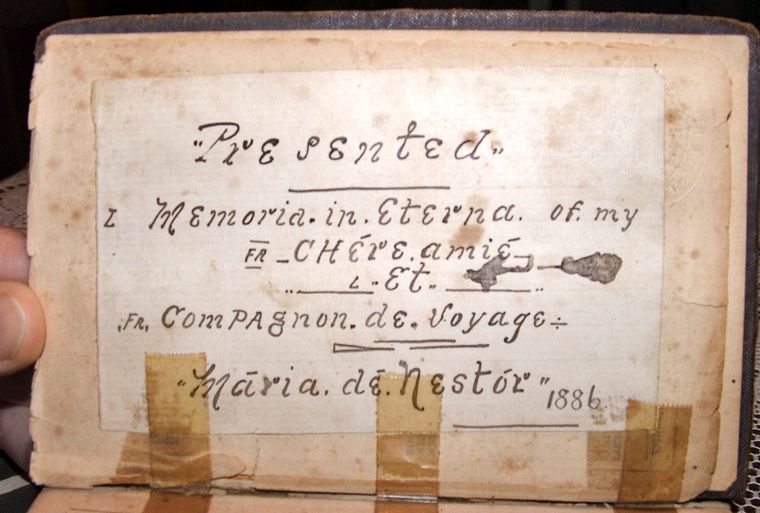 Nestor Bible 1886
---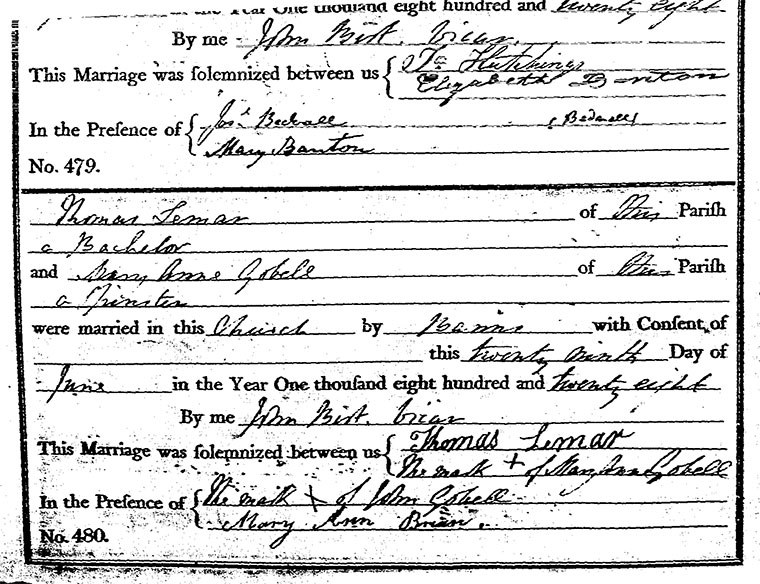 Thomas LeMar & Mary Gobell Marriage Certificate. Link to larger .pdf copy here.
LeMar family cross front and back.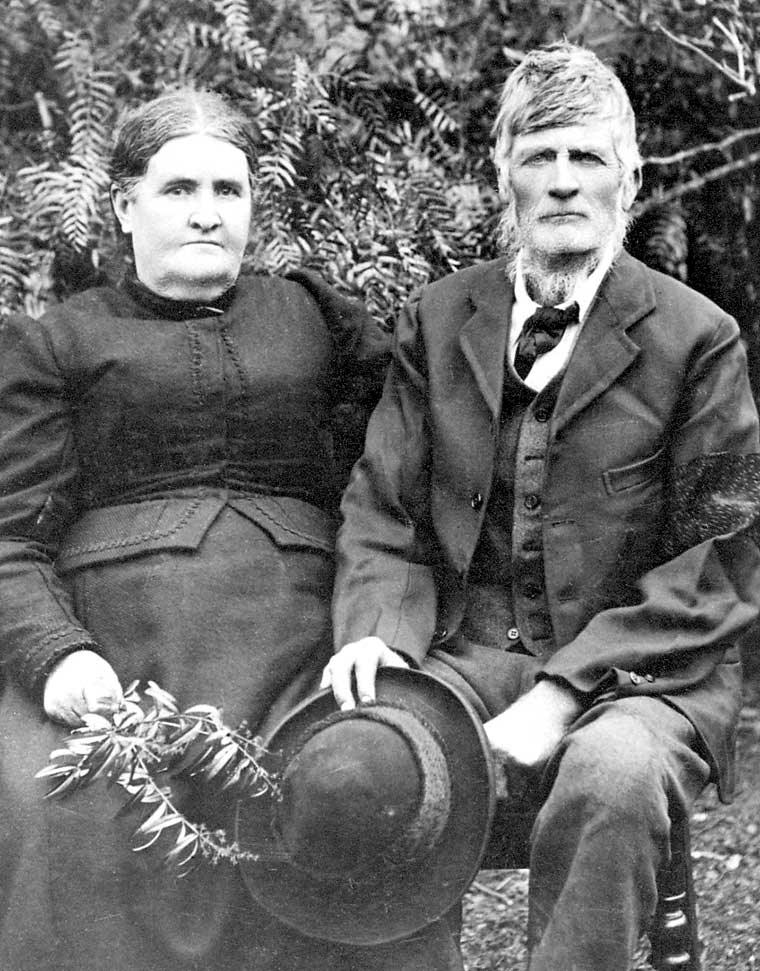 John Thomas and Sarah LeMar