Macclesfield (during 1927)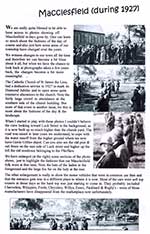 from a Macclesfield Newsletter researched article.
Fashions and Automobiles
We are really quite blessed to be able to have access to photos showing off Macclesfield in days gone by. One can learn so much about the fashions of the day of course and also just how some areas of our township have changed over the years.
We witness changes to our town all the time and therefore we can become a bit blase about it all, but when we have the chance to look back at photographs taken a few years back, the changes become a bit more meaningful.
The Catholic Church of St James the Less, had a dedication service in 1927 to mark its Diamond Jubilee (see below) and to open some quite extensive alterations to the church. Note the fairly large crowd in attendance at the southern side of the church building. But more of that event in another issue, for this is more about the fashions of the day & the landscape.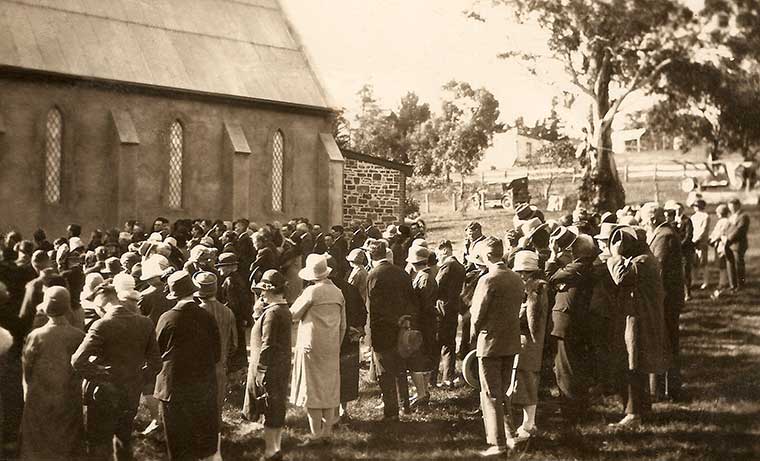 When I started to play with these photos I couldn't believe the view looking toward Luck Street in the background, as it is now built up so much higher than the church yard. The road was raised in later years we understand, to cope with the water runoff from the higher ground where we now have Gavin Gillies depot. Can you also see the old post & rail fence on the east side of Luck Street and higher up the hill the old residence belonging to the Pfeiffers.
We have enlarged (at the right (below)) some sections of the photo above, just to highlight the fashions that our Macclesfield folk wore at that time. Note the hats of the ladies in the foreground and the large fox fur on the lady at the rear.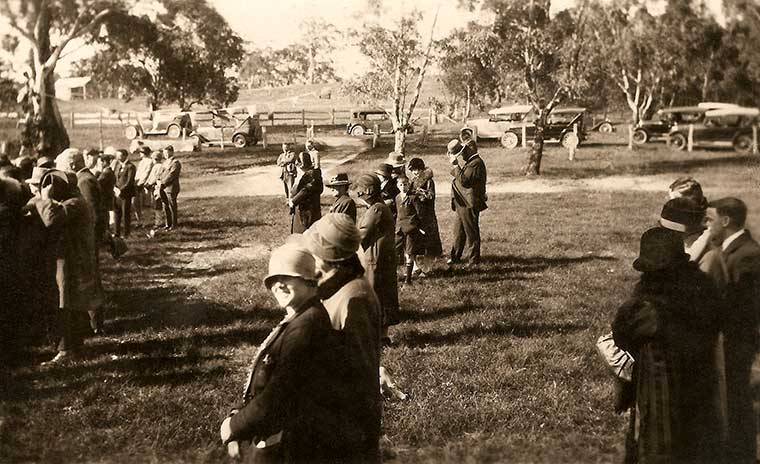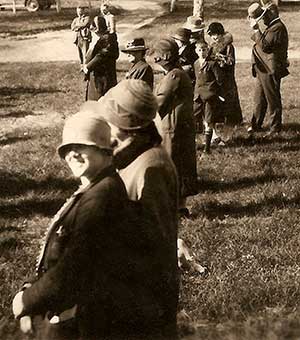 The other enlargement is really to show the motor vehicles that were in common use then and that the entrance gate was in a different place to where it is now.
Most of the cars were soft top tourers in those days as the hard top was just starting to come in.
They probably included Chevrolets, Whippets, Fords, Chryslers, Willys, Essex, Packhard & Rugby's - some of those manufacturers have disappeared from the marketplace now unfortunately.

---