Report: Poets in the Pub event

On May 9, 2015, the Macclesfield History Group organised an event at the Three Brothers Arms Hotel, in the main street of Macclesfield, Venables Street, from 12 noon until well after 3pm. This was timed to be part of the History SA history festival month.

It was a great success. Fifty people, mainly in the 40+ bracket, enjoyed an afternoon of music and poetry. The historic venue dates back to 1841 when it was called The Goats Head Inn and Mr S Jackson was the publican and Venables Street was a dirt track. Times have changed, but the pub still retains its unique character and the open fire was very pleasing after such a chilly morning. Our friendly hosts, publicans Kylie and Paul Vischjager, provided us with a tasty tapas style lunch and refreshments
The following is a copy of an article from the May 1st, 2015, edition of the Weekender Herald, www.weekenderherald.com.au.
Article in the Weekender Herald May 1, 2015 by Madison White. Photography by John Hemmings.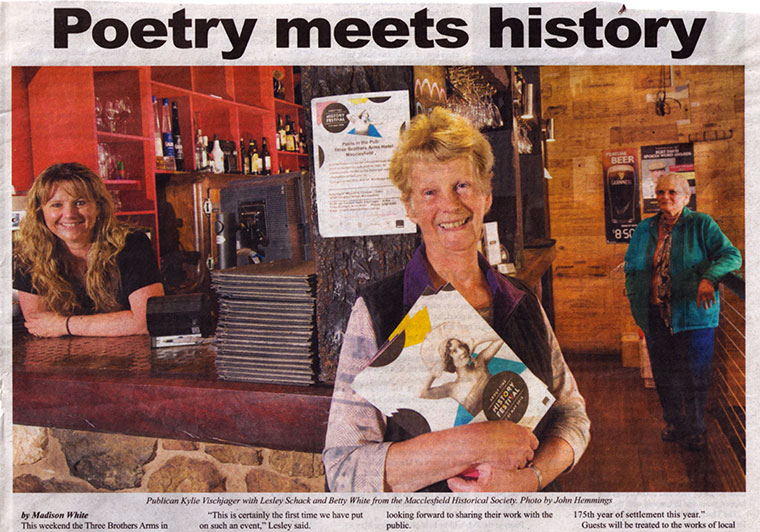 This weekend the Three Brothers Arms in Macclesfield will be turning back the clock as part of the About Time History Festival with "Poets in the Pub". The Macclesfield History Club is part of the Macclesfield Community Association and is inviting locals to join them for a tapas style lunch at the historic hotel while they soak up some verse from the Maccy Shy Poets.
Lesley Schack of the Macclesfield History Club is passionate about sharing the history of Macclesfield and hopes that this event will encourage locals to learn more about the town's rich past.
"This is certainly the first time we have put on such an event," Lesley said.
"We have chosen the Three Brothers Arms because it is the most historic building in the town. It has had lots of different licenses over its time - it's been known as the Macclesfield Arms and the Davenport Arms. It wasn't until 1987 when it was refurbished that they changed the name to the Three Brothers Arms, so the charm of the hotel remains. It's continued a great tradition of warm, country hospitality, and it's a terrific place to go."
Lesley says that despite the name, the Maccy Shy Poets aren't so shy any more, and are looking forward to sharing their work with the public. "The Maccy Shy Poets have been going for some time now," Lesley said.
"They were actually a bit slow in coming out, but now they enjoy writing and reciting poetry and love to be out there sharing their love of poetry."
"We have all sorts of poetry, all very entertaining. There are quite a number of them and there are people joining the group all the time, it's lovely."
"It will be country and history based, that's our theme as Macclesfield is celebrating its 175th year of settlement this year."
Guests will be treated to the works of local poets Jim Smith, Barry MacAllister and Brian Lewis amongst others. Jim Smith was one of the men who founded the Shy Poets nearly five years ago.
"It was myself and Brian Lewis who organised the whole thing," Jim said. "Brian Lewis gave our group that name - it intrigues everyone but at least it gets us attention."
"We've been writing poetry, reading poetry and encouraging the use of poetry and  storytelling as a group around Macclesfield."
"The Maccy Shy Poets exist largely because of Bert Davis. When Bert became very elderly he got very ill, but he still kept on with his poetry. It took the form of trips around the Adelaide Hills, particularly Macclesfield where he lived his whole life."
"His work was all in free verse - people would wonder if he was just talking to them and waiting for an answer before they realised he was actually taking them on a trip. He was a well loved and respected man, a real gentleman with a great sense of humour."
This weekend Jim will be as eager as anyone to hear what his fellow poets have written for the event. "I don't know what will come on the day," Jim said.
"It's better to find out on the day. Hopefully it will be a bit of fun, we're hoping to get a group of a few people coming in period costume."
"I suspect it will very likely be older poetry reflecting older points of view and about things that used to happen years ago in keeping with the historic aspect."
The Three Brothers Arms' Kylie Vischjager is looking forward to hosting the event.
"We're very excited," Kylie said.
"The Three Brothers Arms is the oldest hotel in the Adelaide Hills so there is lots of history here which is appropriate for the history festival."
"Being a community town it's just nice to help the older folk of the town to get out and enjoy days like this as it doesn't happen very often. People who love their poetry will have a good day."
Once lunch is over the Macclesfield History Club will invite guests to take a walk up and down the main street and visit some of the historic buildings.
"There is no one leading the walk but it's only a small main street so people will be able to wander around," Lesley said.
"My favourite old building is the Mechanics Institute Building which was built in 1880 and has been regularly used ever since! It's amazing, it has served the community so well."
This event will be an important milestone for the History Club which recently developed a new history website, an online resource for anyone looking to learn more about the unique history of Macclesfield.
"We are very proud of the website," she said.
"It's a way of sharing the history of the town. A lot of the old buildings still stand much as they used to. Not a lot has actually changed in our Main Street, it's been maintained really well."
To find out more about the Maccy Shy Poets or the Macclesfield Historical Society, visit www.macclesfieldhistory.com.au.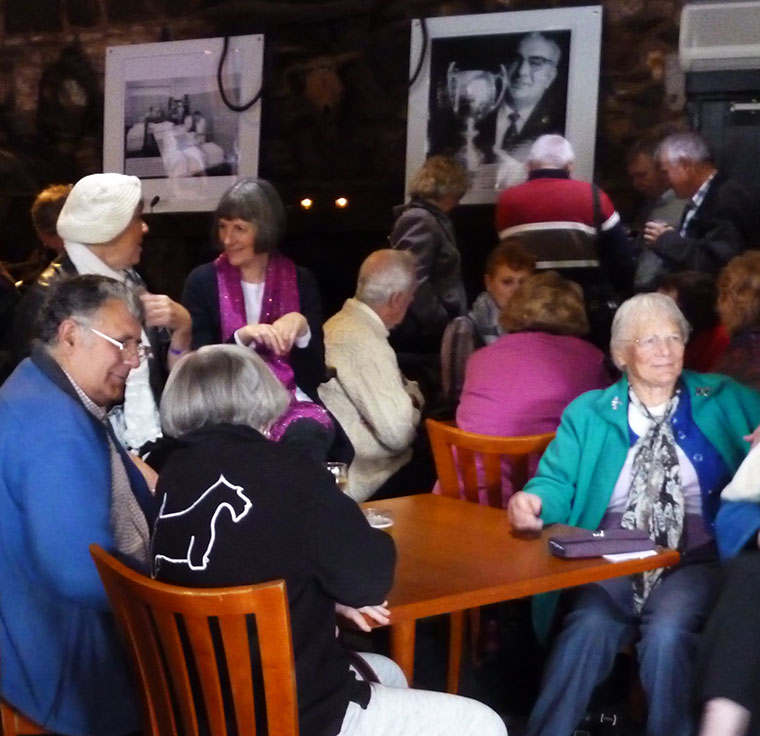 Part of the audience at Poets in the Pub, with some of our large historical photographs on the wall.
Music from Bogaduck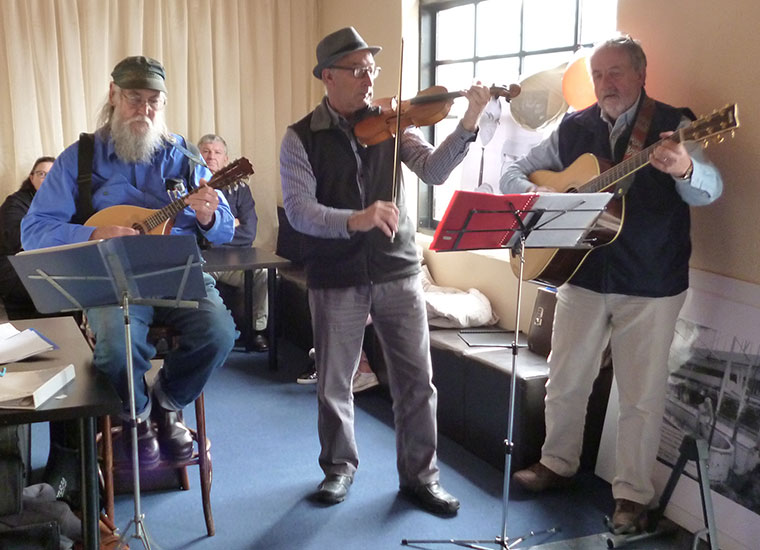 The Bogaduck Bush Band kept us entertained with some most enjoyable bush music from around the world.
The toe tapping country music was likened it to a typical Irish Pub band. Band members present were, from left to right, Bernie "Thatch" Farrow, Ken Barrett and Don Fogg.
Listen to a short clip from one of their songs:
The Maccy Shy Poets
Present: Jim Smith, Maurie O'Brien, Barry McAllister, Brian Lewis, Di Jenke, Rob Morrison, Bob Skovie, and Graham Wolf treated the audience to poems, many of them their own.
The group aims: To foster budding shy poets by helping them to "come out" and tell the world what they are thinking, try to remember past poets who have inspired us or others, and also aim to entertain on occasions such as at "Poets in the Pub".
Anyone interested in taking part in the Shy Poets' activities could send Brian Lewis, their convener, an email to strongandbold1@bigpond.com. He can then put them on the mailing list so that they will be directly informed about future events. Brian's website www.strongandbold.com also shares some historical information about the history of Macclesfield, particularly "Marker's Barn" of 1857.
Listen now to Brian Lewis as he recites a poem by the late Bert Davis describing the properties along Venables Street, the main street of Macclesfield.