Macclesfield Recreation Grounds History
Major Book Launch: The Macclesfield Recreation Grounds 1947-2020, by Brenton Handke. The Macclesfield History Group invites you to our book launch at The Rec Grounds Complex on Sunday 26th Nov at 10.30am, during the 2023 Strawberry Fete. Morning tea available, everyone welcome. Booklets will on sale for $25 per copy.
---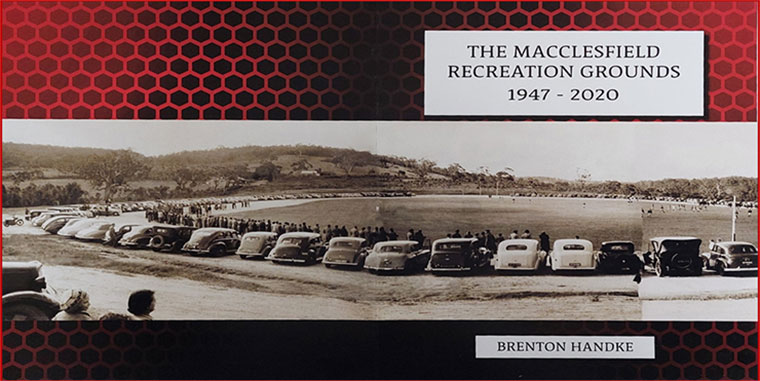 This 56-page booklet celebrates the 75th anniversary of the Macclesfield Recreation Grounds and recognises the community spirit involved in creating this excellent sports facility. During the years 1947-2020 a determined and focused committee raised money, obtained Council grants and organised all kinds of working bees to ensure that the sports community could be proud of their first-class home grounds.
Author Brenton Handke has a long history of involvement with the Macclesfield Football Club, the Tennis Club and Recreation Grounds Committee. His football career began in 1958 as a member of the Junior Colts and within a couple of years he progressed to senior football, later going on to coach the Colts and train the Senior team.
He also held official roles as Club Secretary, Treasurer, Clubs Association Delegate and served on the Executive Committee. In 1975 he was awarded Life Membership of the Macclesfield Football Club and in 2019 was inducted in their Hall of Fame. He still follows the Club and said 'at home matches you will still find some of us past players under the veranda, wishing we were out there on the ground. We umpire very well under the veranda'.
As a member of the Junior Tennis team Brenton started playing in the early 1960s and continued to play until retiring from competitive games in 2000. He also took on the roles of President of the Macclesfield Tennis Club and President of the Onkaparinga Tennis Association at various times. He was made a Life Member of the Macclesfield Tennis Club in 1984, and in 1986 was the inaugural winner of the Lance Bowey Memorial Trophy and also became a Life Member of the Onkaparinga Tennis Association.
Since retirement he has joined the Macclesfield History Group with an interest in researching the history of the Recreation Grounds and the town's sporting clubs. The booklet is the culmination of his research and will become a permanent historical record of this period in Macclesfield.
The establishment of the Recreation Grounds has been a wonderful achievement and the work continues as new people with new ideas step forward to build an even better future for local sport and the Macclesfield community.
The A4 size booklet contains 56 pages including 50 photos, ISBN, contents & index with a gloss laminate cover. Booklets will be for sale at $25 per copy and can be purchased from the Macclesfield General Store, the local Post Office and members of the History Group. This year the Strawberry Fete will be held at the Recreation Grounds; a fitting venue for the book launch.