Nearby communities - Strathalbyn
---
Down By The Riverside booklet, 2017, an HistorySA event
Download a partially-formatted PDF version of the booklet here.
A booklet prepared by the web guy for this website, Daryl STEVENSON, for a tour of the Strathalbyn Park, particularly:
~ Education - Primary School
~ Council and Corporation
~ Pioneer Cemetery
~ Buildings near the park
~ Swimming, waterholes and pools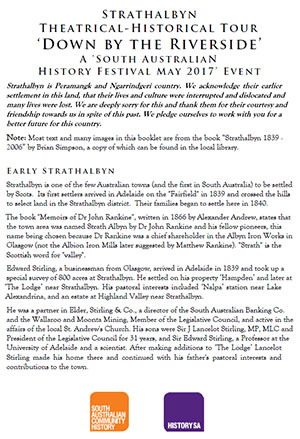 Most of the text for this booklet has been derived from the book "Strathalbyn 1839 - 2006" by Brian SIMPSON. Brian, a local Strathalbyn historian and author of many books, has painstakingly researched Strathalbyn's local history for the last 17 years, scouring the local past newspapers "Southern Argus" and "The Observer", Government publications, Trove and local oral histories.
The tour was organised by:
~ St Andrews Strathalbyn Uniting Church - Helen STACEY BUNTON, David BUNTON
~ Strathalbyn Neighbourhood Centre Aboriginal Reference Group - Freda Jaadawa MILLS
~ Strathalbyn Youth Theatre - Melissa MAIDMENT, Tabitha LEWIS
~ Strathalbyn Players Alexandrina Singers - Judith STEPHENS, David BUNTON
~ Maitland IRVINE - actor / tour guide
~ Ken and Gwenda KNIGHTS
~ Janet RANKINE - community history
~ Kerry HOOD of The Book Keeper, South Terrace, Strathalbyn - selling event tickets

Early Strathalbyn history
The front part of the booklet contains a good, succinct outline of early Strathalbyn history written by Brian SIMPSON, repeated here for those who do not wish to download the PDF booklet.
Strathalbyn is one of the few Australian towns (and the first in South Australia) to be settled by Scots. Its first settlers arrived in Adelaide on the "Fairfield" in 1839 and crossed the hills to select land in the Strathalbyn district. Their families began to settle here in 1840.
The book "Memoirs of Dr John RANKINE", written in 1866 by Alexander ANDREW, states that the town area was named Strath Albyn by Dr John RANKINE and his fellow pioneers, this name being chosen because Dr RANKINE was a chief shareholder in the Albyn Iron Works in Glasgow (not the Albion Iron Mills later suggested by Matthew RANKINE). "Strath" is the Scottish word for "valley".
Edward STIRLING, a businessman from Glasgow, arrived in Adelaide in 1839 and took up a special survey of 800 acres at Strathalbyn. He settled on his property 'Hampden' and later at 'The Lodge' near Strathalbyn. His pastoral interests included 'Nalpa' station near Lake Alexandrina, and an estate at Highland Valley near Strathalbyn.
He was a partner in Elder, Stirling & Co., a director of the South Australian Banking Co. and the Wallaroo and Moonta Mining, Member of the Legislative Council, and active in the affairs of the local St. Andrew's Church. His sons were Sir J Lancelot STIRLING, MP, MLC and President of the Legislative Council for 31 years, and Sir Edward STIRLING, a Professor at the University of Adelaide and a scientist. After making additions to 'The Lodge' Lancelot STIRLING made his home there and continued with his father's pastoral interests and contributions to the town.
Initially, the easiest place for the early pioneers to run stock was on a narrow band, about 10-20 kilometres wide, of open woodland on the fertile plains in the vicinity of the Angas and Bremer rivers. They had a good supply of water, both from the rivers and shallow wells, and this corridor of land was relatively easy to clear. Even after several years hardly anyone lived in the town itself - there were only six cottages in the town area by 1855.
Until St. Andrews Bridge was built in 1857, residents or travellers were often isolated on one side of the Angas for days at a time during periods of high river flow. At that time nearly all of the town's development was on the eastern side of the river, with High Street being the focus of business activity, but the bridge facilitated gradual expansion to the west. Most of Strathalbyn's grand buildings were erected in the 1860s.
Strathalbyn Grows
For the next 10-15 years, the Strathalbyn township developed rapidly and by 1869 it was one of the largest agricultural towns in the colony. Its population was said to have trebled in just six years between 1861 and 1867, reaching about 900. It was no uncommon sight in the 1860s and 1870s to see 20 or 30 loaded wagons lined up at the flour mill store.
The town's position on both of the main intercolonial routes between Adelaide and Victoria was a major factor in its early dramatic growth. Carpenters and boot makers offered their services, drapers and grocers sold a variety of merchandise, and a daily mail-coach connected the residents with Adelaide (8 hours from Adelaide to Victor Harbor). Agriculture was the mainstay of this area. With little fencing, livestock roamed the streets of Strathalbyn.
By 1870, Strathalbyn had two or three resident doctors, three chemists, a solicitor, several general stores, the thriving Wheal Ellen silver-lead mine nine kilometers to the north, a busy foundry and machinery factory, one or two coach building businesses, its own newspaper The Southern Argus, five churches, two banks, several private schools, a post-and-telegraph station, a police station and courthouse, its own gasworks (to generate gas for lighting many buildings around the town), a tram station, and a coach terminal.
There were of course no cars, and no bicycles either. For transport, people usually went by horse, or on foot. Otherwise there were the very limited coach or horse tram services. About half of the local population lived in the countryside outside of any main towns, and half of these were children. A normal family in those days had about six children.
The men usually worked six days a week, almost half of them on farms, and most of the women did housework, either as a mother of a large family or as a domestic servant for someone else. A few women had positions as teachers (untrained) in private schools, but there was virtually no call for nurses because there were hardly any hospitals.
However, by the mid-1870s, Strath's golden age petered out and disaster was looming. Strathalbyn was no longer on the main road to Melbourne or the gold fields. After 20 or 30 years of cropping, the land was "overworked" and there was a dramatic decline in soil fertility. Artificial fertilizers were not yet in use and wheat yields plummeted. Droughts, the red rust fungus, and low overseas wheat prices combined to bring ruin to many local producers. The population dropped as people moved away.
The Angas Mill in Strathalbyn was closed for several years between 1870 and 1880, and the Bank of South Australia closed its local branch in 1871. Other Strathalbyn businesses and organisations such as the churches also suffered badly as the population fell away. The countryside around Strathalbyn, and other hills regions also, became dotted with small deserted homesteads which lie in ruins in all directions today. Strathalbyn found itself in the doldrums from about 1875 to 1902.
---
Theatrical-Historical Tour of 'Old Strathalbyn', a 'South Australian History Festival May 2016' Event. Booklet.
Download a partially-formatted PDF version of the booklet here.
A booklet prepared by the web guy for this website, Daryl STEVENSON, for a tour of the area of Strathalbyn bounded by Manse Road, Taylors Lane, Melville Street and North Parade, which was the old 'North Strathalbyn Estate'. The same group of people as above organised the tour.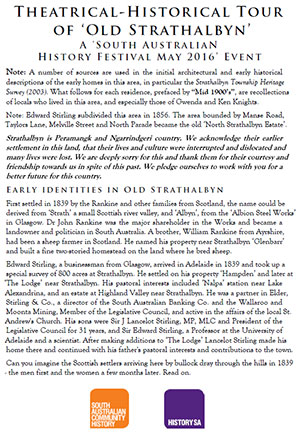 It covers:
~ Early identities in Old Strathalbyn
~ Education, and
~ Health,
but most of the booklet is devoted to The Early Houses, the architecture and history of the houses along those streets.
The references in this instance are:
~ Strathalbyn Township Heritage Survey (2003)
~ trove.nla.gov.au
~ Education Dept history at http://www.slsa.sa.gov.au/manning/sa/edu/comments.htm
~ Old Strathalbyn and Its People 1839-1939, compiled by Nancy GEMMELL
~ 'Grains of Mustard Seed', by Colin THEILE, (c) 1975 Minister of Education, South Australia, ISBN 0 7243 2115 2., and
~ https://www.treesforlife.org.au/trees/westwood-nursery/betty-RUTHERFORD-WESTWOOD-oam-1917-2004
Brian SIMPSON vetted the booklet for accuracy.

---