The Great Heritage Family 'BAKE-OFF'
Links:
• The Great Heritage Family Bake-Off - Entry Form
• The Great Heritage Family Bake Off - Tips for Entrants
• The Great Heritage Family Bake-Off - Example Heritage Recipes
• The Great Heritage Family Bake-Off - Poster
---
Event Details
When: Saturday 4th May, 12 – 4 pm at The Institute, Macclesfield
Share the joy of cooking and tasting heritage recipes. Children are invited to team with a parent or grandparent to bake a cake, slice, biscuits or pastries, or make preserves.
Co-Organisers: Macclesfield History Group and heritage cookbooks author LIZ HARFULL.
• Use a favourite family recipe, or one from below.
• Separate classes for 5-10 and 11-15 yrs.
• Country show competition rules apply. $1 per entry. Prizes to be won.
• Watch the judging and sample the entries at Afternoon Tea ($5, but competitors Free).
After creating your culinary delight, take it to the Institute by 12pm midday, Saturday 4th May. We will be open for you from 9am till 12pm.
---
The Great Heritage Family Bake-Off Entry Form
Enter the Bake-Off by picking up an entry form
• From the Macclesfield Post Office or Shop/Cafe, or
• By downloading the form as a pdf from HERE, then printing.
Then you need to fill in the form, and by Tuesday, April 30th, 5pm
• Pass it in to the Post Office or Shop/Cafe, or
• Post it to Macclesfield History Group, c/o PO Box 549, Macclesfield 5153, or
• Email it to macclesfieldhistory@gmail.com
An image of the Entry Form is shown below.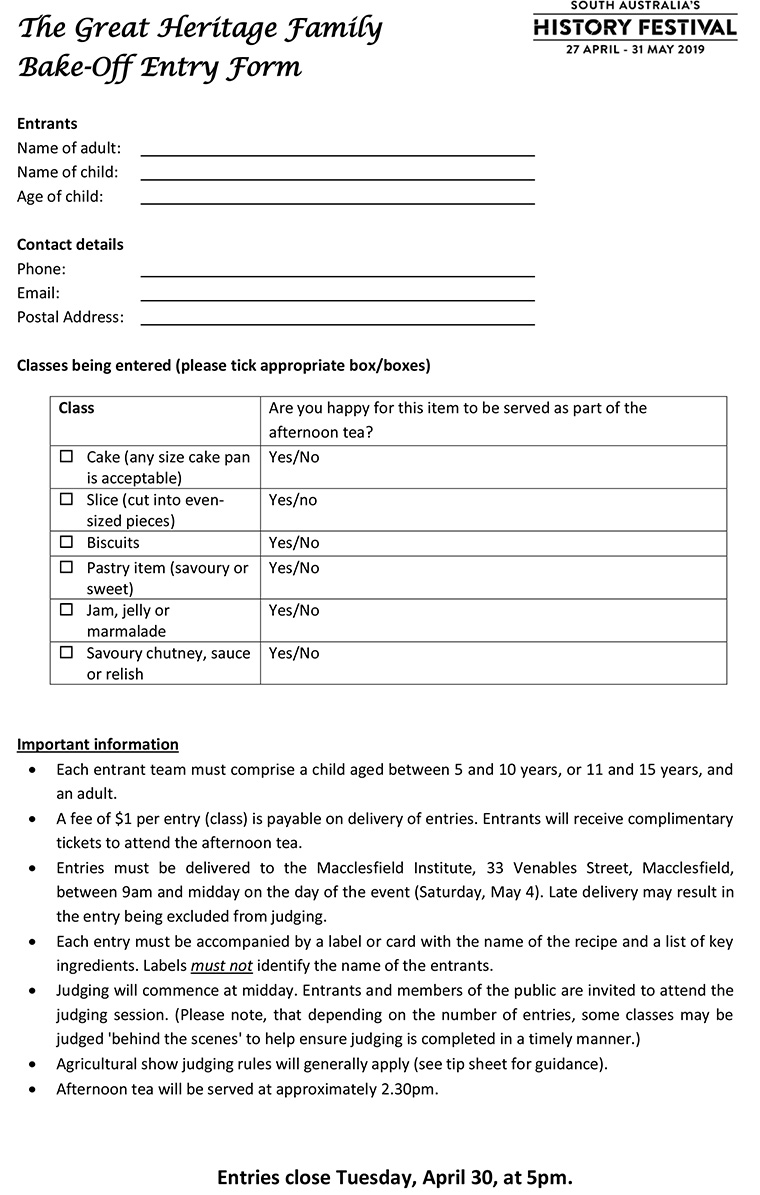 ---
The Great Heritage Family Bake Off - Tips for Entrants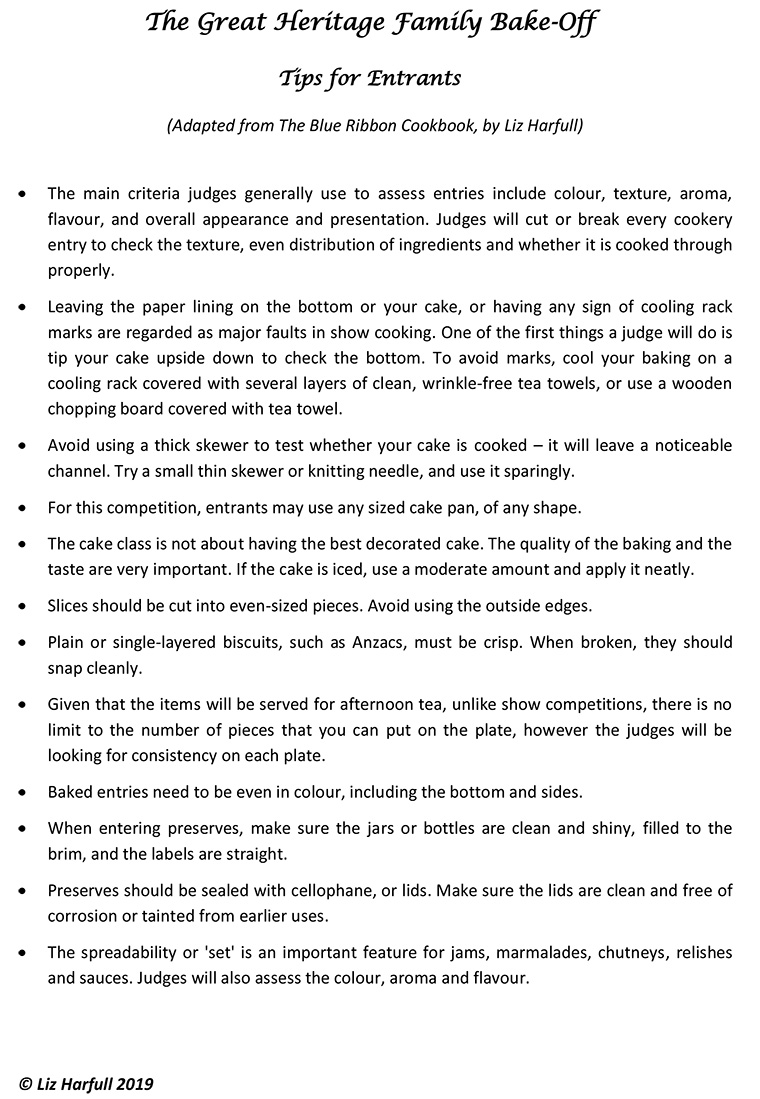 ---
Example Heritage Recipes
Here are some links to online stories featuring suitable recipes for the Bake-Off. You may, of course, choose your own recipes.
Jelly Cakes
| | Three heritage cake recipes to inspire from Liz Harfull's The Australian Blue Ribbon Cookbook - marble cake, jelly cakes and sponge jam roll. |
| --- | --- |
Custard Tarts
| | Classic custard tart from prize-winning New South Wales CWA cook, Merle Parish |
| --- | --- |
Tomato Relish
| | Another classic CWA recipe - tomato relish |
| --- | --- |
Old-fashioned Pineapple Jam
| | Blue ribbon winning Pineapple Jam from The Australian Blue Ribbon Cookbook: Stories, recipes and secret tips from prize-winning show cooks, Liz Harfull 2014. |
| --- | --- |
Mandarin Marmalade
| | A Mandarin Marmalade recipe from the 1930s, best made with new season's mandarins, from Liz Harfull's latest book, Tried Tested and True |
| --- | --- |

---
Poster for the Bake-Off

---